The Atlantic Monthly Supplement: The Holmes Breakfast
THE HOLMES BREAKFAST.
The Publishers of the Atlantic Monthly ask the pleasure of your company at a Reception and Breakfast to be given at the Hotel Brunswick, Boston, on Wednesday, December 3, 1879, at twelve o'clock, in honor of the seventieth Birthday of
OLIVER WENDELL HOLMES.
An early answer is desired.
220 DEVONSHIRE STREET, BOSTON,
NOVEMBER 13, 1879.
The 29th of August was the anniversary of Dr. Holmes's birth, but since many of his friends and literary associates would be absent at that season, it was decided to issue the above invitation later in the year. The guests invited were chiefly writers for The Atlantic, and it was desired to bring together both old and new contributors to a magazine with which Dr. Holmes had been peculiarly identified. There were some who shared with him the pages of the first number, and some who were for the first time to be fellow-contributors in the number then in type. His own pen had been employed upon the magazine with unflagging interest from its establishment in 1857, and it seemed fit that his associates should do honor at this time to one whose aim and achievement in literature, as recorded in The Atlantic, had been so high and so conspicuous.
The company, to the number of a hundred, met at the Brunswick, at noon, and spent a couple of hours socially, after which they took their seats at the tables, according to the diagram on the following page, a lithograph of which was given to each guest, so that it was easy to discover the names of any who might be strangers in person. At the last moment one or two slight changes were necessarily made, on account of unforeseen absences. Mr. Longfellow, who had expected to be present, was detained by sickness, to the great regret of all.
Grace was said by the Rev. Phillips Brooks, D. D., and after the cloth was removed, Mr. H. O. Houghton, senior member of the publishing house, introduced the guest of the day in these words: —
" Ladies and Gentlemen, — Some writer has said that a pure despotism and a pure democracy are identical. We have present here to-day a despot who rules us with imperial sway, and we all acknowledge his authority, and even claim that it is not his power, but our own, which he exercises over us. It is our thoughts which he speaks; it is our humor to which he gives expression; it is the pictures of our own fancy that he clothes in words, and shows us what we ourselves thought, and only lacked the means of expressing. We never realized, until he taught us by his magic power over us, how much each of us had of genius, and invention, and expression. And it is especially fitting that we should honor, even in his own country, a prophet who has revealed to us what wonderful people we all are. It is also fitting that he who was present at the christening of The Atlantic Monthly, and gave it its name, should drink a cup of tea in honor of its attaining its majority, and entering, as we trust, upon a new career of usefulness.
" We have had before this one occasion of celebrating the threescore and tenth anniversary of one of its leading writers. These occasions remind us both of the age of The Atlantic and of the youthfulness of its various contributors. One of the pleasant reminiscences of this occasion is the fact that most of the leading contributors, from its start in 1857, are still among its principal writers. Besides our honored guest, Longfellow, Emerson, Whittier, Lowell, Mrs. Stowe, and Mrs. Rose Terry Cooke are still writers, who were among the original contributors; and there has been a troop of young men and women coming on, nearly a thousand in all, any one of whom might well consider it a laudable ambition, if not to excel, to equal those who have gone before them.
Mr. Warner.
Mrs. Whitney.
Mrs. Wister.
President Eliot.
Mrs. Stowe.
Mr. Houghton.
Dr. Holmes.
Mrs. Houghton.
Mr. Whittier.
Mrs. Jackson.
Rer. Phillips Brooks,
Mrs. Fields
Mr. Warren.
Mrs. Sherwood.
Governor Rice.
Miss Sprague.
Mr. Osgood.
Miss Jewett.
Col. Waring.
Mrs. Anthony.
Mr. Harper.
Mrs. Fairchild.
Rev. J. F. Clarke.
Dr. Bowditch.
Mr. Dyer.
Mr, W. P. P. Longfellow.
Mr. Van Brunt.
Mr. Haskell.
Mr. Lodge.
Mr. Burlingame.
Mr. Anthony.
Mr. Bughee.
Professor Gray.
Mr. Agassiz.
Mr, C. F. Adams, Jr.
Mr. Fiske.
Mr. Ferry.
Rev. G. E. Ellis.
Mr. Flagg,
Mr. Crocker.
Mr, Coffin.
Rev. Joseph Cook.
Mrs. Moulton.
Mr. Scudder.
Miss Larcom.
Mr. Winter.
Mrs. Clement.
Mr. Higglnson.
Miss Bloode.
Mr. Trowbridge.
Mrs. Diaz.
Mr. Burroughs.
Entrance.
Mr. Fairchild.
Hiss Annan.
Mr. Bishop.
Miss Perry.
Mr. Parton.
Mrs. Wells.
Rev. Dr. Bellows.
Mrs. Aldrich.
Mr. Norton,
Miss Curtis.
Mr. Lathrop,
Miss Carrington.
Mr. A. Smith.
Mr. Eggleston
Mr, Dwight.
Mr. Millet.
Dr. Angell.
Mr. Andrews.
Mr. Deming.
Mr. Ward.
Mr. Davis.
Mr. Apthorp.
Rev. J. B. Harrison.
Mr. E. Ingersoll.
Rev. Dr. Wharton.
Mr. Bigelow.
Dr. Brewer.
Mr. Foxcroft.
Mr. Fawcett.
Dr. Warren.
Mr. Hovey.
Mr. Gilman,
Mr. Sanborn.
Mr. Atkinson.
Miss Hale.
Mr. Park man.
Mrs. Walker
Mr. Clemens.
Miss Preston.
Mr. Mifflin.
Mrs. Lathrop.
Mr. Stedman.
Mrs. Dorr.
Mr. Cranch.
Miss Phelps.
Mr. Fields.
Mrs. Sargent.
Mr. Underwood,
Mrs, Cooke.
Mr. Emerson.
Mrs. Howells.
Mr. Longfellow.
Mr. Howells.
Mrs. Howe.
Mr. Aldrich.
Mrs. Mifflin.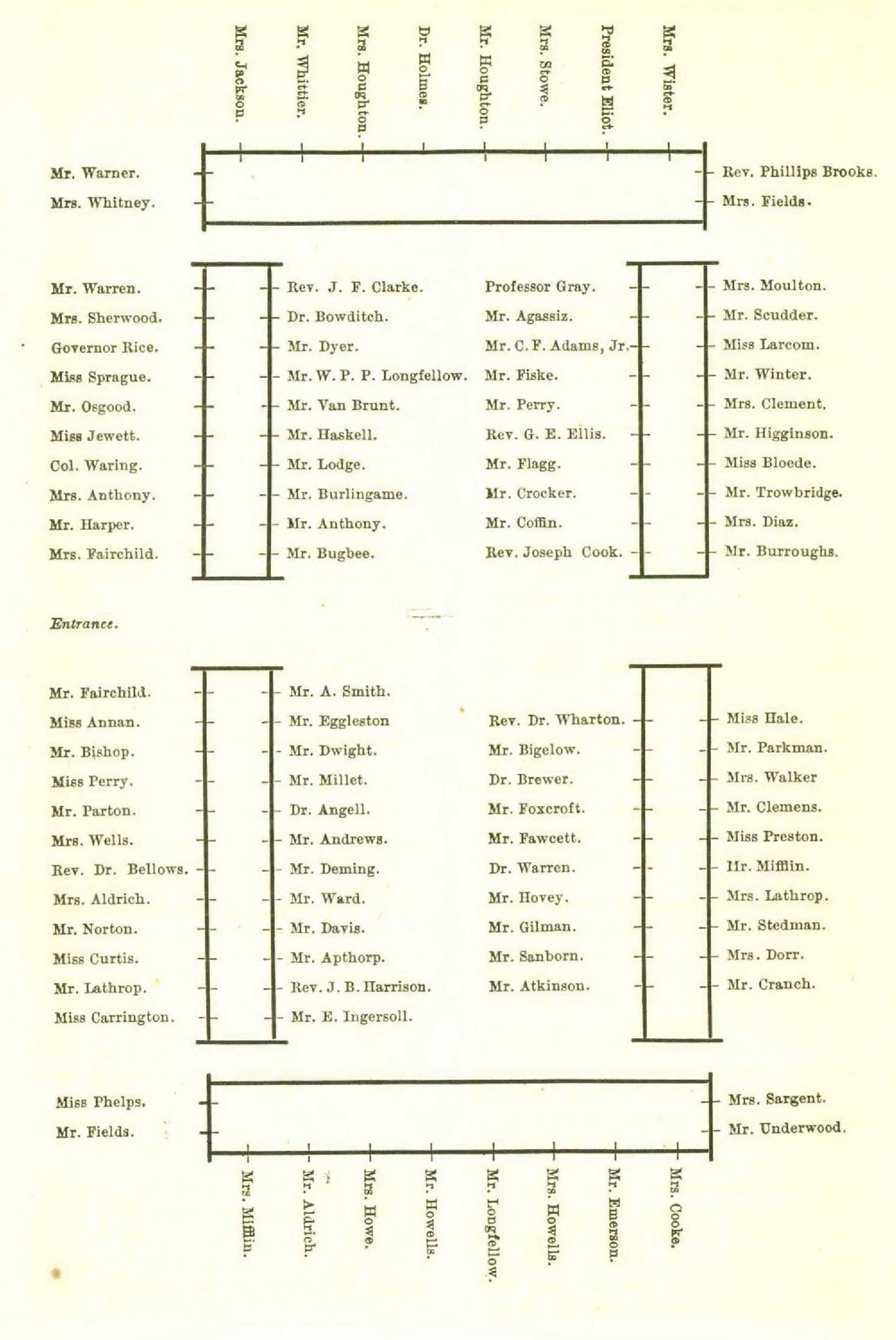 " Nevertheless, both literature and the publishing of books are in their infancy in this country; we have been so given to the development of the material resources of the land, and to settling the great questions of domestic and foreign politics, that but little space has been left for the poet and the historian. But our unrivaled scenery, our soon to be extinguished native races, the wonderful variety of climate, and the heterogeneous character of our population, the new and exciting events of the present age of invention and discovery, all open wide fields for the future historian, the novelist, and the poet. And, we doubt not, this field will be occupied and cultivated, and we shall have other men and women come after us who will sing of the wrongs and heroism of the Indian, who will paint our mountains and rivers, and discuss the great problems of humanity with a more vigorous pen and with a wider reach of knowledge and fancy than has existed heretofore, and we trust that this class will be found among the younger contributors of The Atlantic. We welcome many of them here to-day, both ladies and gentlemen.
" To these festivities we always intended to invite the ladies. But the fact is (I trust the reporters will not hear this, for it is spoken in the strictest confidence) publishers are bashful! We were afraid to ask, for fear we should be refused. Those of us who were once young cannot fail to remember how our hearts throbbed and our courage failed when we were about to pop the momentous question, the answer to which was to make us happy or miserable for life. But, when it was once done, and the winter of our discontent had been made glorious summer by an acceptance so sweet and expectant, just as if the answer had been ready for us ages before, we felt that popping the question was no great affair after all, and we should only like to do it as often as we could have opportunity. Such has been our experience to-day, as witness the gathering around this board.
" And have we not here to-day the author of the great prose epic of the century, — a narrative which preceded, like the murmur which precedes the earthquake, the greatest social revolution of ancient or modern times?
" We have only to look along these tables, and eyes answer back to ours winch have scanned the secrets of the human heart, and have portrayed them to us with such vividness that they in turn have become a part of our own lives.
" If the profession of letters were only the tossing of words, like grace-hoops, or the mere fencing with glittering swords, without strength for dealing heavy blows, we might well despair. Not such are the thoughts that breathe or the words that burn. The sweet, sad story of Evangeline is an immortal protest against wrong, and Evangeline and Gabriel are living examples to teach us how ' to suffer and be strong,' while, in the lines of our peaceloving Quaker poet, marshaled in behalf of the oppressed, we hear the crack of the rifle, the crash of artillery, and feel the ground shake under our feet with the tread of squadrons forming for the defense of freedom and the equal rights of all.
" In an old almanac of the year 1809, against the date of August 29, is the simple entry, ' Son born.' The ink with which that entry was made was blotted with the coarse sand universally used at that time, and that sand to-day, firmly imbedded in the ink, still glistens on the record. May the sands of this life, which blot the record of immortality awaiting our autocrat, be as adhesive, and continue for many years to come to give out its coruscations of light and truth and beauty!
" Ladies and gentlemen, I give you as a sentiment, ' The Autocrat of the Breakfast Table. O King! live forever! ' "
DR. HOLMES'S POEM.
At the giving of the toast the company rose enthusiastically and drank the health of the poet. When they were again seated and the applause which greeted him as he rose had died away, Dr. Holmes read, without preface, the following poem : —
THE IRON GATE.
Where is this patriarch you are kindly greeting?
Not unfamiliar to my ear his name,
Nor yet unknown to many a joyous meeting
In days long vanished, — is he still the same,
Or changed by years, forgotten and forgetting,
Dull-eared, dim-sighted, slow of speech and thought,
Still o'er the sad, degenerate present fretting,
Where all goes wrong, and nothing as it ought ?
Old age, the gray-beard ! Well, indeed, I know him, —
Shrunk, tottering, bent, of aches and ills the prey ;
In sermon, story, fable, picture, poem,
Oft have I met him from my earliest day :
In my old Æsop, toiling with his bundle, —
His load of sticks, — politely asking Death,
Who comes when called for, — would he lug or trundle
His fagot for him ? — he was scant of breath.
And sad " Ecclesiastes, or the Preacher," —
Has he not stamped the image on my soul,
In that last chapter, where the worn-out Teacher
Sighs o'er the loosened cord, the broken bowl ?
Yes, long, indeed, I've known him at a distance,
And now my lifted door-latch shows him here ;
I take his shrivelled hand without resistance,
And find him smiling as his step draws near.
What though of gilded baubles he bereaves us,
Dear to the heart of youth, to manhood's prime,
Think of the calm he brings, the wealth he leaves us,
The hoarded spoils, the legacies of time!
Altars once flaming, still with incense fragrant,
Passion's uneasy nurslings rocked asleep,
Hope's anchor faster, wild desire less vagrant,
Life's flow less noisy, but the stream how deep !
Still as the silver cord gets worn and slender,
Its lightened task-work tugs with lessening strain,

Hands get more helpful, voices, grown more tender,
Soothe with their softened tones the slumberous brain.
Youth longs and manhood strives, but age remembers,
Sits by the raked-up ashes of the past,
Spreads its thin hands above the whitening embers
That warm its creeping life-blood till the last.
Dear to its heart is every loving token
That comes unbidden ere its pulse grows cold,
Ere the last lingering ties of life are broken,
Its labors ended and its story told.
Ah, while around us rosy youth rejoices,
For us the sorrow-laden breezes sigh,
And through the chorus of its jocund voices
Throbs the sharp note of misery's hopeless cry.
As on the gauzy wings of fancy flying
From some far orb I track our watery sphere,
Home of the struggling, suffering, doubting, dying,
The silvered globule seems a glistening tear.
But Nature lends her mirror of illusion
To win from saddening scenes our agedimmed eyes,
And misty day-dreams blend in sweet confusion
The wintery landscape and the summer skies.
So when the iron portal shuts behind us,
And life forgets us in its noise and whirl,
Visions that shunned the glaring noonday find us,
And glimmering starlight shows the gates of pearl.
— I come not here your morning hour to sadden,
A limping pilgrim, leaning on his staff, —
I, who have never deemed it sin to gladden
This vale of sorrows with a wholesome laugh.
If word of mine another's gloom has brightened,
Through my dumb lips the heaven-sent message came ;
If hand of mine another's task has lightened,
It felt the guidance that it dares not claim.
But, O my gentle sisters, O my brothers,
These thick-sown snow-flakes hint of toil's release;
These feebler pulses bid me leave to others
The tasks once welcome; evening asks for peace.
Time claims his tribute; silence now is golden; Let me not vex the too long suffering lyre; Though to your love untiring still beholden, The curfew tells me — cover up the fire.
And now with grateful smile and accents cheerful,
And warmer heart than look or word can tell,
In simplest phrase — these traitorous eyes are tearful —
Thanks, Brothers, Sisters— Children — and farewell!
DR. HOLMES'S REMINISCENCE.
" Our honored guest," said Mr. Houghton, as the doctor finished, " after reading such a poem, will not be expected to deliver his prose speech, and has honored me with that duty." He then read the following, from Dr. Holmes's pen: —
" The establishment of The Atlantic Monthly was due to the liberal enterprise of the then flourishing firm of Phillips and Sampson. Mr. Phillips, more especially, was most active and sanguine. The publishers were fortunate enough to secure the services of Mr. Lowell as editor. Mr. Lowell had a fancy that I could be useful as a contributor, and woke me from a kind of literary lethargy in which I was half slumbering, to call me to active service. Remembering some crude contributions of mine to an old magazine, it occurred to me that their title might serve for some fresh papers, and so I sat down and wrote off what came into my head under the title, The Autocrat of the Breakfast Table. This series of papers was not the result of an express premeditation, but was, as I may say, dipped from the running stream of my thoughts. Its very kind reception encouraged me, and you know the consequences, which have lasted from that day to this.
" But what I want especially to say here is that I owe the impulse which started my second growth to the urgent hint of my friend Mr. Lowell, and that you have him to thank, not only for his own noble contributions to our literature, but for the spur which moved me to action, to which you owe any pleasure I may have given, and I am indebted for the crowning happiness of this occasion. His absence I most deeply regret for your and my own sake, while I congratulate the country to which in his eminent station he is devoting his services."
MR. WHITTIER'S POEM.
Mr. Whittier had been obliged to leave the company before this, but he had brought a poem which was read by Mr. James T. Fields : —
OUR AUTOCRAT.
His laurels fresh from song and lay,
Romance, art, science, rich in all,
And young of heart, how dare we say
We keep his seventieth festival ?
No sense is here of loss or lack ;
Before his sweetness and his light
The dial holds its shadow hack,
The charmèd hours delay their flight.
His still the keen analysis
Of men and moods, electric wit,
Free play of mirth, and tenderness
To heal the slightest wound from it.
And his the pathos touching all
Life's sins and sorrows and regrets,
Its hopes and fears, its final call
And rest beneath the violets.
His sparkling surface scarce betrays
The thoughtful tide beneath it rolled, —
The wisdom of the latter days,
And tender memories of the old.
What shapes and fancies, grave or gay,
Before us at his bidding come !
The Treadmill tramp, the One-Horse Shay,
The dumb despair of Elsie's doom !
The tale of Avis and the Maid,
The plea for lips that cannot speak ,
The holy kiss that Iris laid
On Little Boston's pallid cheek !
Long may he live to sing for us
His sweetest songs at evening time,
And, like his Chambered Nautilus,
To holier heights of beauty climb !
Though now unnumbered guests surround
The table that he rules at will,
Its Autocrat, however crowned,
Is but our friend and comrade still.
The world may keep his honored name, The wealth of all his varied powers ; A stronger claim has love than fame, And he himself is only ours !
THE EDITOR OF THE ATLANTIC.
Mr. Houghton now relinquished the duties of toast-master to Mr. W. D. Howells, whom he introduced as follows : —
" It may be a surprise that the editor of The Atlantic should not appear on this occasion. But it may not be generally known to the contributors that he is in some sense a mythical character, and is never seen except by his representative and keeper. He is a tall, cadaverous, and grave-looking being, wearing immense magnifying-glasses on his eyes, and living in an attic, the only furniture being a high stool, a turning-lathe, and a grindstone. His only implement is a sharp knife, which he uses for defense, and for cutting out the brilliant passages from the contributions of young authors. He uses the grindstone to sharpen his knife, and the turning-lathe to reduce all contributions to the uniform Atlantic standard. For fear he might disturb us in our festivities to-day, he has been carefully locked in his room, and the junior partner has the key in his pocket. His representative, however, is here. He is a modest young man, very little versed in the ways of the world, but he has sufficient shrewdness to carry only the complaints to the real editor, and keep the compliments for himself.
" I propose now to introduce to you the representative of the real editor, and to beg of you to treat him gently, as it is not his fault if any of you have been treated roughly by the editor. As the remainder of the entertainment is to be purely literary, I shall also ask him to take charge of it,"
MR. HOWELLS'S RESPONSE.
" After so flattering an introduction, I ought to let my case rest, perhaps; but I cannot forbear attempting to commend myself a little more specifically. I wish to say that I am not the author of a certain printed letter which the ladies and gentlemen present may have seen in the hands of their friends, expressing the regret of the editors that they ' cannot use the inclosed contribution,' but that they ' thank the author for the opportunity of reading it.' I wish to say that I am the author of those comfortable notes of acceptance with which you are familiar; it is I who urge you to write again; it is I who beg the author of a ten-page article to make it twenty, or extend it into a series; and it is I who advise unsuccessful writers of prose to try something in the way of poetry. Finally, it is upon my private bank account that all the large and adequate checks are drawn. When they are meagre or unsatisfactory — But I yield to the imploring gaze of the publishers, and leave this branch of the subject.
" In listening to Mr. Houghton's account of that real editor whom he has withheld from you, I could not help thinking of the truculent personage whom Mr. Byles Gridley brought Gifted Hopkins to behold in the act of ' smelling ' (as reading manuscript is technically called) Mr. Hopkins's Blossoms of the Soul. It is a terrible picture to have been painted by one who has never had anything but kindness from our ungentle craft, and I shudder to think what it would have been if Gifted Hopkins's own hand had sketched it. I suppose that almost any contributor might portray the real editor of The Atlantic in such a way that the editor himself would never know the likeness; and yet, but for the natural enmity of editors and contributors, I think that editor might have safely appeared on this occasion; for looking round these boards he could have seen no writer whose contributions he had ever rejected! Indeed, I conceive a certain propriety in the real editor's being here, if only to behold the honored guest, without the help of whose creative genius there would have been at this moment no Atlantic editor, no Atlantic contributors, and no Atlantic breakfast. The fact is known to you all, and I will not insist upon it; but it was Oliver Wendell Holmes who not only named, but who made, The Atlantic. How did he do this? Oh, very simply! He merely invented a new kind in literature, something so beautiful and rare and fine that while you were trying to determine its character as monologue or colloquy, prose or poetry, philosophy or humor, it was gradually penetrating your consciousness with a sense that the best of all these had been fused in one, — a perfect form, an exquisite wisdom, an insurpassable grace. This, and much more than any poor words of mine can say, was the Autocrat, followed by the Professor, and then by the Poet, at the same Breakfast Table. We pledge him by all these names to-day, not only with the wine in our cups, but with the pride and love in our hearts, where we have enshrined him immortally young, in spite of the birthdays that come and go, and where we defy the future that lies in wait for our precious things to know his quality better, or value his genius more highly, than we. Some of his great compeers, whose names praise them best, we have with us to-day, and while we have to regret the absence of Longfellow and the distance of Lowell we rejoice in the presence of Emerson and of Whittier. We should be glad to sit attentive to them if after-breakfast speaking were their pleasure or habit, but we must respect the silence they prefer to guard. On no others, however, can we have any mercy. The custom of speech-making after a public banquet was invented from a deep and subtle knowledge of human nature. It is to no ordinary observation of mankind we owe the discovery that the most fortunate moment to extort eloquence from those gifted in oratory is when they are helpless from repletion, and every faculty tends to resign itself to a luxurious torpor. But it has been found that in this defenseless condition they may be successfully bidden to stand and deliver, and I shall proceed upon this well-ascertained fact. The ladies, indeed, shall be spared, so far as the speaking goes, when they will; though we should be pleased to hear from every one of them, and we will never believe that their silence is more golden than their speech — till they prove it.
" They have long ago proved the reverse in literature, and in every department of a magazine which has so largely embodied American literature they have been of the first. Without entering upon the distinctions that bring differences, The Atlantic heartily welcomes them here, and owns itself their debtor. The time is coming, without doubt, — although I must leave others to prophesy more intelligently of this, — when their power shall be directly felt, not only in our literature but in our polity, and when they shall publicly influence our civilization. But awaiting that time, I think they may be richly content with the achievement of a woman whom I am very proud to see here, — a woman whose book has done more than the work of any other American to redeem and purify our national life; whose great novel, iliad and parable in one, remains sole and grand as its occasion. I need not name the author of Uncle Tom's Cabin; and in claiming a part of her fame for the magazine which she has so often honored with her contributions, I desire to salute her first of the women to whom we bow in the only toast I shall read. And I hope that another distinguished woman, whose repute in poetry, oratory, and all generous culture has given us the right to expect so much of her, will not think it too much if we expect to hear her voice in response to the toast, ' The girls we have not left behind us.' I call upon Mrs. Julia Ward Howe."
MRS. HOWE'S POEM.
The company rose and drank Mrs. Howe's health, when she responded as follows: —
"Ladies and Gentlemen, — One word in courtesy I must say in replying to so kind a mention as that which is made, not only of me, but of those of my sex who are so happy as to be present here to-day. I think, in looking on this scene, of a certain congress which took place in Paris more than a year ago, and was called a congress of literary people, gens de lettres. When I heard this was to take place, I immediately bestirred myself to attend its sittings, and went at once to the head-quarters to find how I might do so. I then learned, to my great astonishment, that no women were to be included among these gens de lettres, — that is, literary people. Now we have thought it a very modest phrase sometimes to plead that, whatever women may not be, they are people. It would seem to-day that they are recognized as literary people, and I am very glad that you gentlemen have found room for the sisterhood to-day, and have placed them so numerously here. I must say that to my eyes the banquet looks very much more cheerful than it would without them. It looks to me as though it had all blossomed out under a new social influence, and beside each dark stem I see a rose. But I must say at once that I came here entirely unprovided with a speech, and not dreaming of one; yet I came provided with something. I considered myself invited as a sort of grandmother, — indeed, I am, and I know a grandmother is usually expected to have something in her pocket. I have a very modest tribute to the illustrious person whom we are met to-day to honor, and with your leave I will read it."
Thou metamorphic god !
Who mak'st this straight Olympus thy abode,
Hermes to subtle laughter moving,
Apollo with serener loving;
Thou demi-god also !
Who dost the powers of healing know;
Thou hero who dost wield
The golden sword and shield, —
Shield of a comprehensive mind,
And sword to wound the foes of human kind ;
Thou man of noble mold !
Whose metal grows not cold
Beneath the hammer of the hurrying years;
A fiery breath doth blow
Across its fervid glow,
And still its resonance delights our ears.
Loved of thy brilliant mates,
Relinquished to the fates,
Whose spirit music used to chime with thine,
Transfigured in our sight,
Not quenched in death's dark night,
They hold thee in companionship divine.
O autocratic muse!
Soul-rainbow of all hues,
Packed full of service are thy bygone years;
Thy wingèd steed doth fly
Across the starry sky,
Bearing the lowly burthens of thy peers.
I try this little leap,
Wishing that from the deep
I might some pearl of song adventurous bring.
Despairing, here I stop,
And my poor offering drop,—
Why stammer I when thou art here to sing ?
At the close of Mrs. Howe's poem Mr. Howells said: "The language of graceful appreciation is not rich enough and not varied enough to go round all the distinction of this company; and if I attempted to pay tribute in fit terms to each guest whom I invoked to address us, I feel that I might exhaust it at the second or third speaker. I have observed, moreover, that nobody listens to introductory eulogies except the victim whom they afflict with a prophetic sense that his turn is coming, and put to the pain of trying to look as if some one else was meant. We may, it seems to me, wisely spare ourselves this. We know one another's worth, and fortunately there is no one here who needs a formal explanation or indorsement from me in this or any other company. I will therefore call upon those whom we hope to hear in as brief terms as possible, leaving to the collective consciousness and the general intelligence the praises which I forbear. We have here among us one from another literary centre, — one whose well-known prowess in killing a bear might well make all the lions present tremble, if he were not one of them himself. I will now introduce to you Mr. Charles Dudley Warner."
MR. WARNER'S SPEECH.
Mr. Warner said : " I have always supposed, until this morning, that the Breakfast Table of the Autocrat was a creation of the fancy. But I see that it is a simple fact, — there is the same long sitting at the table that there was in the book, and more talk than tea. When I was a boy in the western part of Massachusetts, breakfast used to begin by early candle-light, as this one is likely to finish, only at the other end of the day. This is, no doubt, the Boston way. It is the same breakfast of the book, and I think I can recognize most of the familiar characters. I am not going to get myself into trouble by attempting to name them, — to say who stands for the master, and the professor, and the poet, and the divinity student, who has grown up from the boy John, and who might have been the school-mistress who took the long path. But I must be permitted to express my pleasure in seeing here the soldier scholar from Cambridge, the ' Member of the Haouse.'
" They seem to me a very goodly company, whether they were in a manner created by the Autocrat, who has been stirring about in the literary dough so long, or whether they have risen themselves. The literary folk are getting to be plentier every year; the position is n't quite so lonesome as it was in Irving's day, when all the literary men and women in America might have been put into an omnibus, without the necessity of hanging out complet. Plentier, yes ; hut they could still all be gathered about a few tables like this. I doubt if they are yet considered very necessary people in the world, — not necessary like business men, merchants and brokers, manufacturers, railroad men, cooks, and dressmakers. They are thought to occupy a little supplementary fraction of creation apart, where they humbly labor to amuse the world in its leisure time, when it has an hour to waste, and to support the publishers. Perhaps it is their own fault, mainly, that the literary workers are looked down on by the Philistines. Literature, to many of us, is only a hand-mirror in which we see ourselves, and not a Claude Lorraine glass, such as the Autocrat set up, in which the world is immensely tickled to see itself, distinct as a photograph, and yet refined as a dream.
" But I merely rose, Mr. Chairman, to express my profound gratitude to one of the noblest doctors in any literature, for the cheer and delight I owe him all along in life, ever since I could read. I confess that I did hope, on coming here, to learn the secret by which one arrived at the age of the Psalmist, preserving all the brilliant vigor and youthfulness of a man of forty. Perhaps he will tell us when we come here next time, — when we come in litters or on crutches, or by telephone, or by that other ' phone ' which makes the body appear where it is not, — when we come to celebrate his ninetieth birthday.
" It is my good fortune to be permitted to read a poem, addressed to the guest of the morning, by a lady (I am permitted to do this because the election of school committees has not yet taken place in Massachusetts) whose presence here prevents my saying what I should like to say of her writings. It is written by the poet who dwells in a Grand-Lama-like privacy behind the letters H. H. Nobody knows who she is, and I believe she does not know herself. It is with pleasure, therefore, that I am authorized to announce publicly that H. H. is really the author of certain works of fact and fiction, — I hope I am saying nothing indiscreet, — the maternity of which has been much discussed; of course, I allude to Queechy aud Lord Say and Seal, — the Wide, Wide World is claimed by another person. If I could read this poem so that you would feel the quotation marks, which I see as thickly strewn here as they ought to be in some poems that have none, you would think that the Autocrat himself composed it, though he did not arrange it."
MRS. JACKSON'S POEM.
TO OLIVER WENDELL HOLMES, ON HIS SEVENTIETH BIRTHDAY.
All days are birthdays in the life,
The blessed life, that poets live;
Songs keep their own sweet festivals
And are the gifts they come to give.
The only triumph over Time
That Time permits, is his who sings ;
The poet Time himself defies,
By secret help from Time's own wings;
From old-age heights descrying dawns,
New dawns more golden far and bright,
" New beacons crowned with brighter flame "
1
Than ever smote his youthful sight.
His " Last Leaf "
2
flutters, not to fall,
But fifty sunny springs to learn ;
His " Comet "
3
speeds across the sky,
But year by year will swift return.
His "Pilgrim's Vision "
4
dims nor wanes;
" Departed Days"
5
their joys restore
To him whose hand can ever fill
Their hours "from Time's gray urn once more."
Secrets which lilies share with stars,
6
And Spanish girls in reverie hide,
7
Which Yankee maidens tell to none,
8
And oystermen to waves confide,
9
The " Voiceless "
10
sorrows, which " have known
The cross without the crown of glory," —
All find their voice in him who tells
Them in the poet's tender story.
The " Living Temple " men passed by,
11
Too blind to see its " mystic gate,"
Revealed by his sweet minstrelsy
Is full of worship true, though late.
Old "Boston Common's" tangled shade
12
With legends woven thick as leaves,
He gleans its harvests old and new,
And binds them in his shining sheaves.
Great " Freedom," " queen " of all our land,
13
With star " stripes folded on her breast,"
He crowns with jewels, sings her fair,
And hails her queen from east to west.
Strong hymns for armies and for saints,
For braye men lying in the dust,
14
For " Sun-Days" and for days of gloom,
For " trembling faith" that fears to trust;
For summer and its lilied lakes,
15
For winter and its " frozen domes,"
16
For glowing hours when " hearts are one,"
And hands are clasped in happy homes ;
For " Chambered Nautilus " a praise
17
Which its fair "ship of pearl " insures
Forever from forgetfulness,
While memory of man endures ;
For shadow with its sudden light
18
From distant and unlooked-for sun,
Like his own pensiveness lit up
By gleams of unexpected fun ;
For visions of young " girlish grace,"
For grave philosophers that wed,
19
For portraits of fair grandmothers
20
That have a hundred years been dead, —
All these and countless more beside
Our poet sings with matchless art,—
Sings out of his exhaustless store,
Exhaustless as his poet's heart.
What is the calendar could keep
Such poet's life in date or name ?
His days are as a thousand years,
His thousand years and days the same.
All days are birthdays in the life,
The blessed life, that poets live ;
Songs keep their own sweet festivals,
And are the gifts they come to give.
Then, Poet, grant us now this boon, —
So small when all is said and done, —
Thy verses' birthdays let us keep,
Hundreds of birthdays in this one !
H. H.
PRESIDENT ELIOT'S SPEECH.
At the close of Mrs. Jackson's poem, Mr. Howells said: " It must be because the groves of Academe really fringe the seacoasts of Bohemia that I am able to call upon President Eliot, of Harvard University."
President Eliot said: " Mr. Chairman, Ladies, and Gentlemen,—How shall I interpolate my unprepared prose into this mass of poetical manuscript? Looking around these tables, and listening to what has been said, I have felt as if this company did not fully understand the friend in whose honor we are met. I see here only one or two representatives of the medical profession. It seems to me that it is my duty to remind all these poets, essayists, and storytellers who are gathered here, that the main work of our friend's life has been of an altogether different nature. I know him as the professor of anatomy and physiology in the medical school of Harvard University for the last thirty-two years, and I know him to-day as one of the most active and hard-working of our lecturers. Some of you gentlemen, I observe, are lecturers by profession, at least during the winter months. Dr. Holmes delivers four lectures every week for eight months of the year. I am sure the lecturers by profession will understand that this task requires an extraordinary amount of mental and physical vigor. And I congratulate our friend on the weekly demonstration of that vigor which he gives in our medical school. Most of you have perhaps the impression that Dr. Holmes chiefly enjoys a pretty couplet, a beautiful verse, an elegant sentence. It has fallen to me to observe that he has other great enjoyments. I never heard any ather mortal exhibit such enthusiasm over an elegant dissection. And perhaps you think that it is the pen with which Dr. Holmes is chiefly skillful. I assure you that he is equally skillful with scalpel and with microscope. And I think that none of us can understand the meaning and scope of Dr. Holmes's writings unless we have observed that the daily work of his life has been to study and teach a natural science, — the noble science of anatomy. It is his to know with absolute exactness the form of every bone in this wonderful body of ours, the course of every artery and vein and nerve, the form and function of every muscle ; and not only to know it, but to describe it with a fascinating precision and enthusiasm. When I read his writings I find the traces of this life-work of his on every page. There are three thousand men scattered through New England at this moment who will remember Dr. Holmes through their lives, and transmit to their children the memory of him, as student and teacher of exact science. And let us honor him to-day, not forgetting— they can never be forgotten — his poems and essays, as a noble representative of the profession of the scientific student and teacher.
7 Sun and Shadow.
MARK TWAIN'S EXPLANATION.
Mr. Howells, on introducing Mr. S. L. Clemens, said : " We will now listen to a few words of truth and soberness from Mark Twain," who rose diffidently and said : —
" Mr. Chairman, Ladies and Gentlemen, — I would have traveled a much greater distance than I have come to witness the paying of honors to Dr. Holmes, for my feeling toward him has always been one of peculiar warmth. When one receives a letter from a great man for the first time in his life, it is a large event to him, as all of you know by your own experience. You never can receive letters enough from famous men afterward to obliterate that one, or dim the memory of the pleasant surprise it was and the gratification it gave you. Lapse of time cannot make it commonplace or cheap. Well, the first great man who ever wrote me a letter was our guest, — Oliver Wendell Holmes. He was also the first great literary man I ever stole anything from, and that is how I came to write to him and he to me. When my first book was new, a friend of mine said, ' The dedication is very neat.' Yes, I said, I thought it was. My friend said, ' I always admired it, even before I saw it in The Innocents Abroad.' I naturally said, ' What do you mean ? Where did you ever see it before ? ' ' Well, I saw it first some years ago, as Dr. Holmes's dedication to his Songs in Many Keys.' Of course my first impulse was to prepare this man's remains for burial, but upon reflection I said I would reprieve him for a moment or two, and give him a chance to prove his assertion if he could. We stepped into a book-store, and he did prove it. I had really stolen that dedication almost word for word. I could not imagine how this curious thing had happened ; for I knew one thing, for a dead certainty, — that a certain amount of pride always goes along with a teaspoonful of brains, and that this pride protects a man from deliberately stealing other people's ideas. That is what a teaspoonful of brains will do for a man, — and admirers had often told me I had nearly a basketful, though they were rather reserved as to the size of the basket. However, I thought the thing out and solved the mystery. Two years before I had been laid up a couple of weeks in the Sandwich Islands, and had read and re-read Dr. Holmes's poems till my mental reservoir was filled with them to the brim. The dedication lay on top and handy,— so by and by I unconsciously stole it. Perhaps I unconsciously stole the rest of the volume, too, for many people have told me that my book was pretty poetical, in one way or another. Well, of course I wrote Dr. Holmes and told him I had n't meant to steal, and he wrote back and said in the kindest way that it was all right and no harm done ; and added that he believed we all unconsciously worked over ideas gathered in reading and hearing, imagining they were original with ourselves. He stated a truth, and did it in such a pleasant way, and salved over my sore spot so gently and so healingly, that I was rather glad I had committed the crime, for the sake of the letter. I afterward called on him and told him to make perfectly free with any ideas of mine that struck him as being good protoplasm for poetry. He could see by that that there was n't anything mean about me ; so we got along right from the start.
"I have met Dr. Holmes many times since ; and lately he said — However, I am wandering wildly away from the one thing which I got on my feet to do, that is, to make my compliments to you, my fellow-teachers of the great public, and likewise to say I am right glad to see that Dr. Holmes is still in his prime and full of generous life ; and as age is not determined by years, but by trouble and by infirmities of mind and body, I hope it may be a very long time yet before any can truthfully say, ' He is growing old.' "
MR. HARPER'S SPEECH.
Mr. Howells said: " Ladies and Gentlemen, — We have among us to-day a member of the most ancient and honorable house of book-makers in New York, who I hope will say something to you to allay the animosity prevailing between authors and publishers, which I perceive has now risen to its height. I introduce Mr. J. W. Harper, of New York."
Mr. Harper said : " Mr. Chairman, Publishers and Editor of the Atlantic Monthly, Ladies, and Gentlemen, — For more than a quarter of a century I have been coining to Boston on many happy occasions, and this is one of the happiest. I well remember when I first saw to-day's illustrious guest. It was long ago; not, as our Autocrat expresses it,
' in the year eighteen hundred and ever so few,' nor, as Thackeray has it, ' when the present century was in its teens.' It was just after the close of the last half century, and on a cold winter afternoon, when the sun was fast setting behind the then ungilded dome of the State House, and it was in old Bromfield Street. It was not in the Bromfield Street Methodist Church, nor in the contiguous Methodist inn, known as the Bromfield House, which for many years might have been the convenient resort of good Methodist elders, and of the peripatetic presiding elders, who were called by the genial Bishop Wainwright the ' bob-tailed bishops ' of their flocks and districts. Doubtless that comfortable inn, with its hospitable sheds, was well known to you, Mr. Chairman. You were then the assistant superintendent of the Bromfield Street Sunday-school, and you were at that time a young man, and a most exemplary young man, for your home was then, as now, in Cambridge; and in those days all the young men in Cambridge were exemplary. In fact, the elective course was unknown!
" I was in the large stable adjoining the Bromfield House, endeavoring to secure a sleigh, when there entered a gentleman, apparently of my own age. He came in quickly, and with impatience demanded the immediate production of a team and sleigh, which, though ordered for him, had somehow been forgotten. The new-comer, it was evident, was not to be trifled with. There was no nonsense about him, and I was not surprised in the least when, a few years later, I learned that he had become an Autocrat.
" On that particular night he had a long drive before him, for he was to lecture at Newburyport, or Nantasket, or Nantucket, or some other then unannexed suburb of Boston. I doubt if the horse survived the drive, and I am quite certain he is not now living. But the driver lives, and the young New Yorker who then admired him, and would fain have driven with him on that cold winter night, has since, in common with thousands of other New Yorkers, been filled with grateful admiration for what that driver has done for literature and for the happiness and improvement of the world.
" It seems to me, Mr. Chairman, that the peculiar province of the New Yorker is to admire. The nil admirari does not belong to him, and I think that is to his credit; for when a man ceases to admire, he ceases to feel. True, the New Yorker sometimes admires the wrong thing, and so does the Londoner, very often the Parisian, and possibly, once in a great while, the Bostonian! We are all of us sometimes apt to admire vulgar success, instead of the thing that deserves success. But, as a rule, patriotic New York sympathizes with whatever is noble and worthy, whether it be at one time the attempt to overthrow a corrupt ring, or at another the assertion of political independence. And I venture to declare, Mr. Chairman, that not here, nor even in your proud Memorial Hall of Cambridge, is there greater reverence for things which Massachusetts holds sacred than in my own native Knickerbocker city. In the same way that, as a nation, we love England for her lessons of freedom, so do patriotic citizens of New York, and throughout our whole Union, love Massachusetts for all her traditions of liberty.
" Nil admirari, ' to wonder at nothing, O Numicius, is about the only thing to make and keep a man happy! ' This, Mr. Chairman, I think our honest Autocrat, had he edited that epistle, would have said, in a vigorous note, is the sentiment of the snob.
The man who is afflicted with what the late Mr. Bristed, in his entertaining book on English University Life, calls eironeia ; in other words, the swell, the Dundreary, the Sir Charles Coldstream, the man who pretends to be worse than he is, who represses enthusiasm, who would stifle honest admiration of the beautiful and good, and who affects to be a fool, ends generally by being what he affects to be. But I protest, Mr. Chairman, that this young man, or this old man, — for he's old and decrepit when young, — this Mantalini, this ape, is not a New Yorker any more than he is a Bostonian or an Englishman. Surely he hails not from our stalwart West or impetuous South, yet it is a melancholy reflection that he is indigenous to the best society everywhere. To be natural and unaffected and truthful and reverent is to be a gentleman, or, better, a good man, or a good woman, — a Colonel Newcome, if you like, or such a woman as we find in that recent beautiful illustration of young New England womanhood, The Lady of the Aroostook.
" I intimated, Mr. Chairman, that it was the peculiar province of New York to admire Boston. I ought to say that it is a privilege which New York appreciates. It is a privilege to visit your beautiful city, fast becoming the most beautiful city on the continent, to know your brave, earnest men of Massachusetts, and a greater privilege to know your noble women, — ay, and to know that our New York homes, derived from Dutch and English ancestry, are brightened and refined and bettered by many a fair Rose Standish, whose wise and wifely ways are ways of pleasantness, and all whose paths are peace.
" On this occasion it is a very great privilege to join with you, my good and esteemed friends, the publishers of The Atlantic Monthly, in honoring your authors. Your catalogue as publishers and your list of contributors to The Atlantic Monthly (and as a publisher I say it with honest admiration) are, indeed, a roll of honor! But your authors are not yours only; they are the nation's, because their thoughts and words have become part of the nation's life. To apostrophize them in the language of a great master, 'Noble and illustrious names! kind friends, teachers, benefactors! Who shall say that our country, which continues to bring you such an unceasing tribute of applause, admiration, love, sympathy, does not do honor to the literary calling in the honor which it bestows upon you ? ' "
MR. STEDMAN'S POEM.
As Mr. Harper sat down, Mr. Howells said: " This is all so good and true — especially in its appreciation of character in a certain fiction which shall be nameless — that I think we had better try another New Yorker. I will invoke now a gentleman whose presence we could wish was as familiar to us as his poetry, — Mr. E. C. Stedman."
Mr. Stedman prefaced his poem with a brief speech and then read the following :
I.
'T was the season of feasts, when the blithe birds had met
In their easternmost arbor, an innocent throng,
And they made the glad birthday of each gladder yet,
With the daintiest cheer and the rarest of song.
What brave tirra-lirras ! But clear amid all,
At each festival held in the favorite haunt,
The nightingale's music would quaver and fall,
And surest and sweetest of all was his chant.
III.
At last came the nightingale's fête, and they sought
To make it the tunefullest tryst of the year,
Since this was the songster that oftenest caught
The moment's quick rapture, the joy that is near.
But, alas, half in vain the fine chorus they made,
Fresh-plumed and all fluttering, and uttering their best;
For silent among them, so etiquette bade,
To the notes of his praisers sat listening the guest.
V.
Quel dommage! Must a failure, like theirs, be our feast ?
Must our chorister's voice at his own fête be still,
While he thinks, " You are kind. May your tribe be increased.
But at this I can give you such odds if I will " ?
VI.
What avail, fellow-minstrels, our crotchets and staves,
Though your tribute, like mine, rises straight from the heart,
Unless, while the bough on his laurel-bush waves,
To his own Sängerfest the one guest lends his art ?
VII.
Whose swift wit like his, with which none dares to vie,
Whose carol so instant, so joyous, and true ?
Sound it cheerly, dear Holmes, for the sun is still high,
And we 're glad, as he halts, to be outsung by you.
MR. ALDRICH'S SPEECH.
When the applause which followed Mr. Stedman's poem allowed him to speak, Mr. Howells said : " We have given New York her innings, and I think we should now like to hear from a metropolis nearer home. I shall call upon a gentleman from Ponkapog, familiar to us both in person and in poetry, —Mr. T. B. Aldrich."
Mr. Aldrich said : " I am quite in the condition of the late Artemus Ward, who said that he felt he had the gift of oratory, but that, he did n't happen to have it about him. I cannot, however, let this hour pass without alluding to a certain characteristic of our honored friend which no one has yet touched upon. I mean his judicious and inexhaustible kindness to his younger brothers in literature. In the midst of a life singularly crowded with duties, he has always found time to hold out a hand to the man below him. It is safe to say that within the last twenty-five years no fewer than five thousand young American poets have handsomely availed themselves of Dr. Holmes's amiability, and sent him copies of their first book. And I honestly believe that Dr. Holmes has written to each of these immortals a note full of the keenest appreciation and the wisest counsel. I have seen a score of such letters from his busy pen, and — shall I confess it? — I have one in my own possession. Twenty years ago I printed a volume of boyish verse : the first copy that came from the binder's was dispatched to the ' Autocrat of the Breakfast Table,' — as if he had been waiting for it. In return I received the kindest letter ever written by a celebrity to an obscurity. It virtually told me not to make any more verses unless I could make better ones. It told me this, but with such delicate frankness of phrase that it seemed to me as if the writer had laid his hand in tender reproof upon my shoulder, as an elder brother might have done. The fresh and subtle learning of the Autocrat, the humor and pathos of the Poet, that sky-lark quality of note in his lyrics,— he could not have perfected all these precious gifts, if God had not given him the most sympathetic of human hearts."
MR. WINTER'S POEM.
" I don't think it will be well," Mr. Howells resumed, " for me to attempt any geographical distribution of the next gentleman, who, exiling himself from his native Cambridge, has made his home in another city. His voice, whether heard in speech or in song, is always musical, and I trust we shall hear it now. I call upon Mr. William Winter, of Nork York."
Mr. Winter, after a few preliminary remarks, of a playful character, read his poem, — naming it for the occasion Hearts and Holmes, — which is here, by his request, entitled
THE CHIEFTAIN.
I.
If that glad song had ebbed away,
Which, rippling on through smiles and tears,
Has bathed with showers of diamond spray
The rosy fields of seventy years, —
If that sweet voice were hushed to-day,
What should we say ?
II.
At first we thought him but a jest,
A ray of laughter, quick to fade :
We did not dream how richly blest
In his pure life our lives were made ;
Till soon the aureole shone, confest,
Upon his crest.
III.
When violets fade the roses blow;
When laughter dies the passions wake,
His royal song, that slept below,
Like Arthur's sword beneath the lake,
Long since has flashed its fiery glow
O'er all we know.
IV.
That song has poured its sacred light
On crimson flags in Freedom's van,
And blessed their serried ranks who fight
Life's battle here for Truth and Man, —
An oriflamme, to cheer the Right
Through darkest night!
v.
That song has flecked with rosy gold
The sails that fade o'er Fancy's sea;
Relumed our storied days of old ;
Presaged our glorious life to be;
And many a sorrowing heart consoled
In grief untold.
VI.
When, shattered on the loftiest steep
The statesman's glory ever found,
That heart, so like the boundless deep,
Broke, in the deep no heart can bound,
How did his dirge of sorrow weep
O'er WEBSTER'S sleep !
VII.
How sweetly did his spirit pour
The strains that make the tear-drops start,
When, on this bleak New England shore,
With Tara's harp and Erin's heart,
He thrilled us to the bosom's core
With thoughts of MOORE !
VIII.
The shamrock green on Liffey's side,
The lichen 'neath New England snows,
White daisies of the banks of Clyde,
Twined ardent round old Albion's rose,
Bloom, in his verse, as blooms the bride,
With love and pride.
IX.
The silken tress, the mantling wine,
Red roses, summer's whispering leaves,
The lips that kiss, the hands that twine,
The heart that loves, the heart that grieves, —
They all have found a deathless shrine
In his rich line !
x.
Ah, well! that voice can charm us yet,
And still that shining tide of song,
Beneath a sun not soon to set,
In golden music flows along.
With dew of joy our eyes are wet, —
Not of regret.
XI.
For still, as comes the festal day,
In many a temple, far and near,
The words that all have longed to say,
The words that all are proud to hear,
Fall from his lips with conquering sway,
Or grave or gay.
XII.
No moment this for passion's heat,
Nor mine the voice to give it scope,
When Love and Fame and Beauty meet
To crown their Memory and their Hope !
I cast white lilies, cool and sweet,
Here, at his feet.
XIII.
True hard, true soul, true man, true friend
Ah, gently on that reverend head,
Ye snows of wintry age, descend;
Ye shades of mortal night, be shed!
Peace guide and guard him to the end,
And God defend!
MR. TROWBRIDGE'S POEM.
Mr. Howells introduced Mr. J. T. Trowbridge, who read a poem entitled
FILLING AN ORDER.
To Nature, in her shop one day, at work compounding simples,
Studying fresh tints for Beauty's cheeks, or new effects in dimples,
An order came : she wiped in haste her fingers and unfolded
The scribbled scrap, put on her specs, and read it, while she scolded.
" From Miss Columbia ! I declare ! of all the upstart misses!
What will the jade be asking next? Now what an order this is !
Where's Boston ? Oh, that one-horse town out there beside the ocean !
She wants — of course, she always wants — another little notion !
" This time, three geniuses, A I, to grace her favorite city :
The first a bard ; the second wise ; the third supremely witty ;
None of the staid and hackneyed sort, but some peculiar flavor,
Something unique and fresh for each, will be esteemed a favor !
Modest demands ! as if my hands had but to turn and toss over
A Poet veined with dew and fire, a Wit, and a Philosopher !
" But now let's see ! " She put aside her old, outworn expedients,
And in a quite unusual way began to mix ingredients, —
Some in the fierce retort distilled, some pounded by the pestle, —
And set the simmering souls to steep, each in its glowing vessel.
In each, by turns, she poured, she stirred, she skimmed the shining liquor,
Threw laughter in, to make it thin, or thought, to make it thicker.
But when she came to choose the clay, she found, to her vexation,
That, with a stock on hand to fill an order for a nation,
Of that more finely tempered stuff, electric and ethereal,
Of which a genius must be formed, she had but scant material —
For three ? For one ! What should be done ? A bright idea struck her ;
Her old witch-eyes began to shine, her mouth began to pucker.
Says she, " The fault, I 'm well aware, with genius is the presence
Of altogether too much clay, with quite too little essence,
And sluggish atoms that obstruct the spiritual solution;
So now, instead of spoiling these by over-much dilution,
With their fine elements I 'll make a single, rare phenomenon,
And of three common geniuses concoct a most uncommon one,
So that the world shall smile to see a soul so universal,
Such poesy and pleasantry, packed in so small a parcel."
So said, so done ; the three in one she wrapped, and stuck the label :
Poet, Professor, Autocrat of Wit's own Breakfust Table.
SOME OF THE LETTERS.
Mr. Howells: " Ladies and Gentlemen, — I think it is only fair at this point that we should hear the defense of those who put themselves in writing, not being present. Mr. Osgood has certain letters which he will read."
Mr. Osgood then read the following letters : —
EXECUTIVE MANSION,} WASHINGTON, 25 November, 1879.
GENTLEMEN, — I am obliged to you for inviting me to a breakfast in honor of the seventieth birthday of Dr. Holmes. Nobody enjoyed his breakfast-table talk some years ago more than I did. Seventy years used to seem a great age, but I can't think of Dr. Holmes as growing old. I am sorry I can't enjoy the breakfast with him. May he still live many years, — happy himself, and, as he always has done, making others happy. Sincerely, R. B. HAYES.
CAMBRIDGE, November 14, 1879.
GENTLEMEN, — I cannot decline your kind invitation without a word of preface. Between my brother and myself there has never been but one subject of rivalry, — that of age; and there I long since gained the day, — having found myself generally considered his superior on this point. This circumstance has placed me in a quasi paternal attitude toward him, and gives me a double claim to enjoy the pleasant evidence of his success which you now offer.
As intermediary between my brother and a casual portion of society, I have been made the depository of many favorable opinions in his behalf, and can honestly say that I have never accepted any commission for my services, in the way of personal compliment. Employed, as I have so often been, as an opaque sentient medium to transmit rays of appreciation without loss of heat by absorption, I am pleased to report to you the uniform success of the experiment.
I wish my brother all that he would himself select from the bouquets of good-will that are made up for such occasions, and freely tender him that title to seniority of which I have so long deprived him.
As on a former occasion, I feel unwilling to seat myself among our littérateurs, on the score of my scant authorship,—even with the added plea of brotherhood to your guest.
I thank you, therefore, gentlemen, for the attention, and regret that I must decline your invitation.
Respectfully yours, JOHN HOLMES.
WEST NEW BRIGHTON,} STATEN ISLAND, N. Y., 22 November, 1879.
GENTLEMEN, —If it were possible for all of his friends who would gladly take your guest by the hand personally to appear at your feast, they would come as the leaves come when forests are rended ; and as he sits among you, honoring and honored, and watches the orators pouring out their homage in sincerely eloquent speech and song, he will see behind each one of them, as in the old pictures of saints, the cloud of witnesses innumerable filling the distance with their " All haill " None of the brilliant company, poet, or orator, or wit, or story-teller, will breathe a strain of gravity, or humor, or fancy which will not seem to be his own ; for, of all our masters in literature, Holmes is the one of whom it will be said: " He touch'd the tender stops of various quills."
I do not dare to write as fully as I can all that is in my grateful heart for him and for his works. But with all his triumphs there was one thing that he could not do until this year. Never before could he show that at seventy the heart of the man may be still the boy's unworn heart of truth and generous loyalty, and as we sit around the table,—if you will allow me to believe myself among you, — and look at him and listen to him, we can wish for each other no fairer fortune than to be just as old and as young as Oliver Wendell Holmes.
Most truly, his friend and yours,
GEORGE WILLIAM CURTIS.
1623 H STREET, WASHINGTON, D. C.,} November 30, 1879.
MY DEAR SIRS, — Not distance, but winter, keeps me from your festival. Your guest has ever been so ready to recognize what is praiseworthy in others, that he has twice over the right to be honored for his mastery over the two great instruments of thought, poetry and prose; and over both the most excellent words of human life, the joyous and gay, and the serious and serene.
But as to believing that his seventieth birthday is at hand, I hold him, and shall continue to hold him, in my mind and in my affections, as having an inalienable right to all the freshness and sincerity and vivacity of youth, with gravity struggling hard to keep dominion over his countenance, and laughter escaping for shelter to his eyes ; he himself being always true to his friends and true to his country at any cost.
Give him my best wishes for his happiness, as they rise from my heart, and may he live longer than I have time to tell his years.
Your own well-wisher and friend,
GEORGE BANCROFT.
MR. CRANCH'S SONNET.
Mr. C. P. Cranch, on being introduced to the company, said he had a small paper life-preserver in his pocket, in the shape of a sonnet, which he could use at any moment, if he found himself swimming too far beyond his depth in this unaccustomed element of public speech. He wanted to congratulate Dr. Holmes on his health, strength, and youthful appearance. He remembered another seventieth birthday celebration,—that of Mr. Bryant, at the Century Club in New York, at which Dr. Holmes read one of his brilliant poems. That was fifteen years ago, yet how gently time has touched him ! We are tempted to apply to him the familiar but still appropriate old lines, —
" Age cannot wither him, nor custom stale His infinite variety. Others cloy The appetite they feed. But he makes hungry
When most he satisfies."
Mr. Crunch said that he made this an easy transition, or as musicians would say, a modulation into another chord, and then read the following sonnet ; —
A fountain in our green New England hills
Sent forth a brook, whose music, as I stood
To listen, laughed and sang through field and wood,
With mingled melodies of joyous rills.
Now, following where they led, a river fills
Its channel with a wide, calm, shining flood,
Still murmuring on its banks, with changeful mood.
So, Poet, sound thy " stops of various quills,"
Where waves of song, wit, wisdom, charm our ears
As in thy youth, and thoughts and smiles by turns
Are ours, grave, gay, or tender. Time forgets
To freeze thy deepening stream. The stealthy years
But bribe the Muse to bring thee amulets
That guard the soul whose fire of youth still burns.
COLONEL HIGGINSON'S SPEECH.
Mr. Howells said : " Ladies and Gentlemen, — I will next introduce a gentleman so well known otherwise that I can only hope to achieve novelty by presenting him to you in his character of legislator, — Colonel T. W. Higginson."
Mr. Higginson said: " I am one of those whose contributions to the pages of The Atlantic have of late years not been very abundant, but whose presence at its public breakfasts and dinners has been unfailing and conscientious. And I can truly say that I have never attended any more satisfactory than this, when one of the traditions of years has been broken and the hospitality of the invitation has been as comprehensive as that conveyed on a political handbill which I saw displayed during the heated canvass last year, when in a notice of a meeting were these words : ' On this occasion ladies, without distinction of sex, will be welcome.' Mr. Chairman, and Mr. Autocrat, Mr. Publisher, — and shall I say, Messrs. Publishers and Publisheresses, — it used to be said by Dr. Johnson, or somebody, that poetry was like brown bread: those who made it in their own households never thought much of what they found anywhere else. I am sure it is not true of the poetry of the present day, and least of all is it true in Boston. And in regard to the prose writers, I have not failed to notice the serenity which has marked those among us who are ready to draw our swords upon one another on any other occasion. It is pleasant for an active literary man to look around at this social meeting and see near him at the board some one whom he is preparing to annihilate in the next issue of the Contributors' Club, and whose calmness of countenance can only be understood on the theory that he himself has some experiment of annihilation to try on you, which will appear in the next number but one. All these little, temporary, superficial matters disappear in the great unity of feeling which has prevailed up to this time among the literary men of America; at any rate, they are all lost in the recognition of one Autocrat.
"I have noticed that the gentlemen who have spoken before me have indulged in little personal reminiscences. Mine are perhaps of a tenderer nature than those of any who have preceded. I shall always, to my dying day, look with deepest affection on Dr. Holmes as having been the very last man who publicly in print, before all the world, spoke of me as ' my young friend.' It touched my heart very much at the time; it was more than eighteen years ago. I should like to speak of that most delightful of sunny old men, the father of Dr. Holmes, whom I knew and loved when I was a child and hardly knew that there was such a person as Dr. Holmes in the world. The Autocrat once said, and it was an admirable truth, that to have a thorough enjoyment of letters it was needful that a man should have tumbled about in a library when he was a boy. I was brought up in Cambridge, my father's house being next door to that of Dr. Holmes's gambrel-roof house, and the library I most enjoyed tumbling about in was the same in which his infant gambols had first disturbed the repose of the books. I shall always remember a certain winter evening, when we boys were playing before the fire, how the old man, gray and gentle and kindly as any typical old German professor, and never complaining of our loudest gambols, — how, going to the frost-covered window, he sketched with his penknife what seemed a cluster of brambles and a galaxy of glittering stars, and above that he wrote : Per aspera ad astra, — Through difficulties to the stars. He explained to us what it meant. I have never forgotten that quiet winter evening and the sweet talk of that old man. What the asperities were that he had encountered in the education of his own children I did not take the liberty to inquire. There was something in the hastily sketched thicket that was suggestive of young birch - trees, but that may have been only imagination. As I see our friend here, now in his age that seems so like youth, I remember that wintry evening, and I think of him. His difficulties in life, his aspera, have been few; may his passage to the stars be distant."
THE END.
At the close of Colonel Higginson's speech Mr. Howells arose and said: " It is related of the Emperor Charles the Fifth that he satisfied the ardor of the Bolognese for titles by waving his sword above an assembly of all the citizens and proclaiming them ' Todos nobles ! ' Profiting by this eminent example, I pronounce you from this point all orators."
The company slowly dispersed; many gathering again about Dr. Holmes to repeat their congratulations.
THE UNREAD TRIBUTES.
There was a necessary limit to the reading of poems, the delivery of speeches, and the naming of letters from absent friends, hut it is possible to preserve in this record some of the responses to the invitation, and words of acknowledgment, which were missed in the hearing.
MR. FIELDS'S FAIRY TALE.
Mr. James T. Fields was one of those from whom word was expected. A lecture engagement compelled him to leave the room shortly after the speaking began, or he would have read the following fairy tale : —
Once upon a time a company of good-natured fairies assembled for a summer moonlight dance on a green lawn in front of a certain picturesque old house in Cambridge. They had come out for a midnight lark, and as their twinkling feet flew about among the musical dewdrops, they were suddenly interrupted by the well-known figure of the village doctor, which, emerging from the old mansion, rapidly made its way homeward.
" Another new-horn mortal has alighted on our happy planet," whispered a fairy gossip to her near companion.
" Evidently so ! " replied the tiny creature, smiling good-naturedly on the doctor's footprints in the grass.
" That is the minister's house," said another small personage, with a wink of satisfaction.
" Perhaps it is a hoy," ejaculated Fairy Number One.
" I know it is a boy!" said Fairy Number Two. " I read it in the doctor's face when the moon lighted up his countenance as he shut the door so softly behind him."
" It is a boy ! " responded the fairy queen, who always knew everything, and that settled the question.
" If that is the case," cried all the fairies at once, "let us try what magic still remains to us in this busy, bustling New England. Let us make that child's life a happy and a famous one, if we can."
" Agreed," replied the queen; "and I will lead off with a substantial gift to the little new-comer. I will crown him with Cheerfulness, a sunny temperament brimming over with mirth and happiness ! "
" And I will second your majesty's gift to the little man," said a sweet-voiced creature, " and tender him the ever-abiding gilt of Song. He shall be a perpetual minstrel to gladden the hearts of all his fellow mortals."
"And I," said another, "will shower upon him the subtle power of Pathos and Romance, and he shall take unto himself the spell of a sorcerer whenever he chooses to scatter abroad his wise and beautiful fancies,"
" Aud I," said a very astute-looking fairy, " will touch his lips with Persuasion; he shall be a teacher of knowledge, and the divine gift of Eloquence shall be at his command, to uplift and instruct the people."
" And I," said a quaint, energetic little body, "will endow him with a passionate desire to help forward the less favored sons and daughters of earth, who are struggling for recognition and success in their various avocations."
" And I," said a motherly-looking, amiable fairy, " will see that in due time he finds the best among women for his companionship, a helpmeet indeed, whose life shall be happily bound up in his life."
" Do give me a chance ! " cried a beautiful young fairy, " and I will answer for his children ; that they be worthy of their father, and all a mother's heart may pray that Heaven will vouchsafe to her."
And after seventy years had rolled away into space, the same fairies assembled on the same lawn at the same season of the year, to compare notes with reference to their now famous protégé. And then and there they declared that their magic had been thoroughly successful, and that their charms had all worked without a single flaw.
Then they took hands, and, dancing slowly around the time-honored mansion, sang this roundelay, framed iu the words of their own beloved poet: —
" Strength to his hours of manly toil !
Peace to his star-lit dreams!
He loves alike the furrowed soil,
The music-haunted streams !
" Sweet smiles to keep forever bright
The sunshine on his lips,
And faith, that sees the ring of light
Round Nature's last eclipse ! "
LETTERS OF REGRET.
PHILADELPHIA, November 22d.
GENTLEMEN, — I am sincerely sorry that I cannot accept your invitation to be present at your pleasant celebration of Dr. Holmes's birthday. I must content myself to be one with all the rest of the world who delight to honor your good poet every day in their own homes. Very truly,
REBECCA HARDING DAVIS.
DEPARTMENT OF TITE INTERIOR,} WASHINGTON, JSth November, 1870.
Gentlemen,— It would give me the greatest possible pleasure to be present at the reception and breakfast to be given on December 3d in honor of the birthday of Oliver Wendell Holmes, and I regret very sincerely that my official duties will not permit me to leave Washington about that time. Willi my best thanks for the honor you have done me by your kind invitation, I remain, Very truly yours,
C. SCHUKZ.
BOSTON, November 18th
GENTLEMEN, - I regret that my engagements will prevent me from accepting your invitation to be present at the breakfast in celebration of the seventieth birthday of Dr. Holmes. It is my hope and trust that you and he will live to be present at the celebration of his hundredth birthday, when he may look back to the treasures of wit, learning, and wisdom contributed to the literature of his country with even more satisfaction than that with which we all point to his achievements in letters during the past thirty or forty years. One thing appears certain, that he can never grow old, in the mental and moral sense of the term. It is impossible to read his later poems without being impressed by the spirit of youthfulness with which they are animated ; and age is of small account when the mind preserves its elasticity and the heart its warmth. Very sincerely yours, E. P. WHIPPLE.
YALE COLLEGE, NEW HAVEN, November 25th.
GENTLEMEN, — I had hoped till within a day or two to be able to accept your very polite invitation to be present at the reception and breakfast of Wednesday. I find, however, that I cannot do so consistently with my duties and engagements, which at this season are more than usually pressing. It would give me especial pleasure to render honor to the man of seventy who, however long he may live, can never grow old, and, however late he may die, will show that he is loved of the gods, in that he will surely die young. Although I have not always been able to accept his physiological and theological theories, and have sometimes thought they have reached the extremes of ultra - Calvinism, I have never failed to yield my heart to the wit, the wisdom, and the pathos which he never fails to enshrine in flowing prose or sparkling verse. With greetings to the Autocrat, I am very respectfully yours,
NOAH PORTER.
GG1 FIFTH AVENUE,} HEW YOKE, November 25th.
GENTLEMEN, — I am truly sorry that it is not in my power to accept your kind invitation. It would give me the sincerest pleasure to join in the honors to the beloved poet, who, from my pupil in the university, has become my teacher in the high school of life. I would fain add a leaf to the laurel which will crown his brow, and confess my debt for the smiling wisdom, the exquisite humor, the joyous hilarity, the tender pathos that softens the lambent wit of the man who, on the verge of old age, has never grown old, but with the experience of years preserves the freshness of youth.
With my best wishes that the light of his eventide may long shine with the morning beauty of his early manhood, I am, most cordially, his friend and yours,
GEORGE BURLEY.
COURIER-JOURNAL COMPANY,} LOUISVILLE, November 26th.
Gentlemen,—If anything short of a famine could induce me to travel all the way from Kentucky to Boston to dine, it would be your hospitable invitation to meet Dr. Holmes and to join his immediate neighbors in doing honor to his seventieth birthday. But I am unable so to arrange it. The best I can do to compensate myself for the loss, and to repay you for your kind remembrance of me, is to devote the time when I should be eating and drinking, and, it might be, speaking, in his praise and to his health, to such a memorial at long range as shall best express the affection in which he is held by Kentucky and the Kentuckians, as a poet and as a genial, patriotic man.
Believe me, we all love him sincerely, and are proud of him, and we warm to you because you love him and are proud of him. I remain, gentlemen, with great respect, HENRY WATTERSON.
PHILADELPHIA, November 27th.
GENTLEMEN, — Nothing could give rue greater pleasure than to assist at the proposed festival of a great man, whom all men honor, were it not for my miserable condition and the increased suffering which I endure whenever I attempt to travel, . . . In my enforced and most reluctant absence, permit me to wish Dr. Holmes, and the distinguished friends who will gather about him on the memorable 3d of December, all possible joy on the occasion of a festival which, though it should be of Rabelaisian proportions, can hardly repay him the pleasures which he through the majority of his seventy years has given to the world. Yours very sincerely, GEO. H. BOKER.
1215 J STREET, WASHINGTON.
GENTLEMEN, — I deeply regret that fate will not be so good to me as to allow me to be among the fortunate ones who are to meet on the 3d to greet the l'oet at the Breakfast Table. But at least fate cannot prevent me from wishing, no less for the thousands who love him than for the poet himself, many, many happy returns of the day. Yours sincerely,
FRANCES IIODGSON BURNETT.
GENTLEMEN, — Thanks for the kind invitation with which you have honored me. I would gladly testify my respect for Oliver Wendell Holmes by attending the reception on the 3d of December, but I am too old to share in public festivities. I can only write to say that I am grateful to him for many pleasant hours, which I owe to his philosophic thoughts, scintillating with sparkles of wit, like deep waters sprinkling sun diamonds as they flow. I also thank him for the healthy tones of pure domestic affection which breathe through his writings ; showing that he habitually estimated woman not merely as the petted plaything, with bright eyes, coral lips, and shining hair, but as the beloved and respected friend, companion, and partner of man's life. May his fine faculties remain unimpaired till the soul changes its form and passes into a larger and freer life. L. MARIA CHILD.
HAMILTON, November 19,1879.
Miss MARY A. DODGE deeply regrets that an expected absence from town prevents her from accepting the polite invitation of the publishers of The Atlantic Monthly to a reception and breakfast at the Hotel Brunswick, on December 3, 1879, at twelve o'clock, in honor of the thirtyfifth birthday of Oliver Wendell Holmes (which by mistake appears in the note of invitation as the seventieth).
MURRAY HILL, 19 East 37th Street,} November 20, 1879.
GENTLEMEN, — Nothing would have given me more pleasure than to participate in the honor you propose to render to Dr. O. W. Holmes, — the first of our wits, among the first of our poets, and who as an essayist, in his peculiar line, has no equal on either side of the Atlantic, — but I regret that my engagements will not allow me to be absent from New York at the time. With many wishes for your success, I remain yours most truly,
PARKE GODWIN.
EDGHWOOD,} Thanksgiving Day, November, 1879.
GENTLEMEN, — Illness only has forbidden an earlier acknowledgment of your enticing invitation for the 3d proximo.
I cannot forbear sending from my sickroom words of cheer for the veteran wit, philosopher, humanitarian, humorist, — how shall I characterize him?
I do nod know what sort of pabulum he is used to provide for patients in the practice of his special profession ; but if it be one half so well weighed and so well put as that which he has furnished in times past — between book covers — for the whole English-reading world, he must have wrought amazing cures.
One wonders how such a man as Dr. Holmes should ever grow old himself or let others grow old about him. Blessings on him ! Very truly yours,
DONALD G. MITCIIELL.
NORTH BEND, OHIO, J November 24, 1879. i
DEAR SIRS, — I regret that it will be impossible for me to be present at the breakfast to be given by you in honor of the seventieth anniversary of Dr. Holmes's birthday, and to pay my humble respects in person to the delightful poet. It would have given me great pleasure to be among the fortunate, and of course hungry, guests at such a breakfast table, and to sit in the electric atmosphere of the happy Autocrat, who, I trust, will live, to prove his charming fancy of the Seventy-Year Clock, in his own case, at least, a fable and a dream, taking no note of time thereby, but, instead, continuing to
Drink of Time's rich cup, and never surfeit,
Fling in more days than went to make the gem
That crowned the white top of Methusalem.
Thanking you for your kind invitation,
I remain very truly yours,
JOHN J. PIATT.
P. S. The above quotation may be said to be a Lamb chop, and therefore, I hope, not unbecoming a breakfast table.
29 WAVERLEY PLACE, NEW YORK, November 18, 1879. DEAR SIRS, — I thank you for your kind invitation to the festival of December 3d, which is just received.
I have never known a greater social pleasure than to meet Dr. Holmes, nor is there a man on earth whom I should more delight to join in honoring, but I shall not be able to share these enjoyments with you on this occasion. I am very truly yours, RICHARD GRANT WHITE.
JOHNS HOPKINS UNIVERSITY, BALTIMORE, November 29, 1879.
GENTLEMEN, — I have delayed a reply to your attractive invitation to the breakfast to be given in honor of Dr. Holmes, hoping that I should be able to accept; but it is now quite clear that I cannot leave my post, and I must be content to send you my thanks. In this new university we consider " the Professor at the Breakfast Table " as one of the permanent members of the academic staff, and though we do not hear his voice or see his smile we feel his power and enjoy his wit. As the years go on we expect that new generations of young Hopkinsians will delight, as their predecessors have done, in the humor and poetry which " the Professor at the Breakfast Table " has brought to the Harvard festivals, — the salt of many a banquet. With sincere regret that I must be absent, I am, dear sirs, yours sincerely,
D. C. GILMAN.
NEW HAVEN, November 24th.
DEAR SIRS, — Accept my sincere thanks for your invitation to the breakfast in honor of the birthday of our distinguished poet, prose writer, and scientist, Dr. Oliver Wendell Holmes, and my regrets that circumstances personal to myself will prevent my attendance.
Do me the favor also to convey to your honored guest my expressions of esteem for his character and admiration for his writings. ... In all English literature I do not know any prose but that of the Autocrat and the Professor which can be put on an equality, for brightness and lightness and flexibility, with the rapierlike prose of Voltaire, About, and some other famous Frenchmen. It has been a piece of good fortune, not merely for the American republic of letters, but also for our mother tongue, that Dr. Holmes has lived.
May the valuable life be continued for many years to come. Very respectfully yours, J. W. DEFOREST.
WASHINGTON, D. C.,} November 22, 1879.
GENTLEMEN, — I am much obliged and much honored by your invitation to the reception and breakfast you propose to give at the Hotel Brunswick, Boston, on the 3d December, in honor of the seventieth birthday of Oliver Wendell Holmes. . . . But I must be content to send you my thanks and my regret that I cannot be with you. I know Oliver Wendell Holmes only as he is known to the millions, — as a man of letters and a man of high character, one of the most brilliant of American authors and scholars, a poet and a philosopher ; one whose genial wit has often brushed away clouds of care and sadness from the thoughtful brow of Boston, and mantled our land generally with smiles of joy and gladness.
Though I cannot be with you in person, I shall rejoice with you that the days of Oliver Wendell Holmes have been thus long in the land; that he has reached what Victor Hugo calls " the youth of old age; " that his life has been a success to himself, a source of pride to Boston, an honor to men of letters, a help and a happiness to countless thousands of his countrymen. With my best wishes for the continuance of his life and health, and the hope that I may yet have the pleasure of celebrating one or more of his future birthdays, I am, gentlemen, with very great respect, very truly yours, FREDK. DOUGLASS.
46 PARK AVENUE,} NEW YORK, November 20th. GENTLEMEN, —There is a doctor here in New York who thinks I ought not to go anywhere or do anything, and he frowns upon my accepting your invitation to the Holmes breakfast. . . . But I take the liberty to send my congratulations to your honored guest on his arrival at the venerable dignity which crowns so many of his stately and tuneful brotherhood in Eastern Massachusetts. ... I have often been saddened by words which showed that he was drifting away from his youth with regret. Allusions to the fact that he was growing old have crept into merry song and dainty fantasy. ... I have been sorry for this, because I and a great multitude of others have enjoyed Dr. Holmes's life about as much as he has himself ; so that if life could be measured by the amount of pleasure and satisfaction it begets, he must have been living at a tremendous rate, and have crowded into these brief seventy years of his the age of Methuselah, at least. . . . He has lived young, and done a great deal to help the rest of us to do so, for which we owe him a large debt of gratitude. . . . Yours very truly,
J. G. HOLLAND.
OFFICE OF THE PUBLIC LEDGER,} PHILADELPHIA, November 27, 1879.
GENTLEMEN, — It has rarely happened to me to write the word " regret " with stronger sense of its meaning than when I have to write my inability to join the Atlantic company at breakfast next Wednesday, and the festival to mark the seventieth birthday of Oliver Wendell Holmes.
I wish I could be there to note the many O. W. H.'s combined into one in him, when they all reach the day that completes the three score and ten together, to see which is older, oldest, or youngest, — the physician curè of the body, the keen but genial wit, the charming raconteur, the poet, the philosopher, the man (rare man who is so many men), — which of these comes to the score of seventy with most of the freshness and vigor of youth, tempered by the maturing influence of years.
We have autocratic authority for believing " they do well to [breakfast] together. A breakfast party made up of such elements is the last triumph of civilization over barbarism. Nature and art combine to charm the senses; the equatorial zone of the system is soothed by well-studied artifices; the faculties are off duty, and fall into their natural attitudes; you see wisdom in slippers and science in a short jacket."
These are real feasts of wit, intellect, and good-fellowship; and I only half express my regret when saying, I am very, very sorry I can't be there. Very truly yours, GEORGE W. CHILDS.
WASHINGTON, D. C., December 1, 1879.
GENTLEMEN, — I have delayed until today my answer to your kind invitation to the dinner given in honor of Dr. Oliver Wendell Holmes, in the hope that it might be possible for me to come, but I now see that it is out of my power. I earnestly wish I could be with you to congratulate your honored guest upon the attainment of the age which Victor Hugo calls " la jeunesse de la vieillesse."
Through a long life of literary work — for his first successes were won in his boyhood — he has carried with him the respect and the affection of a constantly growing multitude of readers, and if all who love and admire him could be permitted to give him each a day of their lives his years would extend beyond those of Methuselah. Certainly few men could have their days indefinitely prolonged with equal pleasure and profit to the world. As artist and moralist he is equally blameless. In all his works there is not to he found a slovenly line nor an impure thought. We may all, therefore, with as much selfishness as regard for the public good, heartily wish him long life and undiminished powers. I am faithfully yours, JOHN HAY.
PALAZZO BARBERINI, ROME,) Wednesday morning, December 3, 1879.
DEAR MR. Houghton,— I have just received the invitation of the publishers of The Atlantic Monthly to breakfast today and meet Oliver Wendell Holmes, who I am informed is seventy years of age. I don't believe it. He is as young as ever he was, as full of life and genius and humor as ever he was, and it is all humbug; he is only a boy. He told me so himself, he has told several persons of my acquaintance the same fact, and I know he meets other " boys " and reads poems to them every year ridiculing their absurd pretensions of being old. But it is a besetting sin of young creatures to pretend to be old. Let him wait; he will get old in time — perhaps; I am not sure. I know some extremely wise and serious fellows of twentyone who are really old, but I doubt if he ever will be. I accept with the greatest pleasure. I know there will be great fun, and excellent talk, and speeches ad lib., to all of which I shall listen with great pleasure. It is now just a quarter to eleven o'clock, and the breakfast is to begin this very day at twelve. This will just give me time to get there. I shall take the lightning express at half past eleven, and be with you in a flash, so that I shall be able to get back here to a late dinner. I don't mind postponing my dinner for an hour for the pleasure of meeting a young friend, and telling him how I admire and delight in him, and all he is anil all he does, and trying to encourage him to go on. There are so few young people left, we must keep all we have. I shall, in our phrase, " be happy to meet him as an American," and as an (I came very near saying old) friend. Please say to him for me, " Bless you, my boy! "
How lucky it was I got your invitation in time! How lucky there is such a thing as electricity and a lightning train! Yours most faithfully, W. W. STORY.
There were other letters from invited guests who were unable to attend, which would have found a place in this record except for the unfortunate fire which destroyed them before they were placed in the editor's hands.