Dickens's Great Expectations
"The idea of an innocent boy establishing unconsciously an immense influence over the mind of a hunted felon … haunted Dickens's imagination until he gathered round it a whole new world of characters and incidents."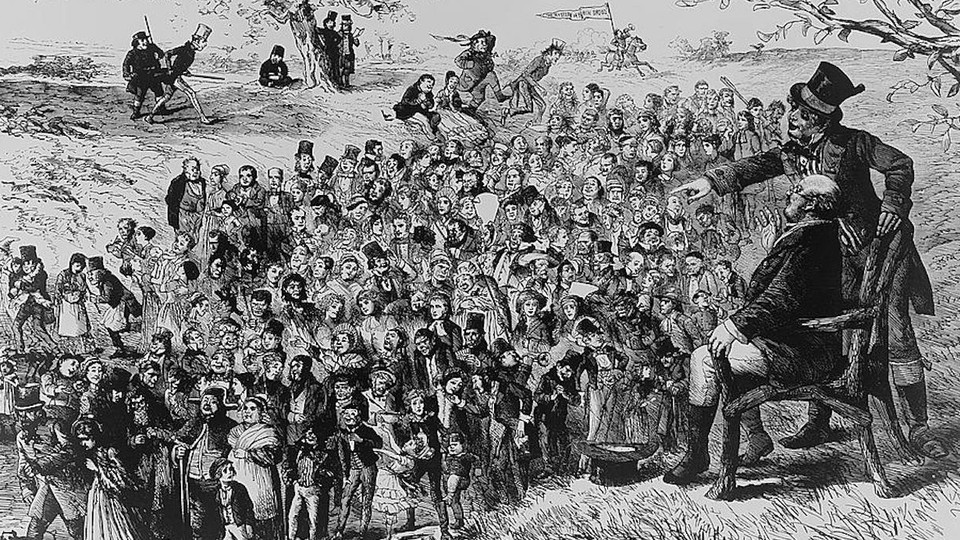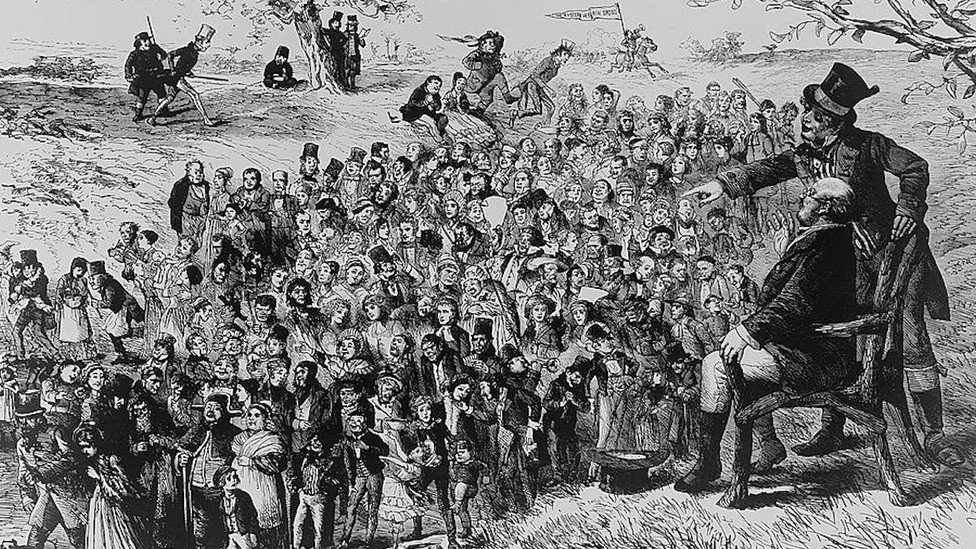 On the first of December, 1860, Dickens began the publication, in All the Year Round, of his novel of Great Expectations, and closed it in the number of that weekly which appeared on the 3d of August, 1861. His first intention, as in the case of The Old Curiosity Shop, was to write a short sketch or story for the periodical he edited. Forster had suggested to him that he should try something in his old way, — something which would recall to the public his youthful achievements in humorous scenes and characterizations. Dickens replied: "For a little piece I have been writing—or am writing, for I hope to finish it to-day—such a very fine, new, and grotesque idea has opened upon me that I begin to doubt whether I had not better cancel the little paper and reserve the notion for a new book. You shall judge as soon as I get it printed. But it so opens out before me that I can see the whole of a serial revolving on it in a most singular and comic manner." This grotesque idea was, doubtless, the relation established between Pip and Magwitch, which might easily have been narrated in a few charming pages, such as those in which he had disposed of the germs of many other romances, in the series of essays, sketches, and portraitures of life which he was then writing under the general title of The Uncommercial Traveller. But the idea of an innocent boy establishing unconsciously an immense influence over the mind of a hunted felon, merely by giving him that assistance which he dared not refuse, haunted Dickens's imagination until he gathered round it a whole new world of characters and incidents. He thought at first that it might furnish the materials for a monthly serjal, in twenty numbers, like Dombey and Son, or Little Dorrit; but the falling off in the circulation of All the Year Round induced him to publish it in that weekly, amid to confine it to the dimensions of A Tale of Two Cities. It is doubtful if he could have sustained himself in making the story double its present length. As it is, nothing could be better of its kind; but the atmosphere of Old Bailey and Newgate, which penetrates the whole tale, might have become insupportable in a romance as long as Copperfield or Bleak House. The only method by which the interest could have been sustained would have been a forced extension and development of Pip's character through scenes which might have followed the downfall of his "expectations," and which would have led him up to his eventual marriage with Estella in a less curt fashion than that which the romancer eventually employed.
To account for the conclusion of the story as it now stands, where, in a concluding chapter, "the heroine, after being married, reclaimed, and widowed, is in a page or two made love to and remarried to the hero," we must refer to a remonstrance from friends, which was more effectual in the case of Dickens than that which protested against the death of Clarissa Harlowe, in the case of Richardson. Carlyle was among the persons who listened to the reading of advanced sheets of the story, and on one occasion, at a meeting of friends in Dickens's house, called, in his boisterous, laughing way, for more of that "Pip nonsense;" and Bulwer Lytton was so strongly opposed to the conclusion of the story as originally written that Dickens reluctantly altered it. "I have changed the end of Great Expectations," he wrote to Forster, "from and after Pip's return to Joe's, and finding his little likeness there. Bulwer, who has been, as I think you know, extraordinarily taken by the book, so strongly urged it upon me, after reading the proofs, and supported his view with such good reasons, that I resolved to make the change. You shall have it when I come back to town. I have put in as pretty a piece of writing as I could, and I have no doubt the story will be more acceptable through the alteration."
The original closing chapter left Pip a solitary man, as much estranged from Estella as he was from all the persons connected with her and his great expectations. He returns to England after an absence of eight years, and finds that Joe and Biddy, happily married, have given his name to their son. He learns that Estella, in marrying Drummle, has endured every outrage that could be inflicted by such a husband's pride, cruelty, and meanness; that she was relieved from her hated bonds by a merciful kick bestowed upon him by a nobler brute, namely, a horse that he had ill-treated; and that she was now married to a Shropshire doctor, who had witnessed and resented, during his professional visits to her dying husband, the outrages that he heaped upon her to the last. Pip is also informed that she and the doctor are living comfortably on her personal fortune. Then come the concluding sentences of the tale: "I was in England again—in London, and walking along Piccadilly with little Pip—when a servant came running after me to ask would I step back to a lady in a carriage, who wished to speak to me. It was a little pony carriage which the lady was driving; and the lady and I looked sadly enough on one another. 'I am greatly changed, I know; but I thought you would like to shake hands with Estella, too, Pip. Lift up that pretty child, and let me kiss it!' (She supposed the child, I think, to be my child.) I was very glad afterwards to have had the interview; for, in her face and in her voice and in her touch, she gave me assurance that suffering had been stronger than Miss Havisham's teaching, and had given her a heart to understand what my heart used to be." This was a natural and artistic conclusion of the story; but Bulwer insisted that Pip should not be left alone in desolate bachelorhood; that he should marry Estella. It must be confessed that Dickens contrived to give an unprepared, unexpected, and inartistic ending to the romance, satisfying to Bulwer and to ordinary readers of novels, because it promised a marriage between the hero and the heroine; but how dreary, how sepulchral, is this mating of hearts never intended to be matrimonially joined! Better to have left Pip an experienced merchant emancipated from all his old delusions, and leading his little namesake by the hand along Piccadilly, than to have married him to the lady who looked out upon him from her pony carriage as she drove by. Estella had deliberately used her charms for the purpose of winning his heart only to torture it; she had deliberately married a dolt and a brute for money; and she should have been left to the Shropshire doctor, who had softened all the heart she possessed by defending her from the deathbed malignity of her savage husband. Pip, educated into a man of affairs, who had learned the value of the affections he had foolishly sacrificed in his green youth, should also have been left, as Dickens intended to, leave him, calmly surveying the woman who had awakened in his youthful breast the passion of love only to deceive it merely as a matron in whom he hoped calamity had developed a heart never revealed to him.
There is much of Dickens's best writing in Great Expectations. The characterization is forcible even when it is least attractive. Thus the weird ghostly Miss Havisham has more power expended on her than she deserves. Orlick is a savage of the same race as Hugh, in Barnaby Rudge, but is represented as more brutal than his prototype. A broad-shouldered, loose-limbed, swarthy, sullen, hulking ruffian, who "slouches into his work as he slouches out of it," his great physical strength is guided by a low cunning only to the gratification of a low malignity, and he is thoroughly dehumanized in the process by which he is strongly individualized. Magwitch is a criminal of another type, having in him human elements of gratitude and love; and his own account of his miserable life has a rude fervor and pathos which are indescribably affecting. He condenses his biography in what he calls a mouthful of English," namely, "In jail and out of jail, in jail and out of jail, in jail and out of jail. … I first became aware of myself, down in Essex, a-thieving turnips for my living. Summun had run away from me, — a man, a tinker, — and he'd took the fire with him, and left me wery cold." How did he know his name was Magwitch? "Much as I know'd the birds' names in the hedges to be chaffinch, sparrer, thrush. I might have thought it all lies together, only as the birds' names come out true, I supposed mine did. So far as I could find, there warn't a soul that see young Abel Magwitch, with as little on him as in him, but wot caught fright at him, and either drove him off or took him up. I was took up, took up, took up, to that extent that I reg'Iarly grow'd up took up." The narrative that succeeds is a compact account of the way in which the criminal classes are constantly recruited by swarms of neglected or abandoned children. Compeyson, the greater rogue of the two, plays an important part in the story, but he is felt rather by the effect his villainy produces on the character and fortunes of others, than by his own personality. The mother of Estella and wife of Magwitch, the murderess whom Mr. Jaggers releases from the grasp of justice and, curiously enough, chooses for his housekeeper, completes the criminal group, though there is not a felon lounging around Mr. Jaggers's office who is not thoroughly individualized by a few brief, discriminating touches, from the red-eyed little Jew "performing a jig of anxiety under a lamp-post, and accompanying himself in a kind of frenzy with the words, 'Oh, Jaggerth, Jaggerth Jaggerth!'" to the shuffling, one-eyed, weeping Mike, who always seems to have one member of his interesting family up for larceny or burglary, and who is always prepared with a witness ready to swear, "in a general way, anythink."
Mr. Jaggers himself is one of Dickens's most felicitous characterizations in the law department of what we have called Dickens-land. it is astonishing that his limited experience as a reporter and as an apprentice in an attorney's office should have furnished him with so many sharply defined types of the English lawyer, through all the grades of the profession, from Sampson Brass, in The Old Curiosity Shop, all the way up to the bland Lord Chancellor who figures so gracefully in Bleak House. He introduces scores of lawyers into his various romances, and shows a superficial knowledge, at least, of the jargon which distinguishes their language from the English language, and of the moral qualities which distinguish their legal nature from ordinary human nature; but he also discriminates clearly between the different classes into which the profession is divided, and, while preserving the general features of each class, sharply individualizes every person included in it, — that is, every person who seems deserving of a place in his gallery of original characters. Thus Stryver, in A Tale of Two Cities, belongs, like Jaggers, to the class of domineering legal bullies, and they mi0ht, upon a superficial observation, be considered as pretty much alike; but, as represented by Dickens, they are very far apart in individual character, and cannot be confounded by any reader whose imagination has once been stamped with the image of either. The variation comes in great part from the fact that the idea, purpose, and atmosphere of the two romances are widely different. Stryver comes into A Tale of Two Cities chiefly as the advocate of an honest man accused of high treason Jaggers comes into Great Expectations as the legal centre of a story which is saturated with crime, a story where the criminal or worthless characters are in the majority, and where the innocent persons are all involved in a mesh of contradictions, arising from low villainies of which they are the victims. The offenses in the one romance are political; technical crimes which are universally known to be often the highest expression of noble virtues. In the other the crimes are such as all civilized mankind repudiates, and the perpetrators of which are persons who can be saved from death or transportation only by the interposition of such lawyers as Mr. Jaggers, exerting their force and ferocity, their ingenuity and knowledge of technical forms, on behalf of the criminal's "legal rights."
Mr. Jaggers is, indeed, the very impersonation of the Old Bailey advocate, — the guardian angel, or at least the protecting genius, of all unfortunate gentlemen afflicted with irresistible tendencies to theft; arson, forgery, and homicide, standing firmly between them and the gallows (provided always that they have previously "seen Wemmick"), and inspiring the whole swell-mob of rascaldom with the well-founded conviction that "Jaggers can do it, if it is to be done." He "always seems to me," says his clerk, Wemmick, "as if he had set a man-trap, and was watching it. Suddenly, click! you're caught!" A poor outcast woman, comforting another outcast whose "Bill" has got into trouble about some matter of housebreaking, says to her, "Jaggers is for him, 'Melia, and what more could you have?" Indeed, there is hardly in literature a more finished specimen of the legal bully, perfect in the art of hectoring witnesses, terrifying judges, and bamboozling juries. Even when there is no case to be tried he cannot get rid of the contentiousness of mind and manner he has acquired in the criminal courts. In private conversation, where no point is to be gained, he refuses to admit anything, and cross-examines everything and everybody. When he drops into the village ale-house to inquire after Pip, and inform him of his great expectations, he cannot resist, before proceeding to business, the temptation to demolish poor Mr. Wopsle, who is reading, in his grandest elocutionary tones, to a wondering audience, a thrilling newspaper account of "the last highly popular murder." By a few crushing Socratic interrogatories, as insolent as they are searching, he cross-examines that village luminary into utter silence and insignificance, so that even the rustics around the tavern fire, over whom he has long domineered, feel and see that he is utterly discomfited by this intruding stranger with the big head, deep-set eyes, and bushy, black eyebrows, who lowers upon him from the back of the settle on which Mr. Jaggers is contemptuously leaning. Throughout the book he appears impregnable in every defensive position he takes, and overwhelming whenever he assumes the offensive. He penetrates into the heart of every person with whom be comes in contact or collision, while he himself remains impenetrable. Even Dickens only catches glimpses here and there of his inner self. The one occasion in which he exhibits feeling is that in which Pip implores him to state the facts regarding the parentage of Estella, and then he only gives the information in the form of an imagined case. Both he and Wemmick are so much mortified that they have been betrayed into an expression of sentiment which they consider unprofessional that they become hard and harsh toward each other, and are only prevented from falling into a quarrel by the opportune arrival of Mike, who enters to announce that his eldest daughter is arrested on suspicion of theft. Wemmick detects a tear "twinkling in his eye," and asks him roughly, "What do you come sniveling here for?" "A man can't help his feelings," pleads Mike. "His what?" Wemmick savagely exclaims. "Say that again!" Then Mr. Jaggers advances, points to the door, and, in a voice of thunder, bids this father of an unfortunate family to leave the office. "I'll have no feelings here," he says; "get out." And Pip observes that, after Mike humbly withdraws, "Mr. Jaggers and Wemmick appeared to have reëstablished their good understanding, and went to work again with an air of refreshment upon them, as if they had just had lunch."
Joe Gargery is one of a large class of characters which Dickens delighted to create, — men in whom solid integrity of heart and conduct can find no adequate expression through the brain and the tongue. Generally the tongue is but too glib in uttering fine sentiments and ideas which have no root in feeling or character; if a man has nothing really to say, he finds little difficulty in saying it fluently, coherently, and charmingly; and no hypocrite, conscious or unconscious, would suffer from the impediments which obstruct the utterance of the stalwart Joe, when his great heart stumbles over the usual phrases of affection or disinterestedness in a sort of hopeless confusion. His brain can only stutter when his heart swells to its utmost capacity; and his favorite expression, "which I meantersay," is more eloquent than the lucid sayings of less simple and noble natures. Dickens was so captivated by Joe Gargery that he undertook the task of devising a new language for him, governed by a novel grammar, and with rules for the construction of sentences which must naturally surprise the student of Blair, Kaimes, Campbell, or Whately. The creator of Joe felt that Christian civilization was based on the real existence of persons resembling Joe in kind; and that political, fashionable, literary, and scientific society, adorned with any number of fluent, graceful, and highly cultivated men and women, would crumble unless sustained by sturdy workmen of which Gargery is the type. The solid nobility of his nature is all the more apparent when we reflect that the circumstances of his early life were almost as unpropitious as those of Magwit.ch. In apologizing to Pip for his lack of schooling, this tongue-tied hero—a man whom Carlyle would have rapturously hugged as a realization of his ideal of silent fortitude—gives a pathetic account of his childhood and youth: "My father, Pip, he were given to drink, and when he was overtook with drink, he hammered away at my mother, most on-merciful. It were amost the only hammering he did, indeed, xcepting at myself. … Consequence, my mother and me we ran away from my father several times; and then my mother she'd go out to work, and she'd say, 'Joe,' she'd say, 'now, please God, you shall have some schooling, child,' and she'd put me to school. But my father were that good in his hart that he couldn't abear to be without us. So he'd come with a most tremenjous crowd, and make such a row at the doors of the houses where we was that they used to be obligated to have no more to do with us and to give us up to him. And then he took us home and hammered us. Which, you see, Pip, were a drawback on my learning." Joe, under these circumstances, was set hard to work to support the drunken father; and "I kep' him," he adds, "till he went off in a purple'leptic fit. And it were my intentions to have had put upon his tombstone that Whatsume'er the failings on his part, Remember, reader, he were that good in his hart. … As I was saying, Pip, it were my intentions to have had it cut over him; but poetry costs money, cut it how you will, small or large, and it were not done. Not to mention bearers, all the money that could be spared were wanted for my mother. She were in poor 'elth, and quite broke. She weren't long of following, poor soul, and her share of peace come round at last." And he then goes on to give the reason why he submits to be so atrociously henpecked by his wife: "I see so much in my poor mother of a woman drudging and slaving and breaking her honest hart, and never getting no peace in her mortal days, that I'm dead afeerd of going wrong in the way of not doing what's right to a woman, and I'd fur rather of the two go wrong the t'other way, and be a little ill-conwenienced myself." There is something almost sublime in the patience of this tender-hearted Vulcan, toiling day after day to support such a vixen Venus, neither expecting nor receiving the slightest recognition of his services, scorned, scolded, derided, and tormented by his termagant wife, and anxious only to save her brother Philip from the worst consequences of her senseless anger when she was on "the rampage." What can be better than his account of his courtship and marriage? "She was a fine figure of a woman, Pip, — a little redness, or a little matter of bone, here or there; what does it signify to me? … But when I got acquainted with your sister, it were the talk how she was bringing you up by hand. … If you could have been aware bow small and flabby and mean you was, dear me, you'd have formed the most contemptible opinions of yourself. … And when I offered to your sister to keep company, and be asked in church at such times as she was willing and ready to come to the forge,' I said to her, 'And bring the poor little child. God bless the poor little child, I said to your sister, 'there's room for him at the forge.'" The essential peculiarity and originality of Joe Gargery is that he is contented with the mere exercise of goodwill toward others. However unworthy may be the objects of his instinctive beneficence, and with whatever ingratitude his service may be requited, he is blind to everything except that the inborn necessity of his nature has found vent in some blundering words or efficient acts which rudely express his benevolent feelings. He is as perfectly unconscious of merit in saying and doing these grand things as he is of merit in breathing, in swinging his arms at his forge, or in exercising any other bodily function. The more the character is studied, the more profound and beautiful in essence it is found to be.
Among the many characters of the book, the uncle of Joe Gargery, the selfish, solemn, windy old donkey, Pumblechook, is deserving of special mention. He is asinine in soul, — a jackass who swindles humanity by assuming the human form, feloniously disregarding the gradual stages which the theory of development exacts in the structural transformation of species. Yet how delicious an ass Pumblechook is! Before Pip comes into his fortune, he is a tyrant; afterwards a sycophant; then again a hypocritical pretender; but always and ever an ass! The different members of the Pocket family who assemble in Miss Havisham's mansion, each toady anxious to excel the other in the grand object of being prominently named in that lady's will, are all well drawn; but we think there is one touch which is original in humorous nomenclature. Camilla is the sentimental lady among the numerous toadies gathered around the ghastly old maid; she suffers, according to her own statement, immense agonies, by night and by day, in thinking of the unhappiness of Miss Havisham; and she constantly appeals to a husband, kept in the background, to sustain her asseverations of the distressing effects on her physical system occasioned by the intensity of her sympathies with the afflicted woman of whom she is ambitious to be the heir. The husband's name is Raymond, and she is legally Mrs. Raymond; but, as she is the dominant force in their domestic establishment, Dickens calls the husband Mr. Camilla. Is not this an entirely original stroke of humor, on a subject which has exercised the humorists of all generations? Certainly no satirist that we can call to mind, in indicating the (doubtless proper) subordination of the husband to the wife, has ever hit before on calling the male animal Mr. Jane, or Mr. Mary, or Mr. Betsy. Then there is Miss Sarah Pocket, "a little dry, brown, corrugated old woman, with a small face that might have been made of walnut-shells, and a large mouth like a cat's, without the whiskers." Mr. Wopsle is another marked character, a man magnificently impotent, with a resounding voice that proclaims his imbecility over a wider area than is reached by the lungs of other fools, and whose performance of Hamlet forms one of the most richly humorous of the many scenes in which Dickens has ridiculed the theatre and the actors of his time. And, finally, there is the father of Herbert Pocket's Clara, old Bill Barley, a bed-ridden, covetous, swearing scamp, who seeks to allay the torments of the gout by copious libations of rum flavored with pepper, and who is naturally indignant that this fiery medicine does not have the curative qualities which might reasonably be expected of it.
But it is needless to call further attention to the felicity with which Dickens instantly individualizes his least important characters. His power of imaginative description is exhibited in this romance in two quite remarkable instances: the first is in the opening chapters, where the boy Pip comes into relation with the escaped Convict; the second is the account of the defeated attempt, in the fifty-fourth chapter, to get the convict safely out of England. Both are masterly. The incidental remarks, arising naturally in the course of the story, are frequently striking, in their quaint humor of pathos. Thus: "Mrs. Joe was a very clean housekeeper, but had an exquisite art of making her cleanliness more uncomfortable and unacceptable than dirt itself." Pip says: "I was always treated as if I had insisted on being born, in opposition to the dictates of reason, religion, and morality, and against the dissuading arguments of my best friends." Again: "I had seen the damp lying on the outside of my little window, as if some goblin had been crying there all night, and using the window for a pocket-handkerchief." Pip, as a boy, is surprised at the chalk scores against topers on the wall at the side of the door of the village tavern. "They had been there," he says, "ever since of chalk about our country, and perhaps I could remember, and had grown more than I had. But there was a quantity the people neglected no opportunity of turning it to account." Everybody has heard of the rank which the great brewers of England obtain, from the husband of Dr. Johnson's Mrs. Thrale to the present Sir Something Bass. "I don't know," says Herbert Pocket, "why it should be a crack thing to be a brewer, but it is indisputable that while you cannot be genteel and bake, you may be as genteel as never was and brew." Indeed, all the eminent brewers are invariably members of Parliament. Bentley Drummle is described as a fellow so sulky that "he even took up a book as if its writer had done him an injury," a very admirable characterization of a whole class of critics. Pip fears that when Joe Gargery visits him in London the rustic may be seen in his company by Drummle, a person for whom he has the most profound contempt. "So," he says, throughout our life, "our worst weaknesses and meannesses are usually committed for the sake of people whom we most despise." This last remark may have been stated before, but we remember no moralist who has given such pointed expression to a fact of universal experience. A large portion of the comedies and tragedies of life spring from our tendency to live beyond our means; and we live beyond our means merely to keep up a visiting acquaintance with persons whom we either positively hate or for whom we have not the slightest sympathy.
The plot of Great Expectations is more ingeniously complicated than any other of Dickens's novels except Bleak House. As the story came out in weekly installments, the general impression was that the concealed benefactor bent on enriching Pip was Miss Havisham; and when Magwitch, the convicted felon, announced himself as the person who had supplied the funds by which the blacksmith's apprentice had been converted into a fine young gentleman, he surprised most readers of the narrative as much as he surprised, horrified, and disgusted the recipient of his favors. When Dickens was once asked if those who met him daily in society guessed the secret of the story before it was disclosed, he answered that he had succeeded in putting every gentleman of his acquaintance on a false track, but that all the women with whom he conversed divined his purpose before the narrative had gone much beyond the introductory chapters, and were sure, in spite of his denials, that the escaped convict, whom Pip had supplied with a file and with meat and drink, was more likely to be his benefactor than the weird old maid, who used him as a plaything and as a victim. When the novel is read as a whole, we perceive how carefully the author had prepared us for the catastrophe; but it required feminine sagacity and insight to detect the secret on which the plot turns, as the novel first appeared in weekly parts. It is a pity that some woman has not solved the Mystery of Edwin Drood—a mystery which the author carried with him to the grave—as easily as all women, according to Dickens, solved the mystery of Pip's Great Expectations.