Review: What Answer? by Anna E. Dickinson
"It is not easy to tell how far expediency may carry us towards justice, but there is a great deal to be hoped from human selfishness, fortunately."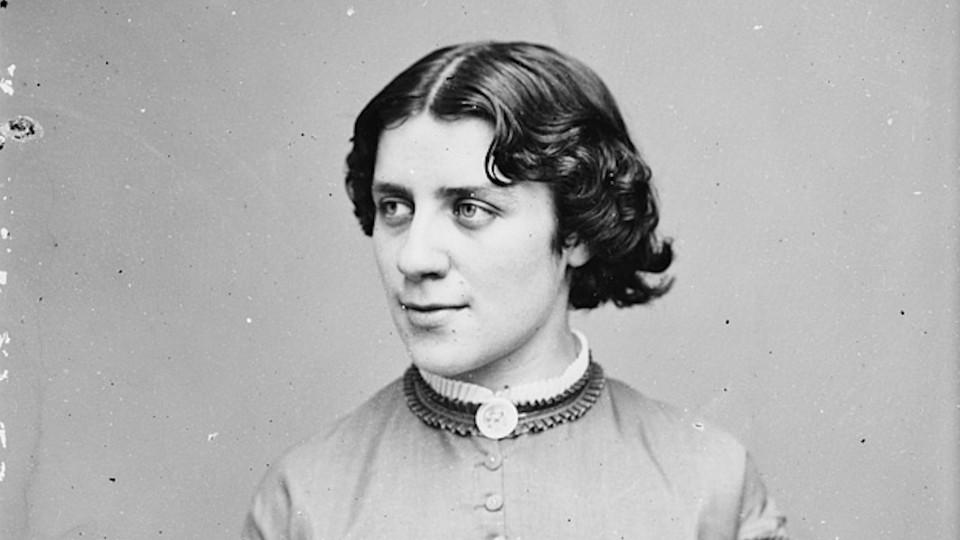 Mr. Frederick Douglass said the other day that times were when his color would secure him the advantage of a whole seat in a railroad car, but that since the war he was by no means safe from molestation. He told a good story of a citizen with conquered prejudices, who stirred him up out of his nap on the cars recently, and demanded a place beside him. "I'm a nigger," said Mr. Douglass, showing his head from beneath the shawl in which it had been wrapped. "I don't care what you are," answered the liberal-minded intruder; "I want a seat."
It is not easy to tell how far expediency may carry us towards justice, but there is a great deal to be hoped from human selfishness, fortunately, and we shall not despair of mankind while we all continue so full of egotistical desires and interested ambitions. Pure cussedness is much rarer than would appear, and we believe it is rarer than Miss Dickinson would have us think; though we will not be positive about this; and we are not saying that it ought not to be warred upon as long as it exists at all. In fact, we object to "What Answer?" that one phase of our great social problem is not treated with perfect courage in it.
Of course it is the general prejudice against the blacks with which Miss Dickinson deals, and in so far as she treats of their exclusion from the suffrage, the meanness with which the government acted toward them in the war, and the unmanliness which calls for their exclusion from public tables and conveyances (through Mr. Douglass is not the only witness to the fact that we are growing better in this respect), her position is not to be assailed; but as to the question of intermarriage with the negroes, and the society prejudices against it, we do not think Miss Dickinson presents the point directly. It seems to us that it required no heroic effort in William Surrey to fall in love with a beautiful young girl, who was as brilliant in intellect as fair in face, and had no trace of negro blood in her, — who, in fact, became known to her lover as the niece of a rich and aristocratic Englishwoman, — and when she turns out the daughter of a mulatto gentleman, endowed with every personal, pecuniary, and mental gift, the sacrifice of marrying her, even at the cost of all ties of kindred, and many ties of friendship, is greatly mitigated. It is not uncommon to sever these ties by marriage, and at the best they are subjected to a pretty severe strain. Moreover, the case of William Surrey's family and social suffering appears to us an extreme one. We are not persuaded that so much evil would befall the husband of a lady with as good a complexion as any of us, and with so much more wit and money. The family, if they could not hush up her origin, would make a brave attempt to trace it back to African royalty, and possibly the arms of Dahomey might be quartered on the Surrey escutcheon, while society would be far more amiable to the mésalliance than it was to that of the lady who married her Irish coachman some years ago. Her heroine's beauty, her brilliancy, her fortune, would do more for her in the world, we think, than in Miss Dickinson's book. Yes, in some lion-hunting circles, we can imagine a peculiar zest given to the chase by the fact of that dash of black blood casting such glory on her eyes and hair. Of course, if she attempted to mingle in genteel Irish companies, or with those low-down Democrats who spell negro with two g's, she would be made to know her place, which would be naturally much above theirs; and we could also conceive of her suffering a good deal from her cook and second-girl, if it ever became known to them that she was black; but she and her husband would be well received by most of the most refined people in the country.
In ordinary circumstances, and if Miss Dickinson had merely desired us to answer whether her story amused us or not, we should say Miss Ercildoune was not a very objectionable heroine, — though we could wish her a trifle more imperfect in some respects. But as the answer demanded here is, Shall you obey your instincts and principles of right at extreme cost? We say that the sacrifice required of William Surrey by Francesca Ercildoune is neither certain nor great enough. She should have been black to the sense as to the mind, and her father some poor but respectable whitewasher or barber. It should only be requisite that she should have so fine a mind and so beautiful a soul that Surrey could not help loving her. After that would come due vulgar hooting and outrage, tempered still by the inalienable friendship of just men; and, having thus settled her hero and heroine, Miss Dickinson might well ask, "What Answer?"
But even with the extreme case presented, we should be obliged to say that we had no answer ready. We should shirk the question. We should postpone its decision. We should be heartily glad that it was not in the Chicago Platform. The most we could be got to answer would be: Let every one conquer his own prejudices as far as William Surrey did, — or farther, if he finds himself called upon to do so, — and the prejudices of others will take care of themselves, as pounds do when pence are well looked to. We should not, we hope, be saying in this answer that a mixture of the races is desirable. We reserve our opinion on this point for publication in the January "Atlantic" of 2869, when the question will be, perhaps, practically presented.
Meantime, our most earnest and hearty sympathies are with Miss Dickinson for the largest individual freedom, and our antipathies are with her against the tyranny and cruelty of prejudice, political inequality, and ignorance, organized or unorganized.