Hillary Clinton Begins Building Her Coalition
The Democratic nominee for United States president made a play for progressives, moderates, and Independents alike during her address in Philadelphia on Thursday night.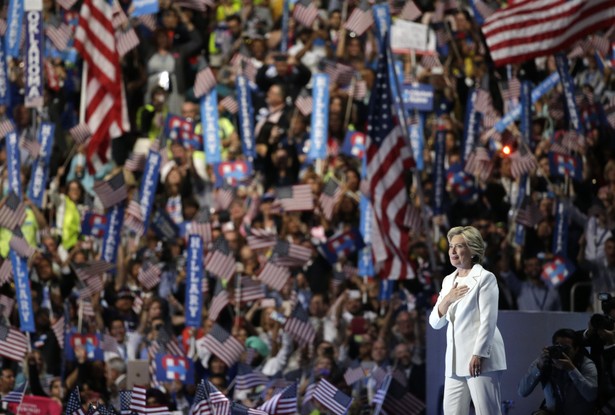 "America's strength doesn't come from lashing out," Hillary Clinton said Thursday, delivering a harsh rebuke to Donald Trump as she accepted the Democratic nomination for U.S. president.
Clinton's speech capped the Democratic National Convention in Philadelphia, where she made history as the first female presidential nominee of a major party. While Clinton did not skip over the historic aspect of her nomination, she spent most of her hour-long speech emphasizing two, interlocking themes: the importance of community and togetherness, and the fundamental unfitness of the Republican nominee for office. It was not so dark and ominous a speech as Trump's own acceptance speech a week ago in Cleveland, but it was a negative speech: a warning against the danger posed to America by a Trump presidency.
"None of us can raise a family, build a business, heal a community, or lift a country totally alone," she said, reprising a theme she introduced in It Takes a Village 20 years ago and echoing her campaign slogan, "Stronger Together." She added later: "Every generation of Americans has come together to make our country freer, fairer, and stronger. None of us can do it alone."
The slogan, the latest of many, has never really seemed to take, but here, contrasted with Trump's charismatic, semi-authoritarian approach, it began to come into its own. What Clinton was offering is, after a fashion, a small-c conservative viewpoint, emphasizing community, family, and cooperation. Clinton contrasted that vision with Trump's, scorning a climactic phrase from his own acceptance speech: "I alone can fix it."
"Isn't he forgetting troops on the front lines?" she asked. "Police officers and fire fighters who run toward danger? Doctors and nurses who care for us? Teachers who change lives? Entrepreneurs who see possibilities in every problem? Mothers who lost children to violence and are building a movement to keep other kids safe? He's forgetting every last one of us. Americans don't say. 'I alone can fix it.' We say, 'We'll fix it together.'"
She assailed Trump for his business career, citing his corporate bankruptcies and the stories of contractors and subcontractors who weren't paid for work they did at his resorts and casinos. She criticized him for manufacturing some of his many branded products in overseas factories, with a slightly stilted punch line: "Donald Trump says he wants to make America great again. Well, he could start by actually making things in America again." She portrayed him as incapable of handling the slightest provocation, much less the pressures of the Oval Office.
"In the end, it comes down to what Donald Trump doesn't get: that America is great because America is good," she said. "So enough with the bigotry and bombast. Donald Trump's not offering real change. He's offering empty promises. What are we offering? A bold agenda to improve the lives of people across our country—to keep you safe, to get you good jobs, and to give your kids the opportunities they deserve."
Trump, as she archly pointed out, offered little in the way of specific policy suggestions during his speech. She, in turn, often seems to enjoy the policy section of her speeches the most, and on Thursday she went through a litany of her proposals, including debt-free college education, immigration reform, campaign-finance reform, and a more robust social-safety net. As Clinton acknowledged early on, her platform has been heavily shaped by the campaign of Senator Bernie Sanders, the Vermont progressive who gave her a tougher run than expected during the Democratic primary.
"Bernie, your campaign inspired millions of Americans."
"Bernie, your campaign inspired millions of Americans, particularly the young people who threw their hearts and souls into our primary," she said. "You've put economic and social justice issues front and center, where they belong." She also reached out to Sanders's supporters, a small but extremely vocal group of whom remain opposed to her. "Your cause is our cause," she said. (Not all of them bought it: On occasion, her speech was interrupted by chants of "Hillary," as her supporters tried to drown out hecklers.)
Clinton has never been a great speaker. Despite her long record in the public eye, only a couple of memorable speeches come to mind: Her famous "women's rights are human rights" speech, and her "18 million cracks" speech when she conceded the Democratic nomination to Barack Obama in 2008. "The truth is, through all these years of public service, the 'service' part has always come easier to me than the 'public' part," she acknowledged Thursday. "I get it that some people just don't know what to make of me." Clinton's Thursday address doesn't seem likely to join the list of noteworthy blockbusters. It was a serviceable, workmanlike speech, short on soaring rhetoric.
She didn't really need to deliver such a moment. The obvious emotional peak of the night came some time earlier, as Khizr and Ghazala Khan stood on the rostrum. The Pakistani immigrants were the parents of Humayun Khan, a young Muslim American soldier killed while serving in Iraq in 2004. Speaking calmly and steadily but with great emotion, Khizr Khan addressed Trump, who has called for a moratorium on Muslims entering the United States, and more recently on immigration from areas with terrorism.
"Let me ask you: Have you even read the U.S. Constitution? I will gladly lend you my copy. In this document, look for the words 'liberty' and 'equal protection of law,'" he said, brandishing a pocket edition. "Have you ever been to Arlington Cemetery? Go look at the graves of the brave patriots who died defending America—you will see all faiths, genders, and ethnicities."
"You have sacrificed nothing and no one," Khan said.
Khan's pained, passionate words won praise from across the political world, especially among conservatives who reject Trump. The speech was part of an evening of intense patriotism, even nationalism. A few wags suggested that the Democratic National Convention's fourth night more closely resembled a Republican confab. Doug Elmets, a former aide in Ronald Reagan's White House, delivered his own endorsement of Clinton. So did Jennifer Pierotti Lim, the founder of Republican Woman for Hillary.
Captain Florent Groberg, a Medal of Honor winner who was badly injured in Afghanistan, told the hall, "I'm here tonight not as a Democrat or a Republican. I'm here as a proud immigrant to this country, a proud veteran of the United States Army, and the proud recipient of our country's highest military honor."
The Clinton campaign is ready to build a big, broad coalition.
Retired General John Allen, flanked by a rainbow platoon of veterans, delivered a fiery, martial speech. "From the battlefield to the capitals of our allies, friends, and partners, the free peoples of the world look to America as the last best hope for peace and for liberty for all humanity, for we are the greatest country on this planet," Allen said. He added, in rebuke of Trump, "With her as our commander-in-chief, our international relations will not be reduced to a business transaction. Our armed forces will not become an instrument of torture, and they will not be ordered to engage in murder or carry out other illegal activities."
The night wasn't purely nationalistic and center-right. Clinton was introduced with an underwhelming speech by her daughter, Chelsea, as her husband, former President Bill Clinton, beamed from the audience. Spotlighting the diversity of views in the party, another speaker was Sherrod Brown, the Ohio senator and progressive darling who was considered as a potential vice-presidential candidate. The Reverend William Barber II, who as president of the North Carolina NAACP spearheaded the Moral Mondays movement, delivered a thunderous, revival-style address.
"I say to you tonight, that some issues are not left versus right or liberal versus conservative, they are right versus wrong," Barber said. "Is there a heart in this house? Is there a heart in America? Is there somebody that has a heart for the poor? A heart for the vulnerable? Then stand up. Organize together. Fight for the heart of this nation.
But the evening's program was unmistakably designed to help Clinton expand her support past the Democratic Party, reaching out to moderates, Independents, and Republicans who reject Trump. The theme built on a foundation laid by President Obama in his speech Wednesday, which won somewhat grudging applause from conservatives. That strategy is not without risks. Some liberals were troubled by the tributes to police during the program, and both Allen and Groberg were interrupted by hecklers chanting, "No more war!" (These, too, were drowned out with "USA" chants, a feature more common at Republican rallies.) But the Clinton campaign, having weathered a stormy start to the convention, has seemingly decided it can count on a unified Democratic Party and is ready to build a big, broad coalition. Both parties entered their conventions seeking to unify their bases and turn to the general election. Only the Democrats look to have succeeded. —David Graham
Updates
This live blog has concluded