On the blue planet, water is the source of all life – and one of the most potent sources of conflict. Without consistent access to this limited and increasingly unpredictable resource, fertile fields go barren, wildlife populations dwindle and communities suffer devastating consequences.
And yet, water offers a common denominator around which to unite. Water crises around the world are spurring innovative new technologies and inspiring diverse stakeholders to work together on equitable solutions. California tells this story like no other place.
At the Water Summit, The Atlantic gathered the leading voices in water, from environmentalists and policymakers to growers, industry leaders and community representatives, to forge a dialogue around the critical water issues of our time. With an eye toward the future, The Atlantic discussed the challenges, the solutions and the ways that the latest innovations can work to make water safe, reliable and accessible for years to come.
---
Watch full session videos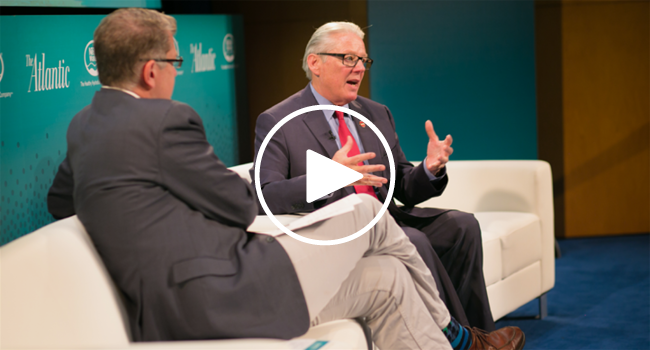 To view photos from the event, please visit our Facebook page
Presented by
Speakers
Veronica Garibay

Co-Director

Leadership Counsel for Justice and Accountability

@LCJandA

State Senator Bill Monning

(D-Carmel)

California Senate Majority Leader

Wade Crowfoot

CEO

Water Foundation

@WaterFdn

Felicia Marcus

Chair

State Water Resources Control Board

@FeliciaMarcus

Emily Hicks

President

FREDsense Technologies

@echicks12

Ron Brownstein

Senior Editor

The Atlantic

@RonBrownstein

Joone Lopez

General Manager

Moulton Niguel Water District

@MNWDwater

Scott Bryan

President

ImagineH2O

@ImagineH2O

Steve Clemons

Washington Editor at Large

The Atlantic

@SCClemons

Sarah Heard

Project Director, Conservation Investments

The Nature Conservancy

John Krist

CEO

Ventura County Farm Bureau

Alex Cohen

Host, Morning Edition

NPR Member Station KPCC

@kpccalex

Matthew Fienup

Executive Director, Center for Economic Research and Forecasting

California Lutheran University

George McGraw

Founder and Executive Director

DIGDEEP

@digdeeph2o

Shana Epstein

Director of Public Works

City of Beverly Hills

Nelson Switzer*

Vice President and Chief Sustainability Officer

Nestlé Waters North America

Liz Crosson*

Deputy Chief Sustainability Officer

Office of Mayor Eric Garcetti, City of Los Angeles
Agenda
Note: All times are Pacific Time Zone
Thursday, November 02

10:00 a.m.

Welcome

Bob Cohn, President, The Atlantic

10:05 a.m.

California's "Water Czar"

Felicia Marcus, Chair, California State Water Resources Control Board
With Alex Cohen, Host, Morning Edition, NPR Member Station KPCC

10:25 a.m.

Bits & Bytes: The Water Trackers

Scott Bryan, President, Imagine H2O
Emily Hicks, President, FredSense Technologies
Joone Lopez, General Manager, Moulton Niguel Water District
With Steve Clemons, Washington Editor at Large, The Atlantic

10:55 a.m.

The Role of Municipalities in Securing an Abundant Water Future*
Produced by our underwriter Nestlé Waters North AmericaLiz Crosson, Deputy Chief Sustainability Officer, Office of Mayor Eric Garcetti, City of Los Angeles
With Nelson Switzer, Chief Sustainability Officer,  Nestlé Waters North America
*This session was produced by Nestlé Waters North America and not by The Atlantic's editorial team.

11:05 a.m.

Beyond Pipes: Reimagining Infrastructure

Wade Crowfoot, CEO, Water Foundation
Veronica Garibay, Co-Founder, Leadership Counsel for Justice and Accountability
George McGraw, Founder and Executive Director, DIGDEEP
With: Alex Cohen, NPR Member Station KPCC

11:35 a.m.

Legislating Clean Water

State Senator Bill Monning (D-Carmel); California Senate Majority Leader
With Steve Clemons, The Atlantic

11:55 a.m.

From Conflict to Collaboration: A Case Study

Shana Epstein, Director, Public Works, City of Beverly Hills
Matthew Fienup, Executive Director, Center for Economic Research and Forecasting, California Lutheran University
Sarah Heard, Project Director, Conservation Investments, The Nature Conservancy
John Krist, CEO, Ventura County Farm Bureau
With Ron Brownstein, Senior Editor, The Atlantic

12:25 p.m.

Closing Thoughts

Bob Cohn, The Atlantic