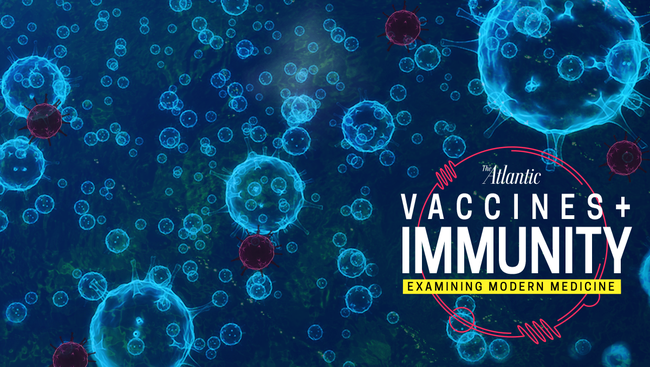 Vaccines + Immunity: Examining
Modern Medicine
November 9, 2017
Philadelphia
Vaccines and immunizations have long been considered vital in protecting public health. The scientific community has rallied around upholding the value of vaccines. But somewhere along the way, that communication link to the public has seemingly gone awry.
How can scientists and researchers effectively engage with the public? Are vaccines a matter of personal choice or public health? What will the future of vaccines look like? The Atlantic gathered stakeholders from public health officials to the medical and scientific community to explore these questions at a forum in Philadelphia.
Watch the full event video here: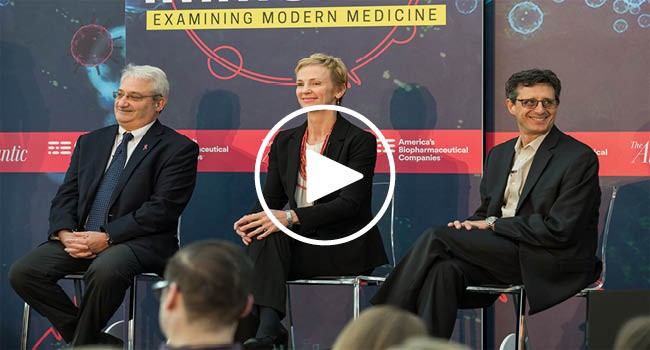 8:00 am – 11:00 am ET
Kimmel Center for the Performing Arts
300 South Broad Street
Philadelphia, PA 19102
For more information, please contact Grace Harvey at Gharvey@theatlantic.com.
Presented by
Speakers
Steve Clemons

Washington Editor at Large

The Atlantic

@SCClemons

Ruxandra Draghia*

Vice President, Public Health and Scientific Affairs

Merck Global Vaccines

Kristen Ehresmann

Director, Infectious Disease Epidemiology, Prevention and Control Division

Minnesota Department of Health

@mnhealth

Leonard Friedland

Vice President, Director Scientific Affairs and Public Health, Vaccines North America

GSK

@GSK

Bruce Gellin

President, Global Immunization 

Sabin Vaccine Institute 

@DrBGellin

Penny Heaton

CEO

Bill & Melinda Gates Medical Research Institute

@gatesfoundation

Raul Isturiz*

Vice President and Head of North America Region

Pfizer

Olga Khazan

Staff Writer

The Atlantic

@olgakhazan

Daylin Leach

State Senator

Pennsylvania State Senate

@daylinleach

Rachel Levine

Acting Secretary of Health and Physician General, Commonwealth of Pennsylvania; Professor of Pediatrics and Psychiatry, Penn State College of Medicine

@PhysGenLevine

Sharif Mohamed

Imam, Islamic Civic Society of America; Dar Al-Hijrah Mosque; Muslim Chaplain, Fairview Health Services

Paul Offit

Maurice R. Hilleman Professor of Vaccinology, Professor of Pediatrics, Perelman School of Medicine, University of Pennsylvania;

Chief of the Division of Infectious Diseases and Director of the Vaccine Education Center, The Children's Hospital of Philadelphia

@DrPaulOffit

Frances Priddy

Chief Medical Officer and Executive Director, Medical Affairs

International AIDS Vaccine Initiative 

@iavi

Ted Schenkelberg

Chief Operating Officer

The Human Vaccines Project

@HumanVacProject

Kirsten Thistle*

Partner

Health Impact Strategies

David Weiner

Executive Vice President; Director, Vaccine Center; W.W. Smith Charitable Trust Professor in Cancer Research

The Wistar Institute

@TheWistar
Agenda
Thursday, November 09

8:30 a.m.

Welcome

Margaret Low, President, AtlanticLIVE

8:35 a.m.

Exploring the Latest Science

Leonard Friedland, Vice President and Director, Scientific Affairs and Public Health, Vaccines, North America, GSK
Frances Priddy, Chief Medical Officer and Executive Director, Medical Affairs, International AIDS Vaccine Initiative
David Weiner, Executive Vice President and Director, Vaccine & Immunotherapy Center, The Wistar Institute; Professor, Cancer Research, W.W. Smith Charitable Trust
With Steve Clemons, Washington Editor at Large, The Atlantic

9:05 a.m.

Advancing the New Era of Vaccines**
Produced by our underwriter PhRMARuxandra Draghia, Vice President, Public Health and Scientific Affairs, Merck Global Vaccines
Raul Isturiz, Vice President and Head,  North America Region, Pfizer Vaccines Medical
Kirsten Thistle, Partner, Health Impact Strategies

9:15 a.m.

The Case for Global Public Health

Bruce Gellin, President, Global Immunization, Sabin Vaccine Institute
Penny Heaton, CEO, Bill & Melinda Gates Medical Research Institute
Ted Schenkelberg, Chief Operating Officer, Human Vaccines Project
With Olga Khazan, Staff Writer, The Atlantic

9:45 a.m.

The Minneapolis Story

Kristen Ehresmann, Director,  Infectious Disease Epidemiology, Prevention and Control, Minnesota Department of Health
Sharif Mohamed, Imam, Islamic Civic Society of America; Muslim Chaplain; Fairview Health Services
With Steve Clemons, The Atlantic

10:10 a.m.

What's at Stake?

Daylin Leach, State Senator (D-17), Pennsylvania Senate
Rachel Levine, Acting Secretary of Health and Physician General, Pennsylvania Department of Health
With Olga Khazan, The Atlantic

10:35 a.m.

Understanding the Science

Paul Offit, Chief, Division of Infectious Diseases, Director, Vaccine Education Center, The Children's Hospital of Philadelphia; Maurice R. Hilleman Professor of Vaccinology, Professor of Pediatrics, Perelman School of Medicine, University of Pennsylvania
With Steve Clemons, The Atlantic

10:55 a.m.

Closing Thoughts

-