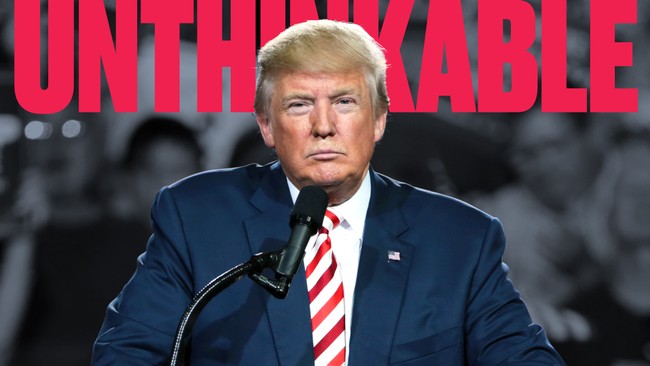 Unthinkable: The 50 Moments that Define the Trump Presidency
January 22, 2019
Washington, DC
To mark the midway point in President Donald Trump's first term, The Atlantic explored "50 of the most improbable, norm-bending, and destructive incidents of this presidency to date" in a package called Unthinkable. Editor in Chief Jeffrey Goldberg said of the list: "In most any previous presidency, Democratic or Republican, each moment on this list would have been unthinkable."
On January 22nd, some of the writers behind the stories discussed the notable events in the first two years of the Trump administration and where the president and country go from here.
The Watergate, 8th Floor
600 New Hampshire Ave, NW
Washington, DC 20037
Presented by
Also in This Series
Atlantic Exchange: Floodlines Podcast Release

March 2020
Washington, D.C.

Join The Atlantic on March 24 for a discussion about the events uncovered by the reporting on the eight-part Floodlines podcast about the aftermath of the day the levees broke in New Orleans after Hurricane Katrina, with Newkirk, executive producer Katherine Wells, and executive editor Adrienne LaFrance.

Culture

A Retrospective on Race in America

December 5, 2019
Washington, D.C.

"The feeling of the nation must be quickened; the conscience of the nation must be roused; the propriety of the nation must be startled; the hypocrisy of the nation must be exposed; and its crimes against God and man must be proclaimed and denounced." - Frederick Douglass

International/Foreign Affairs

Atlantic Exchange with Mike Giglio

October 24, 2019
Washington, D.C.

What will it take to defeat ISIS?
Upcoming Events
Health Care

The Big Story: How the Virus Won

August 13, 2020
Virtual Event

Atlantic staff writer Ed Yong has spoken with more than 100 experts since the early stages of the pandemic.

Thrive: The Children's Summit

August 25, 2020
Virtual Event

The children of today are facing a challenging world, one that is complicated by technology and threatened by forces outside their control.

The Atlantic Festival

September 21 – 24, 2020
Virtual Event

Expect to be challenged. Expect to be entertained. Expect the unexpected.