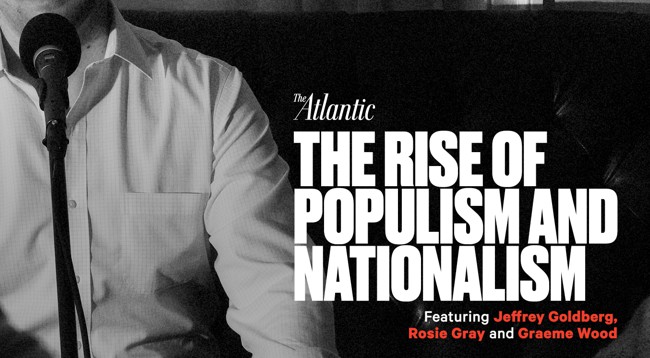 The Rise of Populism and Nationalism
June 19, 2017
Washington, DC
Hosted in Partnership With

Nationalism has taken on a new voice in American politics. And it's growing in allies around the world. The Atlantic's Graeme Wood — author of "His Kampf," an article in The Atlantic's June issue about Richard Spencer, leader of the alt-right movement, who happens to be Graeme's high school classmate — White House Correspondent Rosie Gray and Editor in Chief Jeffrey Goldberg discuss the future of the movement in the era of Trump and what it means for our country, our allies and our democracy going forward.
Sixth & I
600 I Street, NW
Washington, DC 20001

Presented by
Also in This Series
Culture

Alex Wagner
In Conversation with Vann R. Newkirk II

April 18, 2018
Washington, DC

In a conversation with Vann R. Newkirk II, Alex Wagner discusses her book Futureface: A Family Mystery, an Epic Quest, and the Secret to Belonging chronicling Wagner's quest around the world and into her own her DNA.

Technology

Franklin Foer In Conversation
with Hanna Rosin

September 14, 2017
Washington, DC

Franklin Foer will join Hanna Rosin for a conversation about his new book World Without Mind and how consolidation of knowledge and information has changed how we contemplate the world.

Politics

How Trump Could Build an Autocracy:
A Conversation with David Frum and Scott Stossel

February 16, 2017
Washington, DC

The Atlantic's David Frum joined Scott Stossel to discuss why he believes President Trump could lead our democracy to an autocracy, and what it could mean for the future of the Republic.