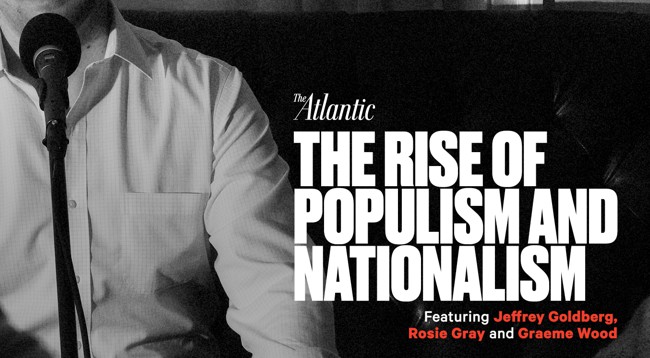 The Rise of Populism and Nationalism
June 19, 2017
Washington, DC
Hosted in Partnership With

Nationalism has taken on a new voice in American politics. And it's growing in allies around the world. The Atlantic's Graeme Wood — author of "His Kampf," an article in The Atlantic's June issue about Richard Spencer, leader of the alt-right movement, who happens to be Graeme's high school classmate — White House Correspondent Rosie Gray and Editor in Chief Jeffrey Goldberg discuss the future of the movement in the era of Trump and what it means for our country, our allies and our democracy going forward.
Sixth & I
600 I Street, NW
Washington, DC 20001

Presented by
Upcoming Events
Food

Harvest: Transforming the Food We Eat

February 15, 2018
New York City

In a conversation about the future of food, The Atlantic will convene the farmers and foodies, techies and tinkerers developing the culinary discoveries of tomorrow.

Health Care

PULSE: The Atlantic Summit on Health Care

Drawing from leading thinkers across the country, in combination with Boston's revered medical community, The Atlantic will uncover the stories of patients and families, experts and professionals to explore the state and future of health care.