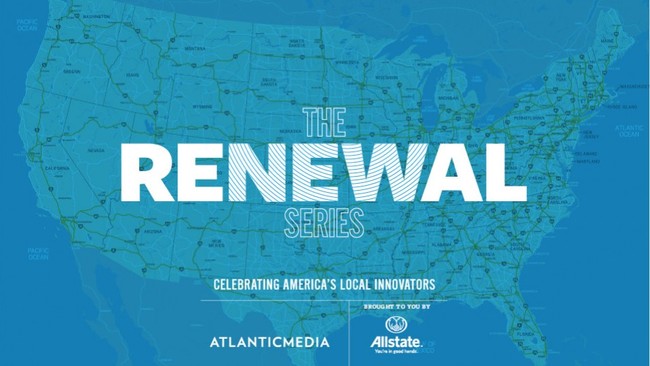 The Renewal Series: Celebrating America's Local Innovators
March 11, 2015
Denver, CO
From north to south and east to west, Amer­ica is wit­ness­ing a surge of in­nov­a­tion. In­stead of wait­ing for Wash­ing­ton, non­profits, loc­al gov­ern­ments and busi­nesses are dis­rupt­ing the status quo and find­ing cre­at­ive new solu­tions to im­prove their com­munit­ies. These loc­al en­tre­pren­eurs are tack­ling is­sues that range from poverty to ac­cess to qual­ity edu­ca­tion to gov­ern­ment trans­par­ency and job cre­ation.
With its high qual­ity of life and job op­por­tun­it­ies in tech­no­logy, Den­ver, Col­or­ado, is a prime ex­ample of a city that is en­joy­ing the be­ne­fits that come from pro­mot­ing in­nov­a­tion.
At­lantic Me­dia, underwritten by All­state, presents "The Re­new­al Series: Cel­eb­rat­ing Amer­ica's Loc­al In­nov­at­ors."  On March 11th, we con­vened ex­perts for a ro­bust con­ver­sa­tion about what na­tion­al and loc­al gov­ern­ments can learn from grass­roots en­tre­pren­eurs and change makers-and how they are cre­at­ing op­por­tun­it­ies for even great­er in­nov­a­tion across the coun­try. The Den­ver sum­mit was the first of sev­er­al events that will spot­light loc­al in­nov­at­ors across the coun­try.
Presented by
Speakers
Bill Basl

Executive Director

Washington Commission for National and Community Service

Clara Brenner

CEO and Co-Founder

TUMML

Ron Brownstein

National Journal

Tami Door

President and CEO

Downtown Denver Partnership, Inc.

Anna Ewing

Executive Director

Colorado Innovation Network

Michael Hancock

Mayor

Denver, CO

Fawn Johnson

National Journal

Stanley S. Litow

Vice President, Corporate Citizenship & Corporate Affairs and President

IBM International Foundation

Cathy Noon

Mayor

Centennial, CO

John Parvensky

President

Colorado Coalition for the Homeless

Scott Warren

Executive Director

Generation Citizen
Upcoming Events
Economy/Business

Future Economy Summit

May 4, 2021
Virtual Event

The path to the new economy is being charted today. The Atlantic will explore what the future might hold for Americans across the socioeconomic spectrum.

In Pursuit of Happiness

May 20, 2021
Virtual Event

The Atlantic will host a live event that explores the human hold on happiness—and aims to find ways to build a more meaningful life.

Health Care

The Atlantic's Health Equity Summit

June 22, 2021
Virtual Event

The Atlantic will explore what the health-care system is doing to combat inequities across race, age, and gender and to improve health outcomes for all Americans.