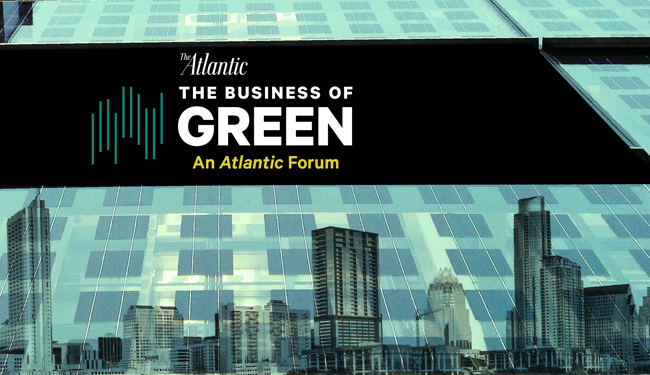 The Business of Green: An Atlantic Forum
November 28, 2017
Austin, TX
Protecting the environment is not a task solely left to government. Companies are leading the way to curb greenhouse gas emissions and promote green policies through sustainable practices, construction and investments.
The Atlantic will gather leaders from across industry, experts and consumers alike, to explore the way business is employing sustainability to protect the environment. How are companies taking the lead to reduce emissions, promote environmental policies and curb climate change? How is sustainability affecting their bottom lines, through consumer demand today and long term changes tomorrow?
2:30 pm: Guest Arrival
3:00 pm: Program Start
5:00 pm: Program Concludes and Cocktail Reception Begins
3TEN ACL Live
310 Willie Nelson Boulevard
Austin, TX 78701

Presented by
Upcoming Events
Culture

Race + Justice: Tucson

December 5, 2017
Tucson, AZ

The Atlantic will explore What comes next in creating a more effective and fairer justice system for Tucson and surrounding areas?

Culture

Unfinished Business: The Atlantic's LGBTQ Summit

December 6, 2017
Washington, DC

The Atlantic will convene policymakers, activists, scholars, legal experts, students and shapers of the national dialogue for a series of conversations on where the LGBTQ movement stands, what its aspirations are and what obstacles lie ahead.

Other

The Summit on Infrastructure and Transportation

December 6, 2017
Washington, DC

The Atlantic will gather policy makers, business leaders, innovators and experts to explore the future of our nation's infrastructure and transportation systems.