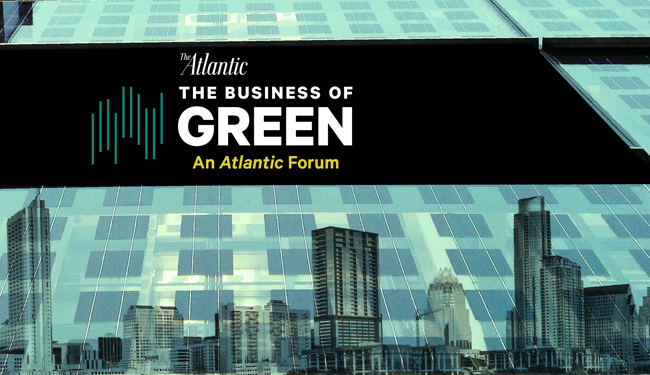 The Business of Green: An Atlantic Forum
November 28, 2017
Austin, TX
Protecting the environment is not a task solely left to government. Companies are leading the way to curb greenhouse gas emissions and promote green policies through sustainable practices, construction and investments.
The Atlantic gathered leaders from across industry, experts and consumers alike, to explore the way business is employing sustainability to protect the environment. How are companies taking the lead to reduce emissions, promote environmental policies and curb climate change? How is sustainability affecting their bottom lines, through consumer demand today and long term changes tomorrow?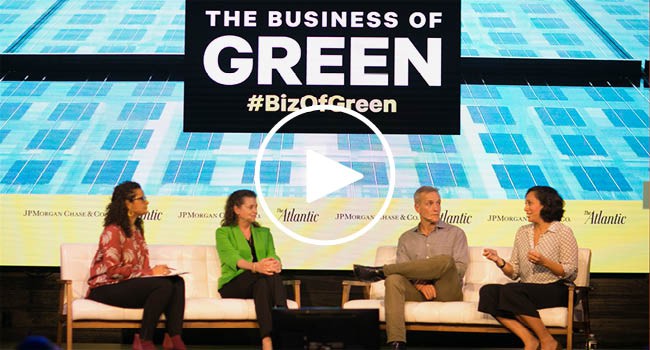 2:30 pm: Guest Arrival
3:00 pm: Program Start
5:00 pm: Program Concludes and Cocktail Reception Begins
3TEN ACL Live
310 Willie Nelson Boulevard
Austin, TX 78701
Presented by
Agenda
Tuesday, November 28

3:00 p.m.

Welcome

Margaret Low, President, AtlanticLIVE

3:05 p.m.

Leading the Way

Steve Adler, Mayor of Austin
Dale Ross, Mayor of Georgetown, Texas
With Steve Clemons, Washington Editor at Large, The Atlantic

3:30 p.m.

Going Green: Sourcing from & Investing in Renewables. A session produced by our underwriter JPMorgan**

Erin Robert, Head of Capital Strategies, JPMorgan Sustainable Finance

3:45 p.m.

Consumer Values and the Bottom Line

David Lake, Founder and Architect, Lake|Flato
Vikram Sahney, Divisional Vice President of Sustainability, REI
Trisa Thompson, Senior Vice President & Chief Responsibility Officer, Corporate Social Responsibility, Dell
With Alison Stewart, Contributing Editor, The Atlantic

4:10 p.m.

Emerging EcoDistricts

Lucia Athens, Chief Sustainability Officer, City of Austin
Mahesh Ramanujam, President and CEO, U.S. Green Building Council; President and CEO, Green Business Certification Inc.
Daniel Woodroffe, President and Founder, Studio dwg
With Steve Clemons, The Atlantic

4:35 p.m.

Texas and the Future of Energy

Delia Garza, Council Member, District 2, City of Austin
Brewster McCracken, President and CEO, Pecan Street
Jackie Sargent, General Manager, Austin Energy
With Alison Stewart, The Atlantic

5:00 p.m.

Closing Thoughts

Margaret Low, AtlanticLIVE
Upcoming Events
Culture

The Atlantic Festival

September 24 – 26, 2019
Washington, DC

Experience The Atlantic.

Health Care

Innovators Lab: Philadelphia

October 16, 2019
Philadelphia

How can Philadelphia compete with other major East Coast cities for talent and capital in the life sciences?

CityLab 2019

October 27 – 29, 2019
Washington, DC

CityLab is a celebration of urban life, bringing together mayors from around the world, along with policymakers and business leaders, artists and activists.