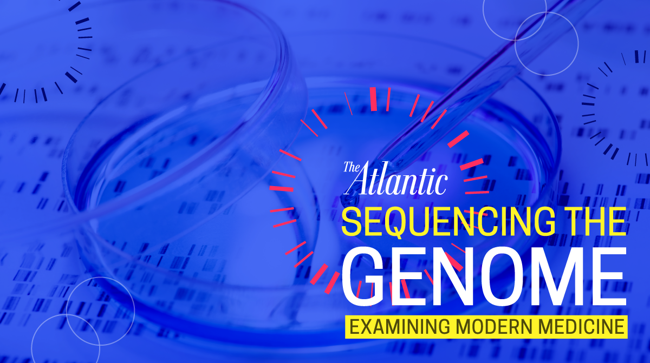 Sequencing the Genome: Examining Modern Medicine
April 26, 2017
New York City
Our DNA is a chemical alphabet of A, T, C and G, which together create the book of life. The mapped human genome has opened up incredible possibilities and scientists say we're on the cusp of the golden age of genomic-based, personalized medicine.
How is the genetic roadmap empowering the medical community to find breakthrough treatments? Where is personalized medicine headed? What are the issues that we as a society should anticipate moving forward?  

At a forum in New York, The Atlantic gathered key stakeholders in this conversation to discuss the future of the genomic era.
---
Watch full session videos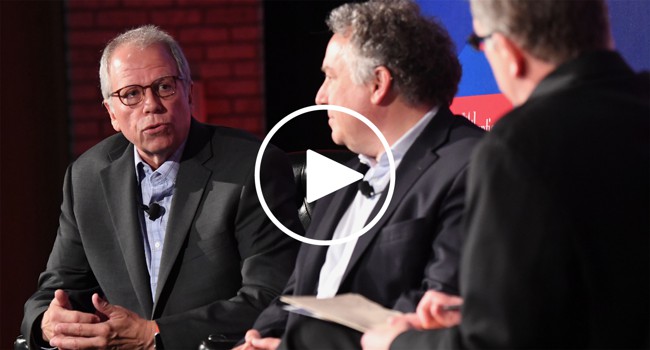 To view photos from this event, please visit our Facebook page
Presented by
Agenda
Wednesday, April 26

8:30 a.m.

Welcome

Margaret Low, President, AtlanticLIVE

8:35 a.m.

State of Innovation and Research

Claire Pomeroy, President, Albert and Mary Lasker Foundation
With Steve Clemons, Washington Editor at Large, The Atlantic

9:00 a.m.

Dawn of the Genomic Era

Edward Abrahams, President, Personalized Medicine Coalition
Karen Nelson, President, J. Craig Venter Institute
Aris Baras, Vice President, Regeneron Pharmaceuticals; Head, Regeneron Genetics Center
With James Hamblin, Senior Editor, The Atlantic

9:30 a.m.

The Future Vaccine

Ripley Ballou, VP, GSK Vaccines; Head, Slaoui Center for Vaccines Research, Rockville MD
Mark Feinberg, President and CEO, International AIDS Vaccine Initiative
With Steve Clemons, The Atlantic

10:00 a.m.

The Business of Human Genomics* Produced by our underwriter PhRMA

Robert J. Hugin, Executive Chairman, Celgene
With Meg Tirrell, Reporter, CNBC

10:10 a.m.

Opportunities and Challenges Ahead

Paul Appelbaum, Director, Center for Research on Ethical, Legal and Social Implications of Psychiatric, Neurological, and Behavioral Genetics; Elizabeth K. Dollard Professor of Psychiatry, Medicine and Law at Columbia University
Ting Wu, Director and Co-Founder, Personal Genetics Education Project; Professor of Genetics, Harvard Medical School
Arthur Caplan, Director, Division of Medical Ethics, NYU School of Medicine; Drs. William F. and Virginia Connolly Mitty Professor of Bioethics
With James Hamblin, The Atlantic

10:45 a.m.

Closing Thoughts

Margaret Low, AtlanticLIVE
Upcoming Events
Energy/Sustainability

Water Summit

November 2, 2017
Beverly Hills, CA

At the Water Summit, The Atlantic will gather the leading voices in water, from environmentalists and policymakers to farmers, industry and community leaders, to forge a dialogue around the critical water issues of our time.

Technology

The Innovation Game

November 7, 2017
Washington, DC

The Atlantic will convene visionaries to highlight the innovations shaping and reshaping our world.

Politics

Defining Justice:
The Experience of Women and Children Behind Bars

November 7, 2017
Los Angeles

The Atlantic will seek to unearth untold stories, bringing together people whose lives have been changed by incarceration with the advocates and entertainers who can give voice to them.