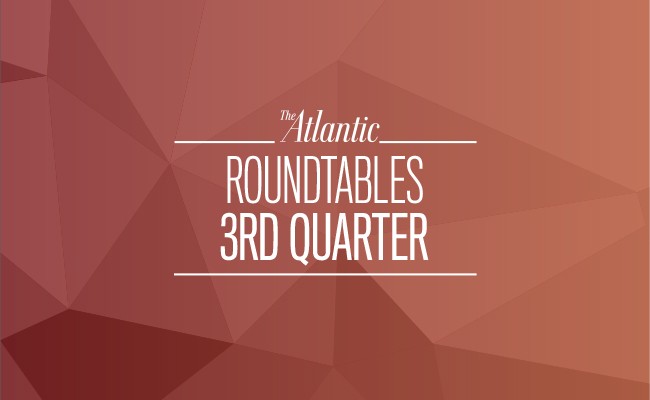 Roundtables 3rd Quarter 2015
July 1 – September 30, 2015
Multiple Cities
July 16, 2015
Roundtable Dinner underwritten by HP
This roundtable dinner focused on ways to prepare for and respond to cyber threats.
---
July 16, 2015
Roundtable Dinner underwritten by Nestlé
With the California drought in its fourth year, The Atlantic explored ways to address the water crisis.
---
July 22, 2015
Roundtable Dinner underwritten by  Evolent Health
After the Supreme Court's decision that ensured the continuation of the Affordable Care Act for years to come, we examined the challenges and opportunities that remain for health care systems.  
---
September 25, 2015
Roundtable Dinner underwritten by Omidyar Network
We explored the importance of assets and property rights in determining how best to combat global inequality.
---
September 28, 2015
Roundtable Breakfast underwritten by Toyota
This roundtable breakfast focused on corporate philanthropy and the relationship between social mission and business strategy.
Presented by
Upcoming Events
Economy/Business

Power of Purpose

November 19, 2019
New York City

How can business be a force for good?

Renewal Summit: Los Angeles

November 21, 2019
Los Angeles

In L.A., a thriving metropolis that is home to a rich diversity of people from all walks of life, we'll ask: what will it take to ensure quality of life and greater opportunity for all area residents?

Other

Innovators Lab: San Francisco

December 3, 2019
San Francisco, CA, California


What does it take to stay on top?