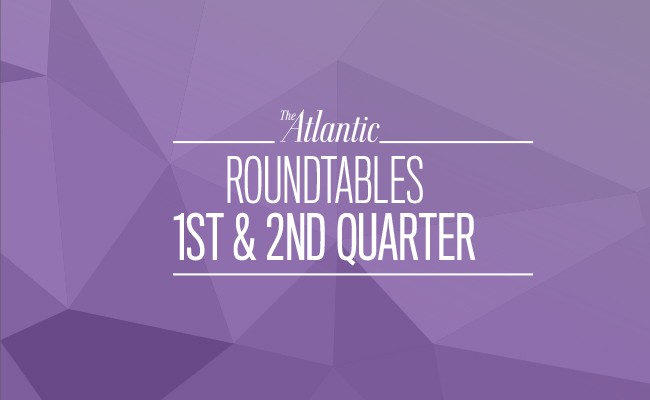 Roundtables 1st & 2nd Quarter 2015
January 1 – June 30, 2015
Multiple Cities
February 12, 2015
Roundtable Dinner underwritten by Siemens
This roundtable dinner explored the new world of $50 oil and its impact on energy policy, markets and investments.
---
March 17, 2015
Roundtable Dinner underwritten by National Council for Behavioral Health
We focused on combatting the stigma of mental disease, systemic reforms to coordinate care and how mental health fits into personal wellness and preventative care.
Presented by
Upcoming Events
Culture

The Atlantic Festival

September 24 – 26, 2019
Washington, DC

Experience The Atlantic.

Health Care

Innovators Lab: Philadelphia

October 16, 2019
Philadelphia

How can Philadelphia compete with other major East Coast cities for talent and capital in the life sciences?

CityLab 2019

October 27 – 29, 2019
Washington, DC

CityLab is a celebration of urban life, bringing together mayors from around the world, along with policymakers and business leaders, artists and activists.