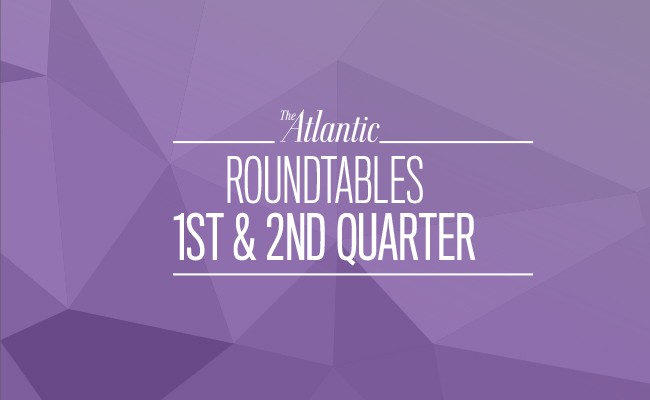 Roundtables 1st & 2nd Quarter 2015
January 1 – June 30, 2015
Multiple Cities
February 12, 2015
Roundtable Dinner underwritten by Siemens
This roundtable dinner explored the new world of $50 oil and its impact on energy policy, markets and investments.
---
March 17, 2015
Roundtable Dinner underwritten by National Council for Behavioral Health
We focused on combatting the stigma of mental disease, systemic reforms to coordinate care and how mental health fits into personal wellness and preventative care.
Presented by
Upcoming Events
Economy/Business

The Renewal Summit: Houston

November 13, 2018
Houston, TX, Texas

How can Houston's community leaders bring opportunity to all residents of the region?

Politics

What Do the Midterms Mean?
With The Atlantic's Politics Team

November 13, 2018
Washington, DC

The midterm elections could define one of the most pivotal periods in America's recent history. One week after the country votes, The Atlantic's top political reporters and editor-in-chief Jeffrey Goldberg take stock of the results and analyze what they mean for the president, policy, and politics leading up to the 2020 presidential campaign.


Tickets: $15 advance/$18 day of

Health Care

People v. Cancer

November 14, 2018
New York City

What will it take for humankind to conquer cancer?