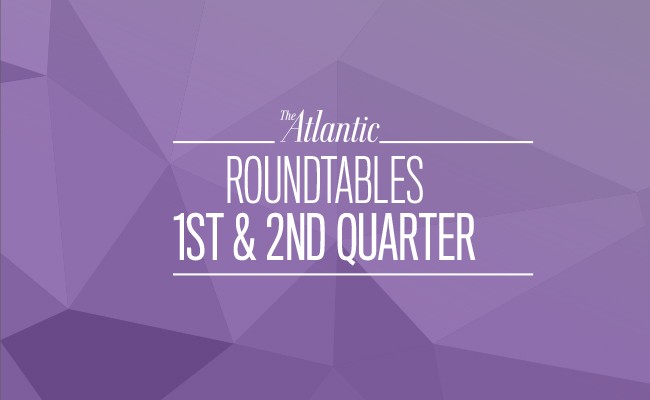 Roundtables 1st & 2nd Quarter 2015
January 1 – June 30, 2015
Multiple Cities
February 12, 2015
Roundtable Dinner underwritten by Siemens
This roundtable dinner explored the new world of $50 oil and its impact on energy policy, markets and investments.
---
March 17, 2015
Roundtable Dinner underwritten by National Council for Behavioral Health
We focused on combatting the stigma of mental disease, systemic reforms to coordinate care and how mental health fits into personal wellness and preventative care.
Presented by
Upcoming Events
Health Care

The Big Story: How the Virus Won

August 13, 2020
Virtual Event

Atlantic staff writer Ed Yong has spoken with more than 100 experts since the early stages of the pandemic.

Thrive: The Children's Summit

August 25, 2020
Virtual Event

The children of today are facing a challenging world, one that is complicated by technology and threatened by forces outside their control.

The Atlantic Festival

September 21 – 24, 2020
Virtual Event

Expect to be challenged. Expect to be entertained. Expect the unexpected.