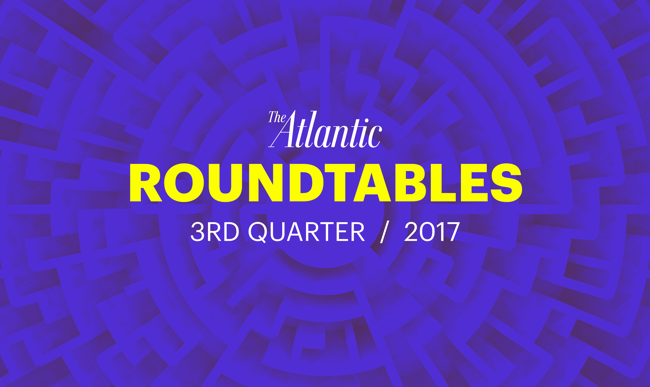 Roundtables 3rd Quarter
July 1 – September 30, 2017
Multiple Cities
July 31, 2017
Roundtable Lunch with support from the MacArthur Foundation
Held in Palm Beach County, the conversation examined improving outcomes of the criminal justice system as the county breaks new ground in pretrial release programs, reentry and recidivism support services.
---
September 18, 2017
Roundtable Breakfast underwritten by Pearson
This breakfast discussion, held in New York City, delved into how automation and the changing demographics of our nation will affect jobs — and whether to welcome or fear the future of work.
Presented by
Upcoming Events
Culture

The Atlantic Festival

September 24 – 26, 2019
Washington, DC

Experience The Atlantic.

Health Care

Innovators Lab: Philadelphia

October 16, 2019
Philadelphia

How can Philadelphia compete with other major East Coast cities for talent and capital in the life sciences?

CityLab 2019

October 27 – 29, 2019
Washington, DC

CityLab is a celebration of urban life, bringing together mayors from around the world, along with policymakers and business leaders, artists and activists.