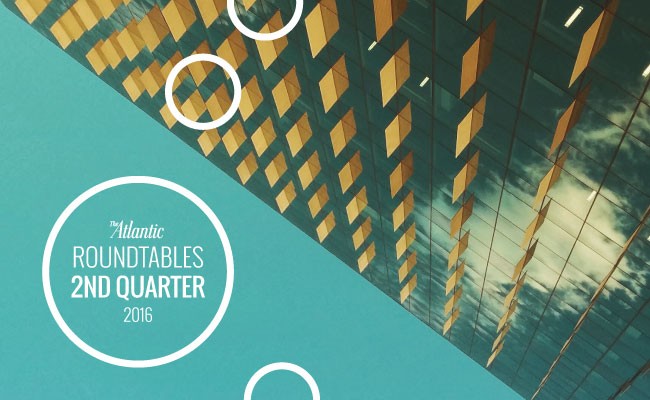 Roundtables 2nd Quarter
April 1 – June 30, 2016
Multiple Cities
April 26, 2016
Roundtable Dinner underwritten by Governor's Woods Foundation
This roundtable dinner tied to The Atlantic Summit on the Economy explored the dynamics that need to be addressed in the American and global economies as outcomes challenge or upend conventional logic.  
---
May 17, 2016
Roundtable Luncheon underwritten by Robert Wood Johnson Foundation
This lunchtime conversation during Education Summit 2016 focused on how the Every Student Succeeds Act provides opportunities for autonomous state evaluation of schools and well-rounded education approaches incorporating health considerations.  
---
June 8, 2016
Roundtable Dinner underwritten by PG&E
This evening event — an extension of Access to Power: A Forum on Energy Equity — examined what it will take to make clean energy more inclusive and accessible to all.  
---
June 8, 2016
Roundtable Dinner underwritten by Boeing
This gathering, the first in a series of dinners leading up to October's WHAT'S NEXT? event, probed the big questions of how to successfully foster innovation in the unique context of St. Louis.    
Presented by