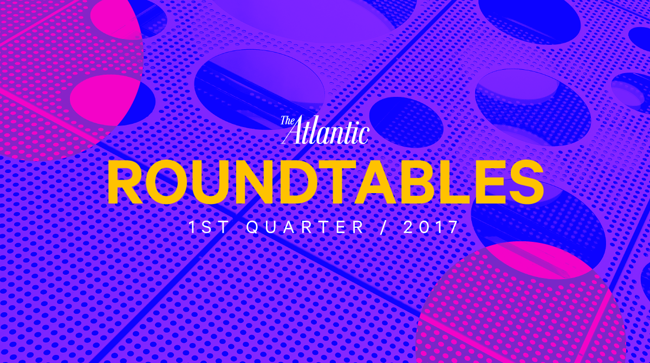 Roundtables 1st Quarter
January 1 – March 31, 2017
Multiple Cities
January 1, 2017
Roundtable Dinner underwritten by Eli Lilly and Company
This gathering explored the question of how the principles of value-based programs — which reward health care providers based on quality of care as measured by patient outcomes — can be applied to pharmaceuticals.
---
February 9, 2017
Roundtable Dinner underwritten by the American Federation of Teachers
The Atlantic examined the new political landscape and what it means for LGBTQ Americans, asking the question of where the gay rights movement is headed.
---
March 6, 2017
Roundtable Dinner underwritten by Bristol-Myers Squibb
At this dinner in Kentucky, which has the highest cancer rate in the country, The Atlantic dug into what can be done to turn the trend around and ensure that more people survive.
Presented by
Upcoming Events
Culture

The Atlantic Festival

September 24 – 26, 2019
Washington, DC

Experience The Atlantic.

Health Care

Innovators Lab: Philadelphia

October 16, 2019
Philadelphia

How can Philadelphia compete with other major East Coast cities for talent and capital in the life sciences?

CityLab 2019

October 27 – 29, 2019
Washington, DC

CityLab is a celebration of urban life, bringing together mayors from around the world, along with policymakers and business leaders, artists and activists.