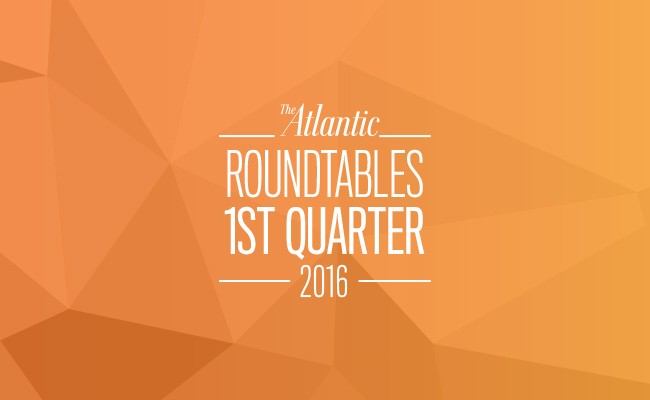 Roundtables 1st Quarter
January 1 – March 31, 2016
Multiple Cities
February 23, 2016
Roundtable Lunch underwritten by Blue Cross Blue Shield Association
This lunchtime discussion examined the changing landscape of health care and how to better control surging health care costs.   
---
March 15, 2016
Roundtable Dinner underwritten by National Pork Board
This roundtable dinner explored the challenge of antibiotics in the 21st century and current efforts to combat resistance.
---
March 24, 2016
Working Summit underwritten by NRG Energy
The breakfast conversation focused on supply and demand, new technology and the changing nature of urban energy consumption.
Presented by
Upcoming Events
Culture

The Atlantic at Sundance

January 24 – 27, 2020
Park City, UT, Utah

As a media sponsor of the 2020 Sundance Film Festival, The Atlantic will host a series of talks with filmmakers, actors, and industry experts, in conversation with Atlantic journalists.