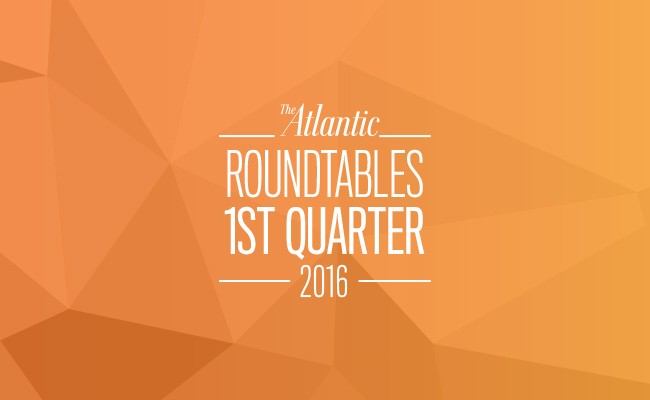 Roundtables 1st Quarter
January 1 – March 31, 2016
Multiple Cities
February 23, 2016
Roundtable Lunch underwritten by Blue Cross Blue Shield Association
This lunchtime discussion examined the changing landscape of health care and how to better control surging health care costs.   
---
March 15, 2016
Roundtable Dinner underwritten by National Pork Board
This roundtable dinner explored the challenge of antibiotics in the 21st century and current efforts to combat resistance.
---
March 24, 2016
Working Summit underwritten by NRG Energy
The breakfast conversation focused on supply and demand, new technology and the changing nature of urban energy consumption.
Presented by
Upcoming Events
Economy/Business

Informed: The New Era of Local News

November 14, 2019
Minneapolis, MN

The Atlantic will convene community leaders, advocates, and local journalists to examine what the future of local news looks like, and the role the press plays in civic engagement.

Economy/Business

Power of Purpose

November 19, 2019
New York City

How can business be a force for good?

Renewal Summit: Los Angeles

November 21, 2019
Los Angeles

In L.A., a thriving metropolis that is home to a rich diversity of people from all walks of life, we'll ask: what will it take to ensure quality of life and greater opportunity for all area residents?