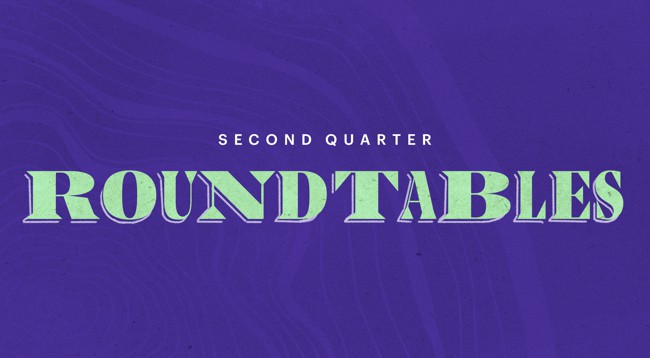 Roundtables, Second Quarter 2019
April 1 – June 30, 2019
Multiple Cities
April 29, 2019
Roundtable Dinner underwritten by Bristol Myers-Squibb
Hosted the evening before Pulse: The Atlantic Summit on Health Care, this discussion examined how health care and biotech companies in Boston can be inclusive in their practices.
---
May 14, 2019
Roundtable Lunch underwritten by Robert Wood Johnson Foundation

During the afternoon break from the Education Summit, this conversation centered around serving children of all backgrounds in early education.
---
May 15, 2019
Roundtable Dinner underwritten by PwC
Kicking off the A.I. Incorporated Forum, The Atlantic delved into ways companies can prepare their workforce for the A.I. revolution.
---
May 21, 2019
Roundtable Dinner underwritten by Bristol Myers-Squibb
In conjunction with the Innovators Lab event series, the conversation at this dinner explored how Seattle can nurture local entrepreneurs in science and biotech.
---
June 13, 2019
Roundtable Dinner with support from the MacArthur Foundation
Hosted adjacent to Race + Justice: Pittsburgh, this dinner conversation delved into what is required for Pittsburgh to build a criminal-justice system that promotes both fairness and safety.
Presented by
Upcoming Events
Economy/Business

Power of Purpose

November 19, 2019
New York City

How can business be a force for good?

Renewal Summit: Los Angeles

November 21, 2019
Los Angeles

In L.A., a thriving metropolis that is home to a rich diversity of people from all walks of life, we'll ask: what will it take to ensure quality of life and greater opportunity for all area residents?

Other

Innovators Lab: San Francisco

December 3, 2019
San Francisco, CA, California


What does it take to stay on top?