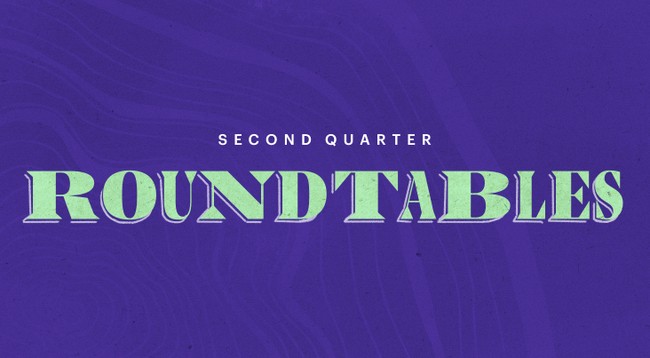 Roundtables, Second Quarter 2019
April 1 – June 30, 2019
Multiple Cities
April 29, 2019
Roundtable Dinner underwritten by Bristol Myers-Squibb
Hosted the evening before Pulse: The Atlantic Summit on Health Care, this discussion examined how health care and biotech companies in Boston can be inclusive in their practices.
---
May 14, 2019
Roundtable Lunch underwritten by Robert Wood Johnson Foundation

During the afternoon break from the Education Summit, this conversation centered around serving children of all backgrounds in early education.
---
May 15, 2019
Roundtable Dinner underwritten by PwC
Kicking off the A.I. Incorporated Forum, The Atlantic delved into ways companies can prepare their workforce for the A.I. revolution.
---
May 21, 2019
Roundtable Dinner underwritten by Bristol Myers-Squibb
In conjunction with the Innovators Lab event series, the conversation at this dinner explored how Seattle can nurture local entrepreneurs in science and biotech.
---
June 13, 2019
Roundtable Dinner with support from the MacArthur Foundation
Hosted adjacent to Race + Justice: Pittsburgh, this dinner conversation delved into what is required for Pittsburgh to build a criminal-justice system that promotes both fairness and safety.
Presented by
Upcoming Events
Health Care

Pulse: The Atlantic Summit on Health Care

July 15, 2020
Virtual Event

COVID-19 has exposed the longstanding inequities and deficiencies in our health care system.

Energy/Sustainability

Water Summit

July 21, 2020
Virtual Event

Some two million Americans lack consistent access to clean tap water.

Health Care

People v. Cancer

November 2020
Virtual Event

In its third edition of People v. Cancer, The Atlantic will illuminate stories from the frontlines of the cancer community, from the latest oncology breakthroughs to the power of the human experience.