Roundtable Dinner
November 13, 2014
Washington, DC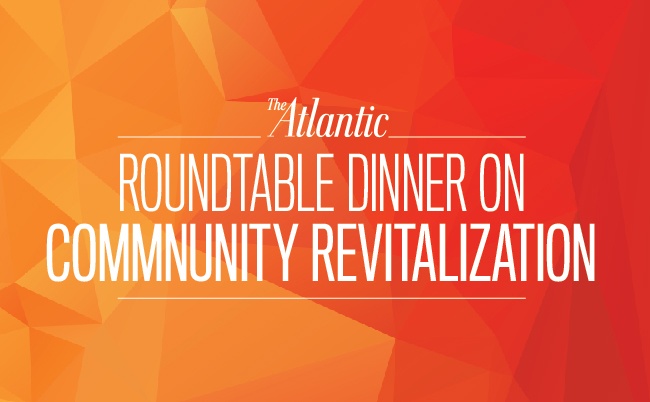 By working to revitalize struggling neighborhoods, stakeholders can change the future of opportunity for low-income residents living in areas of high poverty, crime and unemployment rates; insufficient health services; and substandard schools. But experts say it is not enough to focus on improving any one of these crippling challenges: the revitalization process must be holistic, must involve the local community, and must be geared toward long-term, sustainable solutions.
How can local governments, businesses, and nonprofits best collaborate to achieve better outcomes for communities? What resources are needed to provide affordable, high-quality housing developments in areas with limited economic diversity? What are the best practices available to guide public and private organizations as they try to communicate goals to citizens? What leadership skills are required to forge long-lasting change in troubled neighborhoods?
The Atlantic convened an intimate group of key urban leaders and expert stakeholders in the nation's capital for a focused discussion around these themes and the most effective models for creating and sustaining workable community revitalization projects throughout the country.
Presented by
Upcoming Events
Culture

The Atlantic Festival

September 24 – 26, 2019
Washington, DC

Experience The Atlantic.

Health Care

Innovators Lab: Philadelphia

October 16, 2019
Philadelphia

How can Philadelphia compete with other major East Coast cities for talent and capital in the life sciences?

CityLab 2019

October 27 – 29, 2019
Washington, DC

CityLab is a celebration of urban life, bringing together mayors from around the world, along with policymakers and business leaders, artists and activists.