Years of gridlock have left Washington in a state of inaction, and questions remain about whether our nation can come together to find solutions for the most pressing issues of our time. But around the country local leaders are doing just that.  Renewal is happening from the inside out, from city halls and local community organizations to innovators and businesses who are making a difference in their hometowns, not waiting for Washington.
For the past two years, The Atlantic has been engaged in a nationwide conversation to identify the local innovators and entrepreneurs who are tackling the nation's biggest challenges. We brought the Renewal Series to Washington to host the second annual Renewal Awards. We recognized grassroots innovators who are improving their communities from the ground up, and discussed what Washington can learn from progress made at the local level.  
---
Watch full session videos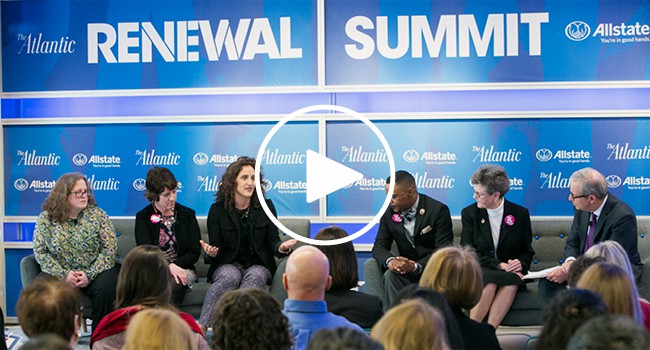 To view photos from this event, please visit our Facebook page
Presented by
Agenda
Thursday, March 30

9:15 a.m.

Welcome

Bob Cohn, President, The Atlantic

9:20 a.m.

From the State Capitol to the Senate Floor

Senator John Hoeven (R-ND)




Senator Joe Manchin (D-WV)


With Ron Brownstein, Senior Editor, The Atlantic

9:50 a.m.

A Message of Renewal from Allstate*

Dave Prendergast, President, Eastern Territory, Allstate

10:00 a.m.

Mayors on the Frontlines

Mayor Buddy Dyer, City of Orlando
Mayor Catherine Pugh, City of Baltimore
With Ron Brownstein, The Atlantic

10:30 a.m.

Meet the Renewal Award Winners

Sister Tesa Fitzgerald, Founder and Executive Director, Hour Children
Tara Libert, Co-Founder and Executive Director, Free Minds Book Club & Writing Workshop
LaVonte Stewart, Executive Director, Lost Boyz Inc.
Chelina Odbert, Co-Founder and Executive Director, Kounkuey Design Initiative
Kate Barnhart, Executive Director, New Alternatives for LGBT Homeless Youth
With Ron Brownstein, The Atlantic

11:10 a.m.

In Our Own Backyard

Mike Curtin, CEO, DC Central Kitchen
Scott Kratz, Director, 11

th

Street Bridge Park


Andy Shallal, Founder and CEO, Busboys and Poets
With Gillian White, Senior Associate Editor, The Atlantic

11:35 a.m.

From Queens to the Bronx: The New York Experience

Representative Joe Crowley (D-NY)


With Steve Clemons, Washington Editor at Large, The Atlantic

11:55 a.m.

Closing Thoughts

Bob Cohn, The Atlantic
Upcoming Events
Health Care

Innovation Pipeline: Examining Modern Medicine

August 1, 2017
San Francisco

In the third event of the "Examining Modern Medicine" series, The Atlantic will gather stakeholders, original thinkers and tinkerers from the nation's innovation capital to explore what it means to put the bio into biotech.

CityLab Baltimore

August 2, 2017
Baltimore, MD

CityLab Baltimore will convene top urban stakeholders from around the country to discuss some of the most pressing issues US cities face.

Washington Ideas

September 26 – 28, 2017
Washington, DC

For its ninth year, the Washington Ideas Forum will convene the nation's leaders, from politics and government to business and culture for two days of idea sharing and thought provoking conversation.