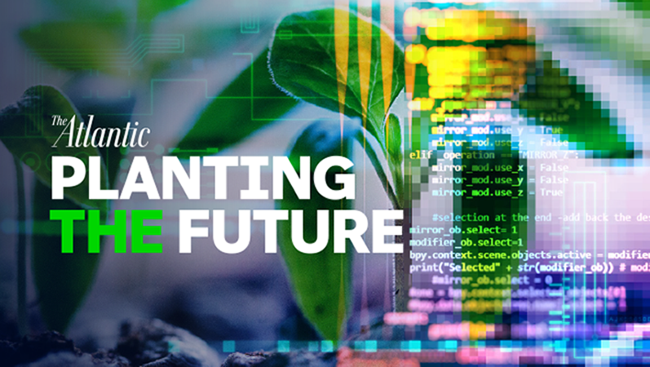 Planting the Future
November 9, 2017
Boston
Quietly but surely, the seeds of the next agricultural revolution are being planted. In the lab and on the farm, scientists, growers and entrepreneurs are posing the questions and tackling the challenges that go to the core of human existence: What can we do to produce sufficient nutritious food in an increasingly unpredictable environment? How can we cultivate crops in a way that benefits, rather than strains, the Earth's ecosystem?
Join The Atlantic in the great life science hub of Boston for a conversation on the big issues at the intersection of agriculture and technology. Together with the field's leading scientists, tech innovators, growers and foodies we will explore the innovations and ideas that may just change our food system from the ground up.
---
Watch full session videos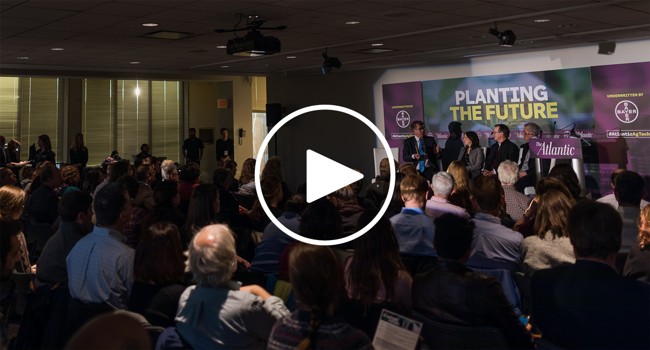 To view photos from this event, please visit our Facebook page
Museum of Science, Skyline Room
1 Science Park
Boston, MA 02114

Presented by
Agenda
Thursday, November 09

2:30 p.m.

Welcome

Emily Akhtarzandi, Managing Director, AtlanticLIVE

2:35 p.m.

The Next Agricultural Revolution

Caleb Harper, Principal Scientist and Director, MIT Media Lab OpenAg
With Joie Chen, Journalist and Contributor, AtlanticLIVE

2:55 p.m.

Founders and Farmers

Dorn Cox, Co-Founder and President, FarmHack and Owner, Tuckaway Farm
Isha Datar, Executive Director, New Harvest
Peter Orr, Farmer, Fort Hills Farms, LLC
Geoff von Maltzahn, Co-Founder and Chief Innovation Officer, Indigo Agriculture, and Partner, Flagship Pioneering
With Joie Chen, AtlanticLIVE

3:25 p.m.

Boston, Bayer and the Future of Ag*

Adrian Percy, Global Head of Research and Development,

Crop Science, a division of Bayer


With Benedetto Marelli, Paul M. Cook Career Development Professor, Civil and Environmental Engineering, MIT



*A session produced by our underwriter Crop Science, a division of Bayer

3:35 p.m.

The Ethics of Innovation

Emily Broad Leib, Director, Harvard Law School Food Law and Policy Clinic and Assistant Clinical Professor of Law, Harvard Law School
Bob Rabatsky, Director, Feed the Future Partnership for Innovation, A USAID Program
Issi Rozen, Chief Business Officer, Broad Institute of Harvard and MIT
With Steve Clemons, Washington Editor at Large, The Atlantic

4:05 p.m.

Seeding Discovery

David Berry, General Partner, Flagship Pioneering
Emily Reichert, Chief Executive Officer, Greentown Labs
With Steve Clemons, The Atlantic

4:30 p.m.

Closing Thoughts

Emily Akhtarzandi, AtlanticLIVE
Upcoming Events
Culture

The Atlantic at Sundance

January 24 – 27, 2020
Park City, UT, Utah

As a media sponsor of the 2020 Sundance Film Festival, The Atlantic will host a series of talks with filmmakers, actors, and industry experts, in conversation with Atlantic journalists.