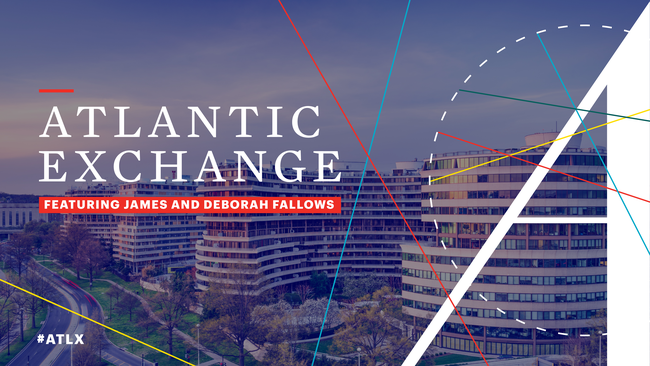 Our Towns: An Atlantic Exchange with James and Deborah Fallows
May 9, 2018
Washington, DC
The Atlantic's James and Deborah Fallows set out in 2013 to explore America town by town. They crisscrossed the country for nearly five years, traveling from Maine to South Dakota to California to Kentucky, and all the while reporting on the ideas reshaping the nation in The Atlantic's American Futures series. As they talked to civic leaders, workers, entrepreneurs, recent immigrants and many others, the authors found that the diverse stories they heard formed an inspiring narrative about the energy, complexity and strength of our country.

Unlike others who have gone in search of America, the Fallows didn't travel overland but flew in a single-engine prop plane, which gave them a fresh perspective on American history, geography, urban planning and environmental conditions. And unlike many reports of today's divided, frustrated nation, the Fallows' engaging travelogue shows us a country animated by a spirit of renewal.
James and Deborah joined us to detail their reporting and new book, Our Towns, which is the story of their journey and an account of a country busy remaking itself.
7pm - 8pm
Politics and Prose at The Wharf
70 District Square SW
Washington, DC 20024
Presented by
Speakers
Deborah Fallows

Author

Our Towns

James Fallows

National Correspondent

The Atlantic; Author, Our Towns
Upcoming Events
Race, Justice & Equity

October 30, 2020
Virtual Event

We'll explore how to reform, and possibly rebuild, a criminal justice system that has for too long been based on racial inequities.

Economy/Business

A Resilient Future

November 12, 2020
Virtual Event

How are companies large and small planning for the future?

Health Care

People v. Cancer

November 18, 2020
Virtual Event

What does it mean to live with cancer today?