Education Confronting the
Skills Gap:
Defining the New Nevada
October 19, 2016
Las Vegas
Demographic shifts are redefining the nation in many ways. For Nevada this translates to an education system where the majority of the student body is of minority background. At the same time, the state is addressing a significant skills gap due to technological advances in industry. What actions will position the new Nevada for economic growth in light of these changes? In this Next America forum, The Atlantic gathered policy makers, educators and employers to explore Nevada's agenda on education and workforce development.
---
Watch full session videos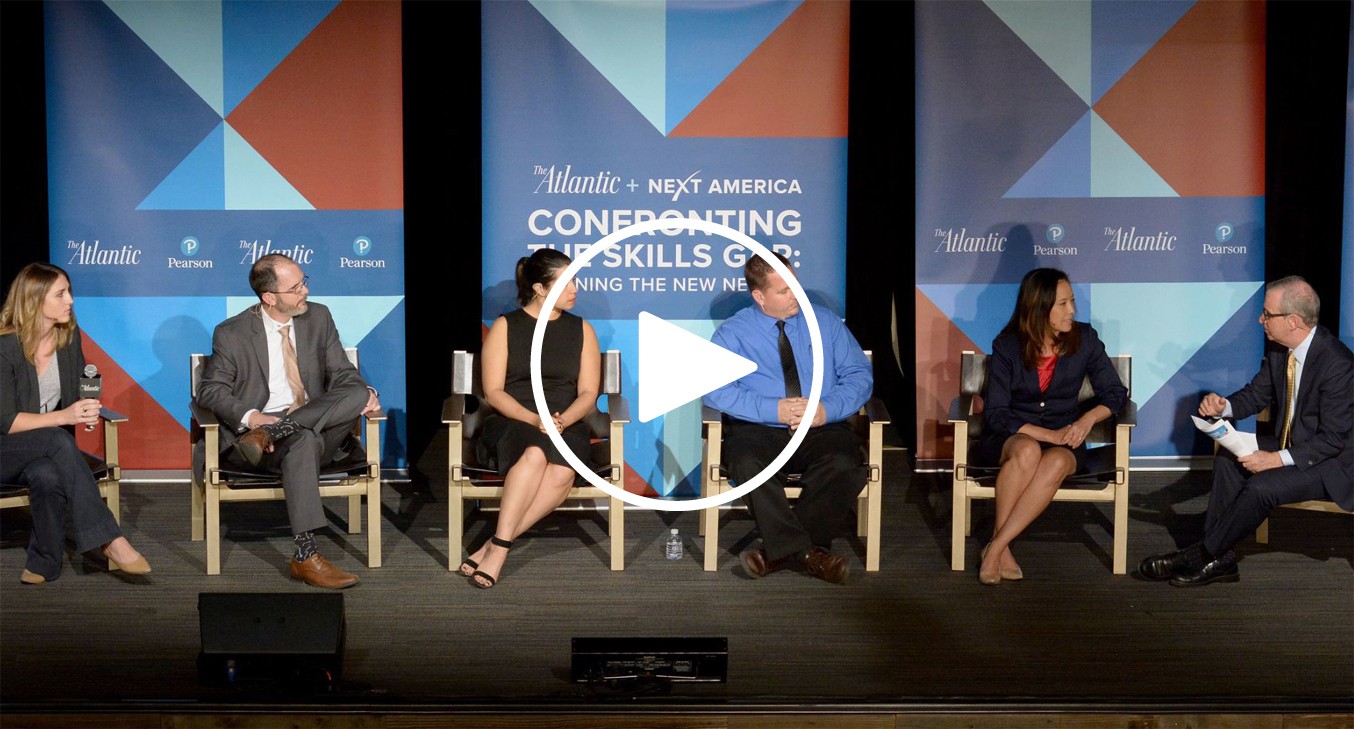 Presented by
Agenda
Wednesday, October 19

2:00 p.m.

Guest Arrival and Networking Reception

-

2:30 p.m.

Welcome

Emily Akhtarzandi, Managing Director, AtlanticLIVE

2:35 p.m.

What Will Make a New Nevada Better than the Old Nevada?

Representative Dina Titus (D-NV)
With Ron Brownstein, Senior Editor, The Atlantic

2:50 p.m.

Building the Worker of Tomorrow

Brittany Bronson, English Instructor, University of Nevada, Las Vegas, Op-Ed Writer, New York Times
Steve Canavero, Superintendent of Public Instruction, Nevada State Board of Education
Yvanna Cancela, Political Director, Culinary Workers Union, Local 226
Craig Von Collenberg, Director of Apprenticeship Studies, College of Southern Nevada
Michelle DiTondo, Chief Human Resources Officer, MGM Resorts International
With Ron Brownstein

3:35 p.m.

The High Tech Path to High Wage Jobs

Karin Hilgersom, President, Truckee Meadows Community College
Manny Lamarre, Executive Director, Governor's Office of Workforce Innovation
Kristi Overgaard, Executive Vice President of Awesomeness, Switch
With Steve Clemons, Washington Editor at Large, The Atlantic

4:00 p.m.

The Next Frontier: The Future of Nevada's Workforce

Mike Kazmierski, President and CEO, Economic Development Authority of Western Nevada
Sylvia Lazos, Professor of Law, UNLV; Policy Director Educate Nevada Now!; Vice Chair Latino Leaders Council
Jonas Peterson, President and CEO, Las Vegas Global Economic Alliance
With Steve Clemons

4:10 p.m.

Real Life: The Student Experience

Produced by our underwriter Pearson
Frank Damewood, Apprenticeship Student, College of Southern Nevada
Deanna Irby, Medical Transcription Certification Student, College of Southern Nevada
Mary McDonough, Honors Student, University of Nevada, Las Vegas
With Tim Bozik, President, Pearson Global Product

4:40 p.m.

Closing Thoughts

Emily Akhtarzandi
Upcoming Events
Culture

The Atlantic Festival

September 24 – 26, 2019
Washington, DC

Experience The Atlantic.

Health Care

Innovators Lab: Philadelphia

October 16, 2019
Philadelphia

How can Philadelphia compete with other major East Coast cities for talent and capital in the life sciences?

CityLab 2019

October 27 – 29, 2019
Washington, DC

CityLab is a celebration of urban life, bringing together mayors from around the world, along with policymakers and business leaders, artists and activists.