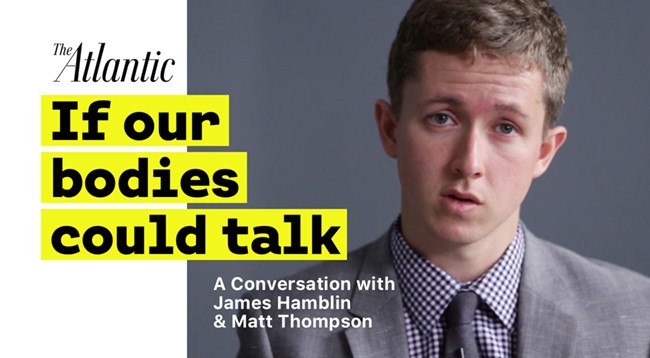 If Our Bodies Could Talk:
A Conversation with James Hamblin & Matt Thompson
January 11, 2017
Washington, DC
Hosted in Partnership With

The Atlantic continued our interview series with Sixth & I, bringing the stories and personalities of The Atlantic to life. We sat down with Atlantic senior editor James Hamblin, host of the video series "If Our Bodies Could Talk," to discuss his new book, If Our Bodies Could Talk: A Guide to Operating and Maintaining a Human Body, a handbook for tackling life's most pressing health concerns and curiosities.

With TheAtlantic.com's deputy editor Matt Thompson, Hamblin answered his readers' many questions – How much sleep do I need? Are we meant to eat meat?– and more. His responses examined not just how our bodies work, but also why these processes matter socially and why we think about them in particular ways.
Presented by
Upcoming Events
Economy/Business

The Renewal Summit

March 27, 2018
New Orleans, LA

Join The Atlantic in the Crescent City during its tricentennial for this year's Renewal Summit, where we will examine the lessons we can learn from New Orleans' comeback, and meet the winners of the third annual Renewal Awards.

Health Care

Cancer and the Community

March 29, 2018
Pittsburgh

At Cancer and the Community, The Atlantic will explore the intersection of cancer breakthroughs and community care.

Health Care

The State of Care: Patient Access & Affordability

April 2018
Washington, DC

The Atlantic will gather key perspectives to continue the conversation on what it costs to stay healthy in America today.