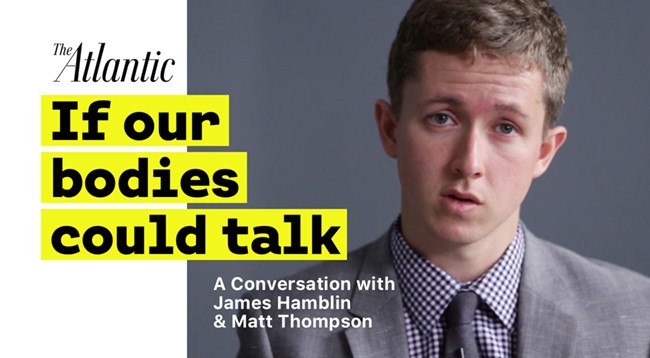 If Our Bodies Could Talk:
A Conversation with James Hamblin & Matt Thompson
January 11, 2017
Washington, DC
Hosted in Partnership With

The Atlantic continued our interview series with Sixth & I, bringing the stories and personalities of The Atlantic to life. We sat down with Atlantic senior editor James Hamblin, host of the video series "If Our Bodies Could Talk," to discuss his new book, If Our Bodies Could Talk: A Guide to Operating and Maintaining a Human Body, a handbook for tackling life's most pressing health concerns and curiosities.

With TheAtlantic.com's deputy editor Matt Thompson, Hamblin answered his readers' many questions – How much sleep do I need? Are we meant to eat meat?– and more. His responses examined not just how our bodies work, but also why these processes matter socially and why we think about them in particular ways.
Presented by
Also in This Series
Culture

Alex Wagner
In Conversation with Vann R. Newkirk II

April 18, 2018
Washington, DC

In a conversation with Vann R. Newkirk II, Alex Wagner discusses her book Futureface: A Family Mystery, an Epic Quest, and the Secret to Belonging chronicling Wagner's quest around the world and into her own her DNA.

Technology

Franklin Foer In Conversation
with Hanna Rosin

September 14, 2017
Washington, DC

Franklin Foer will join Hanna Rosin for a conversation about his new book World Without Mind and how consolidation of knowledge and information has changed how we contemplate the world.

Politics

The Rise of Populism and Nationalism

June 19, 2017
Washington, DC

The Atlantic's Graeme Wood, Rosie Gray and Jeffrey Goldberg will discuss the future of nationalism in the era of Trump and what it means for our country, our allies and our democracy going forward.