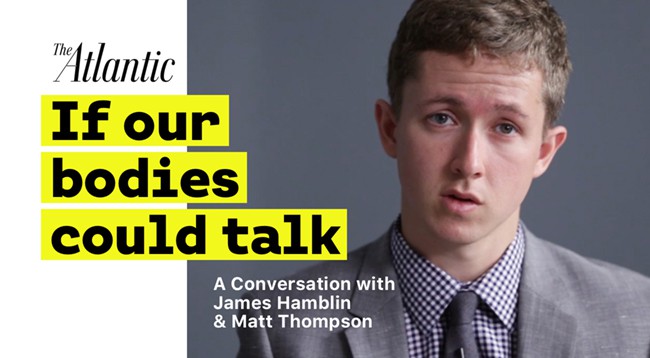 If Our Bodies Could Talk:
A Conversation with James Hamblin & Matt Thompson
January 11, 2017
Washington, DC
Hosted in Partnership With

The Atlantic continued our interview series with Sixth & I, bringing the stories and personalities of The Atlantic to life. We sat down with Atlantic senior editor James Hamblin, host of the video series "If Our Bodies Could Talk," to discuss his new book, If Our Bodies Could Talk: A Guide to Operating and Maintaining a Human Body, a handbook for tackling life's most pressing health concerns and curiosities.

With TheAtlantic.com's deputy editor Matt Thompson, Hamblin answered his readers' many questions – How much sleep do I need? Are we meant to eat meat?– and more. His responses examined not just how our bodies work, but also why these processes matter socially and why we think about them in particular ways.
Presented by
Also in This Series
Culture

An Evening with Ta-Nehisi Coates

September 27, 2016
Washington, DC

As part of The Atlantic's eighth-annual Washington Ideas Week, Ta-Nehisi Coates reflects on American culture, race and politics.

Politics

Inside the Mind of a President

March 30, 2016
Washington, D.C.

Atlantic Editor in Chief James Bennet hosted a conversation with National Correspondent Jeffrey Goldberg about his April cover story, The Obama Doctrine.

Spinster: Making a Life of One's Own

April 27, 2015
Washington, D.C.

Kate Bolick joined The Atlantic's Scott Stossel to discuss her new book and the pleasures and possibilities of being a single woman in the 21st century.
Upcoming Events
Aspen Ideas Festival 2017

June 22 – July 1, 2017
Aspen

The Aspen Ideas Festival is the nation's premier public gathering place for leaders from around the globe and across many disciplines to present and discuss the ideas and issues that both shape our lives and challenge our times.

Health Care

Aspen Ideas Festival Spotlight Health 2017

Spotlight Health features some of the world's leading doers and thinkers discussing the biggest issues involving health and medicine.