Atlantic Voices
Is It Time For the Jews to Leave Europe?
April 7, 2015
Washington, D.C.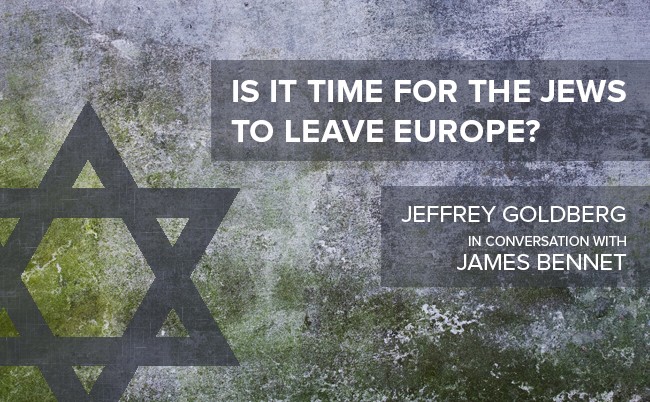 A video of this event has been made available.  View it here.
For half a century, memories of the Holocaust inoculated Europe against overt anti-Semitism. That period has ended—the recent fatal attacks in Paris and Copenhagen are merely the latest in a mounting tide. Today, right-wing fascist strains of Jew-hatred are merging with a new threat from radicalized Islamists; confronting Europe with a crisis, and its Jews with an agonizing choice. In his cover story for The Atlantic's April issue, National Correspondent Jeffrey Goldberg asks whether it has become time for the Jews to leave Europe—and, if so, where they should go. He discussed his months of reporting in the context of recent world events with Atlantic President and Editor-in-Chief James Bennet.
Sixth & I
600 I Street, NW
Washington, DC 20001
Presented by
Also in This Series
Culture

An Evening with Ta-Nehisi Coates

September 27, 2016
Washington, DC

As part of The Atlantic's eighth-annual Washington Ideas Week, Ta-Nehisi Coates reflects on American culture, race and politics.

Spinster: Making a Life of One's Own

April 27, 2015
Washington, D.C.

Kate Bolick joined The Atlantic's Scott Stossel to discuss her new book and the pleasures and possibilities of being a single woman in the 21st century.

The Power of Two

September 8, 2014
Washington, DC

The Atlantic's July cover story author Joshua Wolf Shenk joined Alix Spiegel to consider the question of what it means to be creative—and how many people it takes.