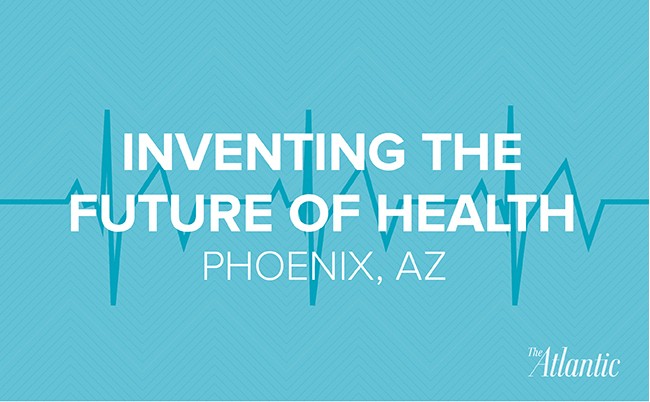 Inventing the Future of Health: Phoenix
February 23, 2016
Phoenix, AZ
Inventing the Future of Health, an Atlantic-produced town hall program, convened leading national experts to discuss what's next in health care. The conversation focused on health care costs, the outsize impact big data analytics could have on quality and price of care and other cutting-edge topics shaping American health policy. The half-day forum included a special focus on the most pressing issues faced by large employers today. While predicting health care behavior and cost trends is never easy, we attempted to do just that with the help of top thinkers, industry leaders and practitioners who are driving health care innovation.
To see photos from this event, please visit our Facebook page.
Presented by
Agenda
Tuesday, February 23

9:00 a.m.

Welcome Remarks

Margaret Low Smith, President, AtlanticLIVE

9:05 a.m.

The Future of Medicine: Where Can Technology Take Us?

Daniel Kraft, M.D., Medicine and Neuroscience Chair, Singularity University, Founder, IntelliMedicine

9:30 a.m.

Predicting What's Next in Health Care: The Disruptor's Viewpoint

Oliver Kharraz, M.D., Chief Executive Officer, ZocDoc
With Steve Clemons, Washington Editor at Large, The Atlantic


10:00 a.m.

Arizona – Changing the Course of Healthcare: Sponsor Content Presented by Blue Cross Blue Shield of Arizona

Rich Boals, President and Chief Executive Officer, Blue Cross Blue Shield of Arizona
Kathleen Goeppinger, Ph.D, President and Chief Executive Officer, Midwestern University
MaryAnn Guerra, Chief Executive Officer, BioAccel


10:15 a.m.

Forecasting the Future: Predicting Health Care Costs and How to Control Them

Karen Amstutz, M.D., Chief Medical Officer, Magellan Health
Matthew Hawkins, Chief Executive Officer, Sunquest Information Systems, Inc.
Victor Trastek, M.D., Director, School for the Science of Health Care Delivery, Arizona

State University


With Steve Clemons

11:00 a.m.

Big Data, Big Results: Using Data Analytics to Cut Costs and Improve Health Outcomes

Wyatt Decker, M.D., Chief Executive Officer, Mayo Clinic – Arizona, and Vice President, Mayo Clinic
With Steve Clemons

11:30 a.m.

Closing Remarks

Margaret Low Smith
Upcoming Events
Economy/Business

The Renewal Summit: Houston

November 13, 2018
Houston, TX, Texas

How can Houston's community leaders bring opportunity to all residents of the region?

Politics

What Do the Midterms Mean?
With The Atlantic's Politics Team

November 13, 2018
Washington, DC

The midterm elections could define one of the most pivotal periods in America's recent history. One week after the country votes, The Atlantic's top political reporters and editor-in-chief Jeffrey Goldberg take stock of the results and analyze what they mean for the president, policy, and politics leading up to the 2020 presidential campaign.


Tickets: $15 advance/$18 day of

Health Care

People v. Cancer

November 14, 2018
New York City

What will it take for humankind to conquer cancer?