In Pursuit: An Atlantic Summit on
Women and Science
November 8, 2017
Washington, DC
The inventor of nuclear fission. The inventor of wireless communication. The world's first computer programmer. The discoverer of artificial radioactivity. In pursuit of knowledge, revolutionary scientists like Lise Meitner, Hedy Lamarr, Ada Lovelace and Marie Curie quite literally transformed the modern world. They also happened to be women.
Despite the tremendous impact of just a handful of women scientists, only 24% of today's STEM workers are female.  How does this substantial gender gap impact the economy, human development and the environment? And what can be done to pave the way for today's women scientists -- and future women scientists -- to unleash the discoveries of tomorrow?

The Atlantic's "In Pursuit" brought together leading scientific experts to highlight recent achievements by women in STEM as well as strategies for ensuring that more female innovators flourish in the field.
Watch full event videos: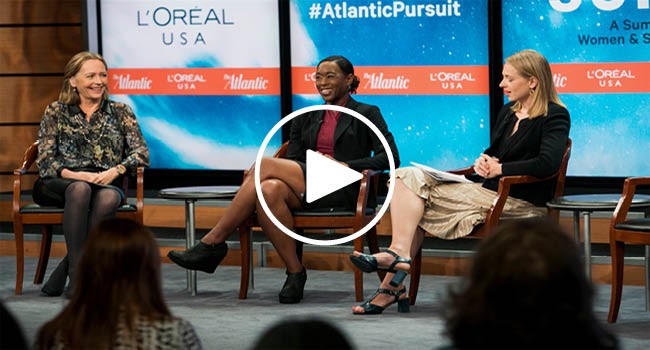 Newseum Knight Broadcast Studio
555 Pennsylvania Ave NW
Washington, DC 20001
Presented by
Speakers
Balanda Atis*

Manager

Women of Color Lab & US Face Lab, L'Oréal USA

@Batis106

Jocelyn Duff

Executive Director

CureCMT4J

@CureCMT4J

Maria Freire

President and Executive Director

Foundation for the National Institutes of Health

Olga Khazan

Staff Writer

The Atlantic

@olgakhazan

Maria Klawe

President

Harvey Mudd College

@mariaklawe

Julia Landauer

NASCAR Driver and women in STEM advocate

@julialandauer

Liza Mundy

Author

Code Girls: The Untold Story of the American Women Code Breakers of World War II

@lizamundy

Pardis Sabeti

Computational Geneticist

Harvard University, Broad Institute, & HHMI

@PardisSabeti

Emmanuel Schanzer

Founder and Co-Director

Bootstrap

@BootstrapWorld

Margot Lee Shetterly

Author

Hidden Figures

@margotshetterly

Sabrina Stierwalt*

Extragalactic Astrophysicist,

California Institute of Technology, University of Virginia

Cynthia Winston-Proctor

Professor, Howard University Department of Psychology; President, Society of STEM Women of Color

Gillian White

Senior Associate Editor

The Atlantic

@gillianbwhite
Agenda
Wednesday, November 08

8:45 a.m.

Welcome

Margaret Low, President, AtlanticLIVE

8:50 a.m.

Driven: One Woman's Story

Julia Landauer, NASCAR Driver; women in STEM advocate
With Olga Khazan, Staff Writer,The Atlantic

9:10 a.m.

In Pursuit of a Breakthrough

Jocelyn Duff, Executive Director, CureCMT4J
Maria Freire, President and Executive Director, Foundation for the National Institutes of Health
Pardis Sabeti, Computational Geneticist, Harvard University, Broad Institute and Howard Hughes Medical Institute
With Gillian White, Senior Associate Editor, The Atlantic

9:40 a.m.

The Foundation of Change: The Power of Women in Science**
Produced by L'Oreal USABalanda Atis, Manager, Multicultural Beauty Lab, L'Oreal USA
With Sabrina Stierwalt, Extragalactic Astrophysicist, California Institute of Technology, University of Virginia

9:50 a.m.

History, Rewritten

Liza Mundy, Author, Code Girls: The Untold Story of the American Women Code Breakers of World War II
Margot Lee Shetterly, Author, Hidden Figures
With Olga Khazan, The Atlantic

10:15 a.m.

Closing The Gap

Maria Klawe, President, Harvey Mudd College
Emmanuel Schanzer, Founder and Co-Director, Bootstrap
Cynthia Winston-Proctor, Professor, Department of Psychology, Howard University; President, Society of STEM Women of Color
With Gillian White, The Atlantic

10:40 a.m.

Closing Thoughts

Margaret Low, AtlanticLIVE