Education

Higher Education at a Crossroads: An Atlantic Next America Forum
March 22, 2017
Washington, DC
Institutions of higher learning are keeping a keen eye on Washington. With a new administration in office, how will the federal government's role in higher education evolve? How will other administration priorities affect campus life? What impact will states have? And what do higher education institutions, employers and students need most?

The Atlantic will convene key policymakers, state leaders, administrators, stakeholders and experts for a robust discussion about the future of postsecondary education policy.
---
Watch full session videos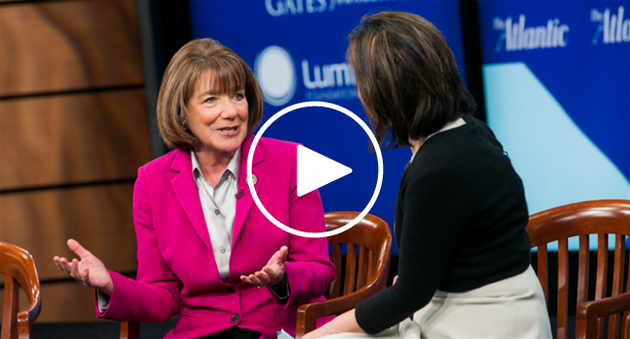 To view photos from this event, please visit our Facebook page
Presented by
Agenda
Wednesday, March 22

8:30 a.m.

Welcome

Margaret Low, President, AtlanticLIVE
Daniel Greenstein*, Director of Education, Postsecondary Success, Bill & Melinda Gates Foundation

8:40 a.m.

The Role of Congress

Congresswoman Susan Davis
With Joie Chen, Journalist and Contributor, AtlanticLIVE

9:05 a.m.

Learning From the States

Ben Cannon, Executive Director, Oregon Higher Education Coordinating Commission
David Wright, Chief Policy Officer, Tennessee Higher Education Commission
With Ron Brownstein, Senior Editor, The Atlantic

9:35 a.m.

The Campus Experience

Sheila Bair, President, Washington College
Peter McPherson, President, Association of Public and Land-Grant Universities
Eloy Oakley, Chancellor, California Community Colleges
With Ron Brownstein, The Atlantic

10:15 a.m.

Closing Thoughts

Jamie Merisotis, President and Chief Executive Officer, Lumina Foundation
Margaret Low, AtlanticLIVE
Also in This Series
Education

The Formative Years: What's Next for Early Care and Education? An Atlantic Next America Forum

March 8, 2017
Washington, DC

In this Next America forum, The Atlantic convened key policymakers, local officials, stakeholders and experts to examine the future of early care and education policy.

Education

The Changing Face of Higher Education
An Atlantic Next America Forum

September 22, 2016
Washington, DC

The Atlantic convened policymakers, educators, employers, students and higher education experts to examine what the future of higher education should look like as demographic and economic changes continue to transform our nation.

Education

Early Childhood Education: The San Antonio Experience

March 9, 2016
San Antonio, TX

The Atlantic hosted Early Childhood Education: The San Antonio Experience, a Next America forum that brought together local and national leaders for a wide-ranging discussion about expanded access to full day pre-kindergarten in San Antonio and its national implications.
Upcoming Events
In Pursuit of Happiness

May 20, 2021
Virtual Event

The Atlantic will host a live event that explores the human hold on happiness—and aims to find ways to build a more meaningful life.

Health Care

The Atlantic's Health Equity Summit

June 22, 2021
Virtual Event

The Atlantic will explore what the health-care system is doing to combat inequities across race, age, and gender and to improve health outcomes for all Americans.

The Atlantic Festival

September 2021
Virtual Event

The Atlantic Festival returns Fall 2021.