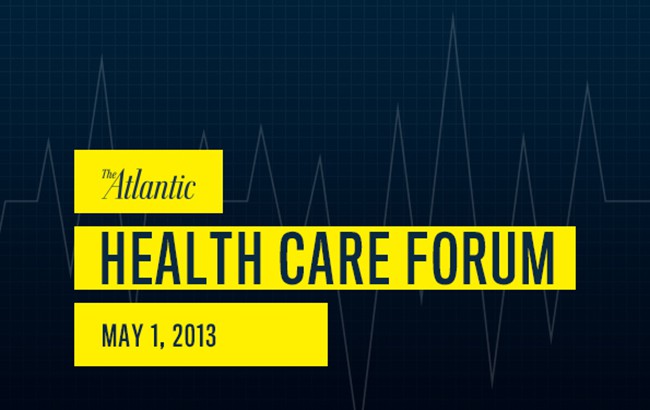 Health Care Forum
May 1, 2013
Washington, DC
At a time when health care is top-of-mind for Washington and the medical community around the country, The Atlantic's 2013 Health Care Forum gathered doctors and nurses, policymakers and entrepreneurs, and big data experts and big business leaders to discuss next steps for health in the United States. On May 1, with a packed house of engaged audience members, coverage from C-SPAN, and an enthusiastic group of experts on stage, the Forum had an energy and depth that truly carried the day.
Related Readings from The Atlantic:
Destroying Medicine to Rebuild It: Eric Topol on Patients Using Data
End-of-Life Care Should Be Universally Provided and Need-Based
Presented by
Speakers
Jeffrey Arnold

Founder, WebMD; CEO

Sharecare

Ari Caroline

Director of Quantitative Analysis and Strategic Initiatives

Memorial Sloan-Kettering Hospital

Steve Clemons

Editor-in-Chief, AtlanticLIVE, and Washington Editor-at-Large

The Atlantic

Jonathan Cohn

Senior Editor

The New Republic

Barbara Van Dahlen

Founder and President

Give an Hour

Garance Franke-Ruta

Senior Editor

The Atlantic

Mary Grealy

President

Healthcare Leadership Council

James Hamblin

Health Editor

The Atlantic

Thomas Insel

Director

National Institute of Mental Health

Oliver Kharraz

COO and Founder

ZocDoc

Farzad Mostashari

National Coordinator for Health Information Technology

U.S. Department of Health & Human Services

David Muzina

Vice President of Specialist Practice and National Practice Leader

Express Scripts

Samuel R. Nussbaum

Executive Vice President, Clinical Health Policy; Chief Medical Officer

Wellpoint

Kavita Patel

Managing Director for Clinical Transformation and Delivery

Engelberg Center for Health Care Reform, The Brookings Institution

Don Peck

Features Editor

The Atlantic

Roger Ray

Chief Medical Officer

Carolinas HealthCare System

Rob Romasco

President

AARP

Anne Schuchat

Acting Director, Center for Global Health

Centers for Disease Control and Prevention

Marilyn Tavenner

Acting Administrator

Centers for Medicare and Medicaid
Also in This Series
Health Care

PULSE: On the Front Lines of Health Care

From policy and economic discussions to global public health quandaries and the future biotechnology, The Atlantic brought together the leaders and brightest minds shaping healthcare today.

Health Care

The Atlantic Health Forum

March 18, 2015
Washington, D.C.

The Atlantic Health Forum brought together top minds from the health industry to examine how individual patient and physician experiences change with evolving health practices and policies.

Health Care

Health Care Forum

March 27, 2014
Washington, DC

The Atlantic convened a group of experts in medicine, public health, policy, and finance to examine the condition of the nation's health care and prescribe policies for its improvement.
Upcoming Events
Health Care

Innovation Pipeline: Examining Modern Medicine

August 1, 2017
San Francisco

In the third event of the "Examining Modern Medicine" series, The Atlantic will gather stakeholders, original thinkers and tinkerers from the nation's innovation capital to explore what it means to put the bio into biotech.

CityLab Baltimore

August 2, 2017
Baltimore, MD

CityLab Baltimore will convene top urban stakeholders from around the country to discuss some of the most pressing issues US cities face.

Washington Ideas

September 26 – 28, 2017
Washington, DC

For its ninth year, the Washington Ideas Forum will convene the nation's leaders, from politics and government to business and culture for two days of idea sharing and thought provoking conversation.