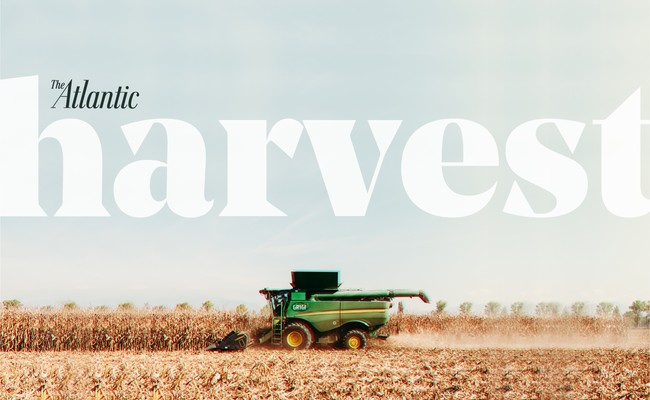 Harvest: Transforming the Food We Eat
February 15, 2018
New York City
200 years ago, 90% of Americans were farmers. Today, that figure lies at just 2%. Along with the mass shift away from agricultural work, the nature of food production itself has changed: an eclectic mix of scientists and technologists, restaurateurs and farmers are developing new ways to make the global food system more sustainable and productive. How are the latest food technologies transforming the way we cultivate crops and animals, and what are the implications for the food we eat in the years to come?
In a conversation about the future of food, The Atlantic convened the farmers and foodies, techies and tinkerers developing the culinary discoveries of tomorrow.
---
Watch full session videos
To see photos from this event, please visit our Facebook page.
For more information please contact AtlanticHarvest@theatlantic.com
Presented by
Speakers
Teddy Bekele

Vice President of Ag Technology

Land O' Lakes

@TeddyBekele

Alton Brown

Producer, Author and Food Network Host

@altonbrown

Steve Clemons

Washington Editor at Large

The Atlantic

@SCClemons

Isha Datar

Executive Director

New Harvest

@IshaDatar

Zachary Lippman

Professor of Plant Biology and Genetics

Cold Spring Harbor Laboratory

Danielle Nierenberg

President

Food Tank

@DaniNierenberg
Agenda
Thursday, February 15

6:30 p.m.

Welcome Reception

-

7:00 p.m.

Welcome

Margaret Low, President, AtlanticLIVE
Neal Gutterson, Chief Technology Officer, Agriculture Division of DowDuPontTM*

7:10 p.m.

Exploring the Edible

Alton Brown, Producer, Author and Food Network Host
With Steve Clemons, Washington Editor at Large, The Atlantic

7:40 p.m.

Feeding the Planet

Zachary Lippman, Professor of Plant Biology and Genetics, Cold Spring Harbor Laboratory
Danielle Nierenberg, President, Food Tank
Isha Datar, Executive Director, New Harvest
Teddy Bekele, Vice President of Ag Technology, Land O' Lakes
With Steve Clemons, The Atlantic

8:15 p.m.

Closing Thoughts

Margaret Low, AtlanticLIVE
Underwriter