The American Dream has long stood for a shot at upward mobility through hard work. But technological advancements, demographic shifts and an ever-changing economic landscape have altered the availability and the definition of work for future generations. Even as policymakers focus on creating jobs, many Americans today feel that the economy has left them behind.
As more traditional jobs are consolidated by trade, technology and automation, many are rethinking work itself. What new training and retraining programs are available for those looking to overcome the skills gap? How will companies attract a diverse and inclusive workforce for the jobs of tomorrow? And what underlying factors are shaping our understanding of work? The Atlantic convened experts and heard from current workers to explore these questions at its second annual Future of Work Summit.
---
Watch full session videos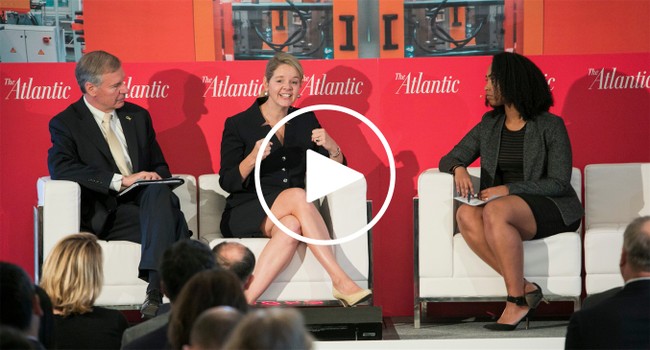 To view photos from the event, please visit our Facebook page
Presented by
Agenda
Thursday, October 05

8:40 a.m.

Welcome

Margaret Low, President, AtlanticLIVE

8:45 a.m.

Atlanta's Story

Mayor Kasim Reed, City of Atlanta
With Steve Clemons, Washington Editor at Large, The Atlantic

9:00 a.m.

Redefining Education

Gretchen Corbin, Commissioner, Technical College System of Georgia
G.P. "Bud" Peterson, President, Georgia Tech
With Gillian White, Senior Associate Editor, The Atlantic

9:25 a.m.

Inclusive and Vibrant

Theia Washington Smith, Executive Director, The Women's Entrepreneurship Initiative for the City of Atlanta
Marti Wolf, Chief Culture Officer, MailChimp
With Alison Stewart, Contributing Editor, The Atlantic

9:45 a.m.

Credentials Matter*

Jamie Merisotis, President and CEO, Lumina Foundation
Joan Lynch, Chief Content and Programming Officer, WorkingNation

* This session was produced by our underwriter and not by The Atlantic's editorial team.

9:55 a.m.

Retooling the Workforce

Kevin Nolan, President and CEO, GE Appliances
With Steve Clemons, The Atlantic

10:15 a.m.

The American Worker

Michael Brown, Army Veteran; Research Scientist, Georgia Tech Research Institute
William "Kipp" Glenn, Former Carrier Plant Employee
Stephanie Klang, Professional Driver, Contract Freighters, Inc.
Zaria Walker, Assistant Manager, Juma Ventures
With Alison Stewart, The Atlantic

10:40 a.m.

Stretch Break

-

11:00 a.m.

The Tech Pipeline

Karan Chopra, Co-Founder and Executive Vice President, Opportunity@Work
Beth Cobert, CEO, Skillful
Mark Orttung, CEO, Nexient
With Gillian White, The Atlantic

11:30 a.m.

The Meaning of Work

Michael Bush, CEO, Great Place to Work
With Alison Stewart, The Atlantic

11:50 a.m.

The Jobs of Tomorrow

Peter Harrison, CEO, Snagajob
Jody Greenstone Miller, Co-Founder and CEO, Business Talent Group
Sree Ramaswamy, Partner, McKinsey Global Institute
With Gillian White, The Atlantic

12:20 p.m.

Closing Thoughts

Margaret Low, AtlanticLIVE
Upcoming Events
Health Care

Pulse: The Atlantic Summit on Health Care

July 15, 2020
Virtual Event

COVID-19 has exposed the longstanding inequities and deficiencies in our health care system.

Energy/Sustainability

Water Summit

July 21, 2020
Virtual Event

Some two million Americans lack consistent access to clean tap water.

Health Care

People v. Cancer

November 2020
Virtual Event

In its third edition of People v. Cancer, The Atlantic will illuminate stories from the frontlines of the cancer community, from the latest oncology breakthroughs to the power of the human experience.