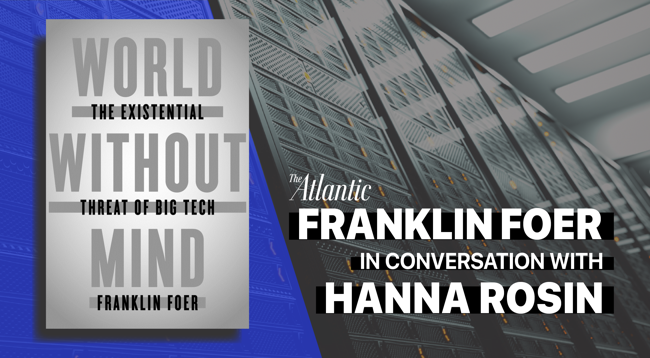 Franklin Foer In Conversation
with Hanna Rosin
September 14, 2017
Washington, DC
Hosted in Partnership With

Over the past several decades, a profound consolidation of knowledge and information has changed how we contemplate the world, says Atlantic National Correspondent Franklin Foer in his new book World Without Mind. In it, he examines how tech titans Amazon, Facebook, Apple and Google have produced a culture of misinformation, one he argues is diminishing our capacity for private contemplation, autonomous thought or solitary introspection. In order to restore our inner lives, Foer writes, we must avoid being co-opted by technology's corporate forces and understand the ideas that underpin their success.
Please join The Atlantic and Sixth & I for an evening with Franklin Foer in conversation with Atlantic National Correspondent Hanna Rosin. Book signing to follow.
6:00 pm ET Doors Open
7:00 pm ET  Program Begins
8:00 pm ET  Program Concludes
Sixth & I
600 I Street, NW
Washington, DC 20001

Presented by
Also in This Series
Politics

The Rise of Populism and Nationalism

June 19, 2017
Washington, DC

The Atlantic's Graeme Wood, Rosie Gray and Jeffrey Goldberg will discuss the future of nationalism in the era of Trump and what it means for our country, our allies and our democracy going forward.

Politics

How Trump Could Build an Autocracy:
A Conversation with David Frum and Scott Stossel

February 16, 2017
Washington, DC

The Atlantic's David Frum joined Scott Stossel to discuss why he believes President Trump could lead our democracy to an autocracy, and what it could mean for the future of the Republic.

Health Care

If Our Bodies Could Talk:
A Conversation with James Hamblin & Matt Thompson

January 11, 2017
Washington, DC

We sat down with Atlantic senior editor James Hamblin to discuss his new book, If Our Bodies Could Talk: A Guide to Operating and Maintaining a Human Body, a handbook for tackling life's most pressing health concerns and curiosities.
Upcoming Events
Energy/Sustainability

Water Summit

November 2, 2017
Beverly Hills, CA

At the Water Summit, The Atlantic will gather the leading voices in water, from environmentalists and policymakers to farmers, industry and community leaders, to forge a dialogue around the critical water issues of our time.

Technology

The Innovation Game

November 7, 2017
Washington, DC

The Atlantic will convene visionaries to highlight the innovations shaping and reshaping our world.

Politics

Defining Justice:
The Experience of Women and Children Behind Bars

November 7, 2017
Los Angeles

The Atlantic will seek to unearth untold stories, bringing together people whose lives have been changed by incarceration with the advocates and entertainers who can give voice to them.