Fifteen Years Later:
Are We Any Safer?
September 8, 2016
Washington, DC
It all started on September 11, 2001. The very thought that we at home were vulnerable to a terrorist attack was born that day. Fifteen years later, Homeland Security is a department, an enterprise and a way of life. But the threat posed to the homeland has evolved. Osama bin Laden is dead, yet the threat of terrorism remains. The homeland has been struck again, not by hijacked airplanes but by individuals taking up arms against their fellow Americans. The terrorists behind those acts never set foot in a training camp or came here from far off lands; they simply adopted jihad on their own.
At The Atlantic's Fifteen Years Later: Are We Any Safer?, we dove into the nation's homeland security—from office buildings to airports and computer systems to power plants—to examine the strengths and remaining vulnerabilities of our security apparatus and our ability to prevent the next terrorist attack—or recover from it.
---
Watch full session videos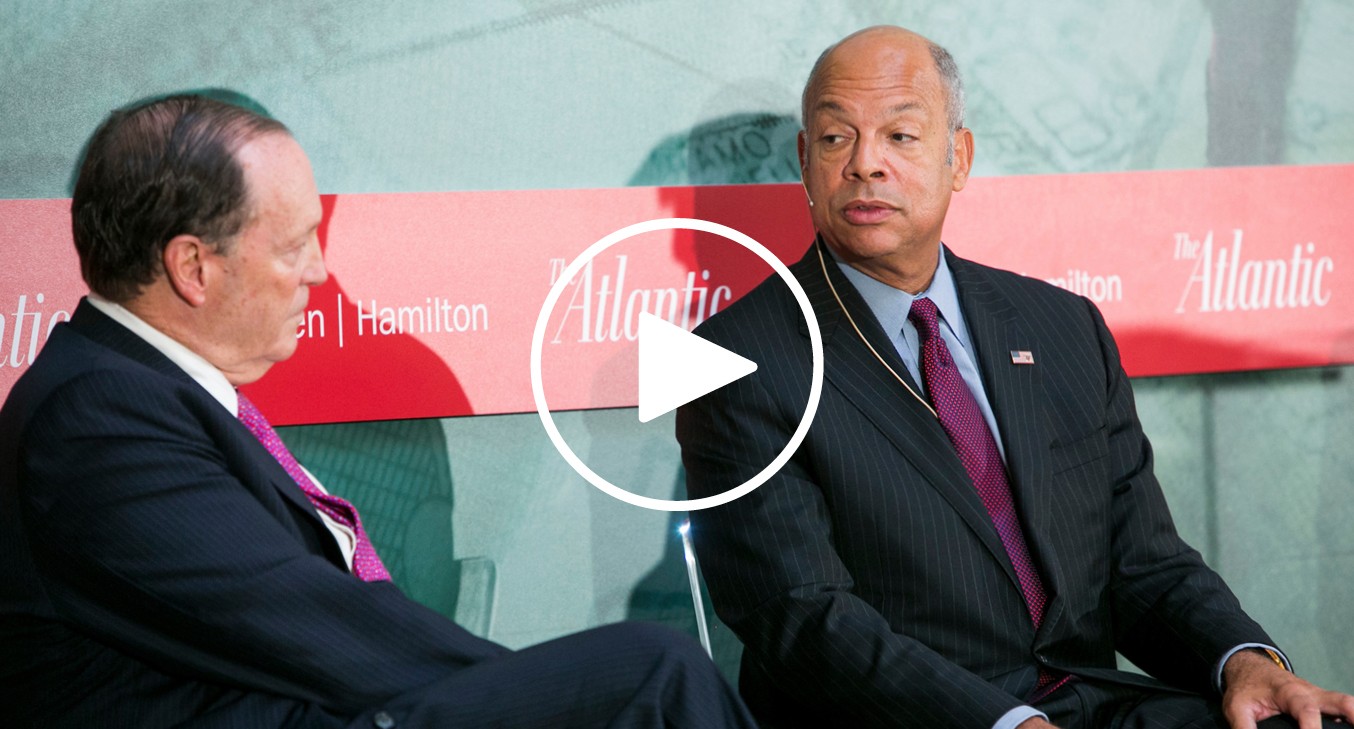 ---
Presented by
Agenda
Thursday, September 08

8:30 a.m.

Welcome

Margaret Low, AtlanticLIVE

8:35 a.m.

The Secretaries

Secretary Jeh Johnson, Department of Homeland Security
Former Secretary Tom Ridge, Department of Homeland Security, and Chairman, Ridge Global
With Steven Brill, Author, "Are We Any Safer?" The Atlantic's September Cover Story

9:00 a.m.

ISIS and Radicalization in the US

Farah Pandith, Adjunct Senior Fellow, Council on Foreign Relations
Lorenzo Vidino, Director of the Program on Extremism, Center for Cyber & Homeland Security, George Washington University
Joby Warrick, Author of Black Flags: The Rise of ISIS and Reporter, The Washington Post
With Mary Louise Kelly, NPR

9:25 a.m.

The State of the Threat

Michèle Flournoy, Co-Founder and CEO, Center for a New American Security
Mary Louise Kelly, National Security Correspondent, NPR

9:40 a.m.

The New Threats: Cyber

Susan Landau, Professor of Cybersecurity Policy, Worcester Polytechnic Institute
Matthew Olsen, President, Consulting, IronNet Cybersecurity and Former Director, National Counterterrorism Center


Suzanne Spaulding, Under Secretary for the National Protection and Programs Directorate, Department of Homeland Security
With Steve Clemons, Washington Editor at Large, The Atlantic

10:05 a.m.

Are We Any Safer?

Former Senator Joe Lieberman (D-CT), Senior Advisor, Counter Extremism Project


Former Representative Mike Rogers (R-MI), Host, Something to Think About
With Mary Louise Kelly, NPR

10:25 a.m.

Privacy and Liberty in the Age of Security

Karen Greenberg, Director, Center on National Security, Fordham University School of Law


Hina Shamsi, Director, ACLU National Security Project
With Steve Clemons, The Atlantic

10:45 a.m.

The New Old Threats

Andrew Bieniawski, Vice President, Material Security and Minimization, Nuclear Threat

 

Initiative
Brian A. Jackson, Senior Physical Scientist, RAND Corporation
With

Steven Brill

11:10 a.m.

The Chairman

Representative Michael McCaul (R-TX), Chairman, House Committee on Homeland Security
With Jeff Pegues, Justice and Homeland Security Correspondent, CBS News

11:35 a.m.

Prosecuting the Terrorist Threat

John Carlin, Assistant Attorney General for National Security, Department of Justice
With Steve Clemons, The Atlantic

12:00 p.m.

The Presidential Daily Brief

Lisa Monaco, Assistant to the President for Homeland Security and Counterterrorism, The White House
With Mary Louise Kelly, NPR

12:20 p.m.

Closing Thoughts

-
Upcoming Events
Technology

The Big Story: The Sprawling Universe of QAnon

May 28, 2020
Virtual Event

Conspiracy theories have existed for centuries, threatening not just accepted facts, but the very idea that empirical truth exists at all.

Health Care

People v. Cancer

November 2020
New York City

In its third edition of People v. Cancer, The Atlantic will illuminate stories from the frontlines of the cancer community, from the latest oncology breakthroughs to the power of the human experience.

Economy/Business

Power of Purpose

November 2020
New York City

Can purpose help a company's bottom line?