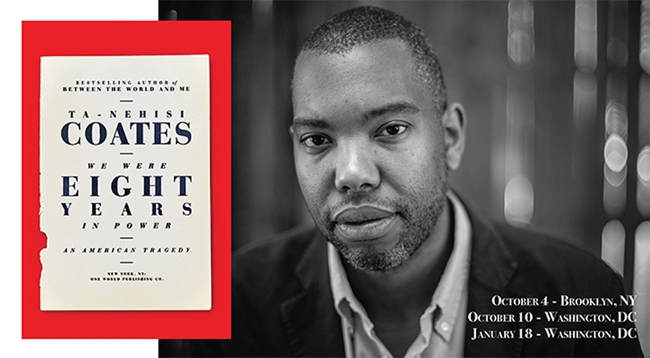 We Were Eight Years in Power:
An American Tragedy
A Series of Conversations with
The Atlantic's Ta-Nehisi Coates
January 18, 2018
Washington, DC
In 2008, The Atlantic's national correspondent Ta-Nehisi Coates went from believing that a black president was impossible to being challenged by the sudden prospect of one. In his new book,  We Were Eight Years in Power: An American Tragedy, Coates examines the threads between the unprecedented election of Barack Obama and what fueled the election of Donald Trump, who Coates argues is America's "first white president."
The book revisits each year of the Obama administration through Coates' experiences and observations, all of which are linked together through iconic essays previously published in The Atlantic, including "Fear of a Black President," "The Case for Reparations," "The Black Family in the Age of Mass Incarceration," and more. The Atlantic's editor in chief Jeffrey Goldberg will appear in conversation with Coates at the first event and Michele Norris will join for the second.
Across the fall of 2017, Coates will sit down to discuss his book; details on each of the events and ticket availability are listed below.
---
Note: This program does not include a book signing. Books will not be autographed.
January 18, 2017 | 7:30 pm ET
Sixth & I
600 I Street, NW
Washington, DC 20001
Hosted in Partnership with Sixth & I
---
October 10, 2017 | 7:00 pm ET
The Smithsonian National Museum of African American History & Culture
1400 Constitution Avenue, NW
Washington, DC 20560
Hosted by The Smithsonian National Museum of African American History & Culture
---
October 4, 2017 | 7:30 pm ET
Kings Theatre
1027 Flatbush Avenue
Brooklyn, NY 11226
Hosted in Partnership with Greenlight Book
Presented by
Upcoming Events
CityLab

October 22 – 24, 2017
Paris

The Atlantic, The Aspen Institute and Bloomberg Philanthropies will convene mayors and city practitioners from across the world for conversations on the future of cities.

Energy/Sustainability

Water Summit

November 2, 2017
Beverly Hills, CA

At the Water Summit, The Atlantic will gather the leading voices in water, from environmentalists and policymakers to farmers, industry and community leaders, to forge a dialogue around the critical water issues of our time.

Technology

The Innovation Game

November 7, 2017
Washington, DC

The Atlantic will convene visionaries to highlight the innovations shaping and reshaping our world.