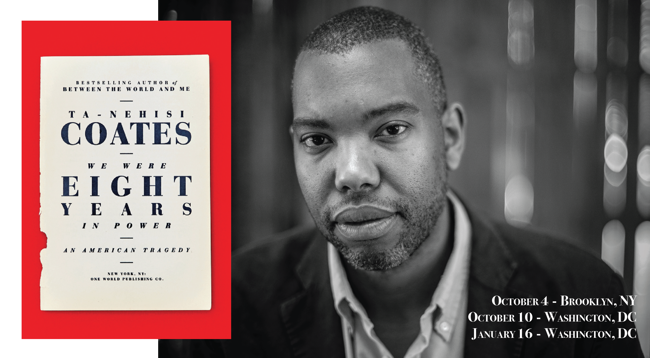 We Were Eight Years in Power:
An American Tragedy
A Series of Conversations with
The Atlantic's Ta-Nehisi Coates
January 16, 2018
Washington, DC
In 2008, The Atlantic's national correspondent Ta-Nehisi Coates went from believing that a black president was impossible to being challenged by the sudden prospect of one. In his new book,  We Were Eight Years in Power: An American Tragedy, Coates examines the threads between the unprecedented election of Barack Obama and what fueled the election of Donald Trump, who Coates argues is America's "first white president."
The book revisits each year of the Obama administration through Coates' experiences and observations, all of which are linked together through iconic essays previously published in The Atlantic, including "Fear of a Black President," "The Case for Reparations," "The Black Family in the Age of Mass Incarceration," and more. The Atlantic's Contributing Editor Alex Wagner will appear in conversation with Coates.
Across the fall of 2017 and into 2018, Coates sat down to discuss his book; details on each of the events are listed below.
---
Note: This program did not include a book signing. Books were not be autographed.
January 16, 2018 | 7:30 pm ET
Sixth & I
600 I Street, NW
Washington, DC 20001
Hosted in Partnership with Sixth & I
To view photos from this event, please visit our Facebook page
---
October 10, 2017 | 7:00 pm ET
The Smithsonian National Museum of African American History & Culture
1400 Constitution Avenue, NW
Washington, DC 20560
Hosted by The Smithsonian National Museum of African American History & Culture
---
October 4, 2017 | 7:30 pm ET
Kings Theatre
1027 Flatbush Avenue
Brooklyn, NY 11226
Hosted in Partnership with Greenlight Book
Presented by
Speakers
Ta-Nehisi Coates

Naitonal Correspondent

The Atlantic

@tanehisicoates

Jeffrey Goldberg

Editor in Chief

The Atlantic

Alex Wagner

Contributing Editor

The Atlantic
Upcoming Events
Culture

The Atlantic Festival

September 24 – 26, 2019
Washington, DC

Experience The Atlantic.

Health Care

Innovators Lab: Philadelphia

October 16, 2019
Philadelphia

How can Philadelphia compete with other major East Coast cities for talent and capital in the life sciences?

CityLab 2019

October 27 – 29, 2019
Washington, DC

CityLab is a celebration of urban life, bringing together mayors from around the world, along with policymakers and business leaders, artists and activists.