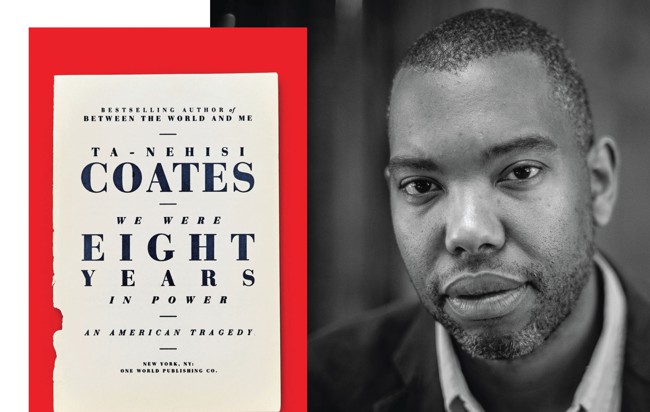 We Were Eight Years in Power:
An American Tragedy
A Series of Conversations with
The Atlantic's Ta-Nehisi Coates
October 4, 2017
New York City
In 2008, The Atlantic's national correspondent Ta-Nehisi Coates went from believing that a black president was impossible to being challenged by the sudden prospect of one. In his new book,  We Were Eight Years in Power: An American Tragedy, Coates examines the threads between the unprecedented election of Barack Obama and what fueled the election of Donald Trump, who Coates argues is America's "first white president."
The book revisits each year of the Obama administration through Coates' experiences and observations, all of which are linked together through iconic essays previously published in The Atlantic, including "Fear of a Black President," "The Case for Reparations," "The Black Family in the Age of Mass Incarceration," and more. The Atlantic's editor in chief Jeffrey Goldberg will appear in conversation with Coates at the first event.
Across the fall of 2017, Coates will sit down to discuss his book; details on each of the events and ticket availability are listed below.
---
October 4, 2017 | 7:30 pm ET
Kings Theatre
1027 Flatbush Avenue
Brooklyn, NY 11226
Hosted in Partnership with Greenlight Book
October 10, 2017 | 7:00 pm ET
The Smithsonian National Museum of African American History & Culture
1400 Constitution Avenue, NW
Washington, DC 20560
Hosted by The Smithsonian National Museum of African American History & Culture
Tickets on sale in early September
December 12, 2017 | 7:30 pm ET
Sixth & I
600 I Street, NW
Washington, DC 20001
Hosted in Partnership with Sixth & I
Tickets on sale on November 1
Presented by
Upcoming Events
Technology

Franklin Foer In Conversation
with Hanna Rosin

September 14, 2017
Washington, DC

Franklin Foer will join Hanna Rosin for a conversation about his new book World Without Mind and how consolidation of knowledge and information has changed how we contemplate the world.

Health Care

Children and Cancer:
An Atlantic Forum

September 15, 2017
Washington, DC

The Atlantic will break down the latest in immunotherapy and how it is being used to help young patients survive and thrive. And moving beyond anecdotal evidence, we'll examine how can big data can be used to track how pediatric cancers impact aspects of health for survivors down the road.

Health Care

Cancer and the Community

September 20, 2017
Las Vegas, NV

The Atlantic will explore challenges such as Nevada's shortage of doctors and specialists and learn what can be done from researchers, experts, stakeholders, survivors and patients living with cancer.