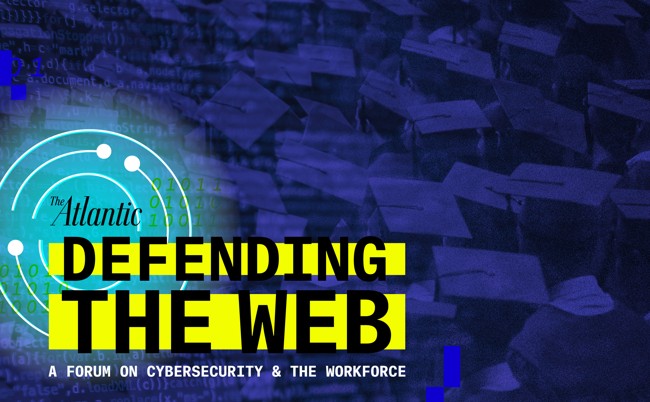 Defending the Web: A Forum on Cybersecurity & the Workforce
May 18, 2017
Washington, DC
Our digital world cannot exist without security. We couldn't send work emails, upload vacation photos, post updates, buy groceries or transfer money safely if our data and private information was not secure. When it comes to safeguarding our health records, digital infrastructure or national defense, cybersecurity is essential. But, a growing demand for cybersecurity talent has revealed a huge shortage of skilled workers and qualified students.
The Atlantic gathered public officials as well as stakeholders in business and higher education to explore the cybersecurity jobs pipeline and the future of the industry.
---
Watch full session videos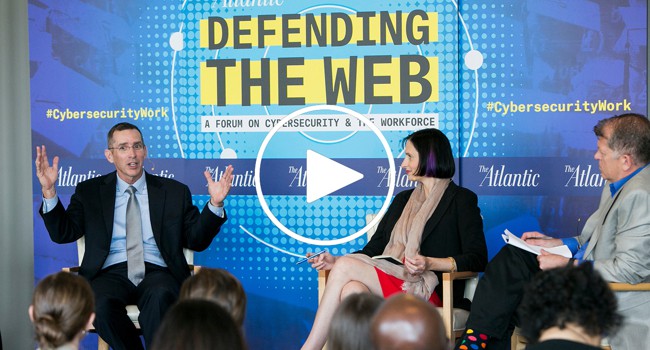 To view photos from this event, please visit our Facebook page.
Presented by
Agenda
Thursday, May 18

8:00 a.m.

Welcome

Emily Akhtarzandi, Managing Director, AtlanticLIVE

8:25 a.m.

The View from the Hill I

Senator Cory Gardner (R-CO)
With Steve Clemons, Washington Editor at Large, The Atlantic

8:45 a.m.

The View from the Hill II

Representative Suzan DelBene (D-WA)
With Steve Clemons, The Atlantic

9:05 a.m.

Teaching Cybersecurity

Vice Admiral Walter E "Ted" Carter Jr., Superintendent, United States Naval Academy
Wayne Frederick, President, Howard University
DeRionne Pollard, President, Montgomery College
With Gillian B. White, Senior Associate Editor, The Atlantic

9:40 a.m.

Building a Diverse, Highly Skilled Cyber Workforce, produced by Business-Higher Education Forum and Northrop Grumman**

Brian Fitzgerald, CEO, Business-Higher Education Forum
Kathy Warden, Corporate Vice President and President, Northrop Grumman Mission Systems
**This session is produced by our underwriter and not by The Atlantic's editorial team

9:50 a.m.

The Cyber Jobs Pipeline

Angela McKay, Senior Director of Cybersecurity Policy, Microsoft
Major General (Ret) Brett Williams, Co-Founder, IronNet
With Steve Clemons, The Atlantic

10:20 a.m.

Closing Thoughts

Emily Akhtarzandi, AtlanticLIVE
Upcoming Events
Health Care

The State of Care: Innovation & Access

July 17, 2018
Washington, DC

What is the balance between rewarding innovation and ensuring access to health discoveries?

Washington Ideas

October 2 – 4, 2018
Washington, DC

Now in its 10th year, The Atlantic's Washington Ideas will tackle the most consequential issues of our time with some of the nation's most important leaders from business, politics and culture.

Health Care

The New Old Age

October 24, 2018
New York City

How is getting older changing in America?