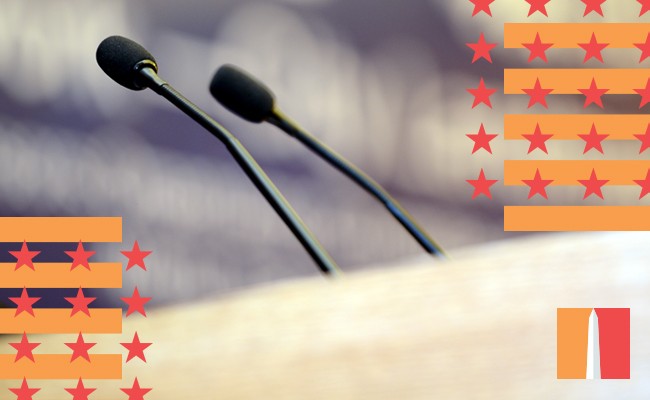 Presidential Debate Watch Party
September 26, 2016
Washington, DC
In a campaign like no other, the first Presidential debate between Donald Trump and Hillary Clinton has the potential to be the most-watched political event ever. From Little Marco to low-energy Jeb, the spectacle of the Republican primary debates were entertaining, unpredictable and, at points, wild. Now the businessman-turned-reality TV star will take his unconventional campaign to the podium up against a former Secretary of State, Senator and First Lady, who's known the spotlight.
The Atlantic and the Aspen Institute kicked off Washington Ideas Week with a live viewing of the first Presidential debate and a panel of political experts to talk what's at stake. We analyzed each candidate's strengths and weaknesses, and laid out what to watch for in a campaign that has been anything but predictable.
Presented by
Also in This Series
Culture

The Atlantic Festival

September 24 – 26, 2019
Washington, DC

Experience The Atlantic.

The Atlantic Festival

October 2 – 4, 2018
Washington, DC

Now in its 10th year, The Atlantic Festival will tackle the most consequential issues of our time with some of the nation's most important leaders from business, politics and culture.

Washington Ideas 2017

September 26 – 28, 2017
Washington, DC


For its ninth year, the Washington Ideas Forum will convene the nation's leaders, from politics and government to business and culture for two days of idea sharing and thought provoking conversation.
Upcoming Events
Economy/Business

Power of Purpose

November 19, 2019
New York City

How can business be a force for good?

Renewal Summit: Los Angeles

November 21, 2019
Los Angeles

In L.A., a thriving metropolis that is home to a rich diversity of people from all walks of life, we'll ask: what will it take to ensure quality of life and greater opportunity for all area residents?

Other

Innovators Lab: San Francisco

December 3, 2019
San Francisco, CA, California


What does it take to stay on top?