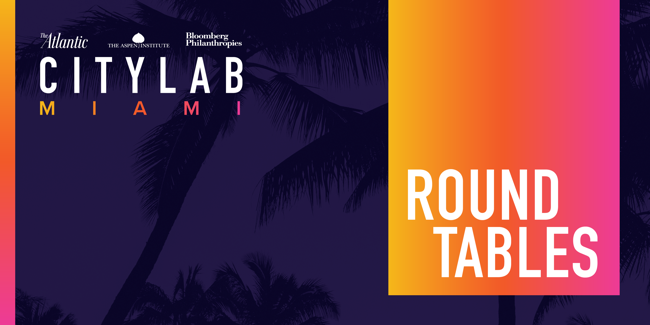 CityLab Roundtable Meals
October 24, 2016
Miami, FL, Florida
October 24, 2016
Roundtable Breakfast underwritten by McKinsey & Company
This breakfast focused on how changing urban demographics affect the way cities invest in key priorities, from upgrading critical infrastructure to spurring economic growth.  
---
October 24, 2016
Roundtable Breakfast underwritten by JPMorgan Chase & Co.
We explored how to make cities economically vibrant and alluring, without abandoning rich history or further undercutting the poorest citizens.
---
October 24, 2016
Roundtable Dinner underwritten by Knight Foundation
This dinner examined how cities can use public spaces to connect people from many communities and to foster progress.
---
October 24, 2016
Roundtable Dinner underwritten by GM
An evening conversation assessed how cities can prepare for the transition to autonomous vehicles and other urban mobility solutions.
Presented by
Upcoming Events
Economy/Business

Informed: The New Era of Local News

November 14, 2019
Minneapolis, MN

The Atlantic will convene community leaders, advocates, and local journalists to examine what the future of local news looks like, and the role the press plays in civic engagement.

Economy/Business

Power of Purpose

November 19, 2019
New York City

How can business be a force for good?

Renewal Summit: Los Angeles

November 21, 2019
Los Angeles

In L.A., a thriving metropolis that is home to a rich diversity of people from all walks of life, we'll ask: what will it take to ensure quality of life and greater opportunity for all area residents?