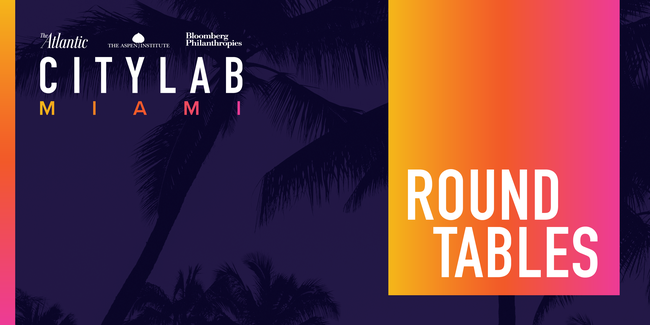 CityLab Roundtable Meals
October 24, 2016
Miami, FL, Florida
October 24, 2016
Roundtable Breakfast underwritten by McKinsey & Company
This breakfast focused on how changing urban demographics affect the way cities invest in key priorities, from upgrading critical infrastructure to spurring economic growth.  
---
October 24, 2016
Roundtable Breakfast underwritten by JPMorgan Chase & Co.
We explored how to make cities economically vibrant and alluring, without abandoning rich history or further undercutting the poorest citizens.
---
October 24, 2016
Roundtable Dinner underwritten by Knight Foundation
This dinner examined how cities can use public spaces to connect people from many communities and to foster progress.
---
October 24, 2016
Roundtable Dinner underwritten by GM
An evening conversation assessed how cities can prepare for the transition to autonomous vehicles and other urban mobility solutions.
Presented by
Upcoming Events
Health Care

The Big Story: How the Virus Won

August 13, 2020
Virtual Event

Atlantic staff writer Ed Yong has spoken with more than 100 experts since the early stages of the pandemic.

Thrive: The Children's Summit

August 25, 2020
Virtual Event

The children of today are facing a challenging world, one that is complicated by technology and threatened by forces outside their control.

The Atlantic Festival

September 21 – 24, 2020
Virtual Event

Expect to be challenged. Expect to be entertained. Expect the unexpected.