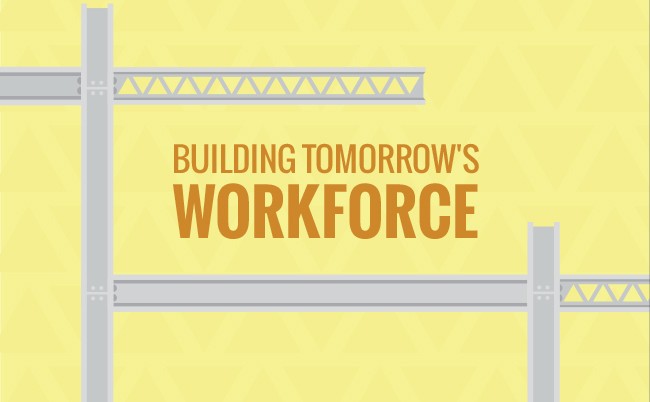 Building Tomorrow's Workforce
October 27, 2015
Washington, D.C.
Jobs heading off-shore. Robots replacing humans. The very nature of work is evolving with new stress points and opportunities changing the employment terrain domestically and globally. Firms and incumbent employees need a better tool kit in order to perform as nimbly as today's economy requires.
In a digital world, the creation of unprecedented tiers of employment and opportunities demands a more nimble, adaptable workforce. Today's skills-to-jobs needs are vastly more diverse and constantly changing than their predecessors. Fortunately, there is a massive public R&D effort underway. The White House and corporate America — not to mention academics and small employers — are proposing innovative training ideas, particularly in the middle skills arena, including a fresh emphasis on apprenticeships. What are these trial efforts demonstrating?  Which workers — and industries — are seeing the most progress? Is the so-called skills gap narrowing? And are American workers better positioned to compete against challenges overseas and from automation?
To view photos from this event, please visit our Facebook page.
      ▼ Access a full list of videos from this event.
Presented by
Speakers
Jared Bernstein

Senior Fellow

Center on Budget and Policy Priorities

Shawn Bohen

National Director for Strategic Growth and Impact

Year Up

David L. Casey

Vice President, Workforce Strategies and Chief Diversity Officer

CVS Health

@kcdiversity

Steve Clemons

Washington Editor at Large

The Atlantic

@SCClemons

Mary Louise Kelly

Contributing Editor

The Atlantic

@KellyMaryLouise

Susan Lund

Partner

McKinsey Global Institute

Tyra Mariani

Co-Founder and Managing Partner

Opportunity@Work

@tyram25

Ebun Ogunsusi

Graduate of Year Up, presently Meeting Coordinator

National Science Foundation

Charissa Raynor

Executive Director

Service Employees International Union Healthcare NW Training Partnership

Eric Seleznow

Deputy Assistant Secretary for Employment and Training

Department of Labor
Agenda
Note: All times are ET
8:25 a.m.  Welcome Remarks
Margaret Low Smith, Vice President, The Atlantic, and President, AtlanticLIVE     
8:30 a.m.  Building a Smarter Workforce: Matching Skills with Needs
Susan Lund, Partner, McKinsey Global Institute
Eric Seleznow, Deputy Assistant Secretary for Employment and Training, United States Department of Labor      
With Steve Clemons, Washington Editor-at-Large, The Atlantic
9:05 a.m.  Sponsor Content, Presented by CVS Health
David L. Casey, Vice President, Workforce Strategies and Chief Diversity Officer, CVS Health
Anthony Price, Apprentice, CVS Health
9:15 a.m.  Training for Today and Tomorrow: What Works, Fresh Ideas
Shawn Bohen, National Director for Strategic Growth and Impact, Year Up
Ebun Ogunsusi, Graduate, Year Up
With Mary Louise Kelly, Contributing Editor, The Atlantic
9:40 a.m.  Upskilling America: High Tech and Traditional
Jared Bernstein, Senior Fellow, Center on Budget and Policy Priorities
Tyra Mariani, Co-Founder and Managing Partner, Opportunity@Work
Charissa Raynor, Executive Director, Healthcare NW Training Partnership, Service Employees International Union
With Steve Clemons
10:20 a.m.  Closing Remarks