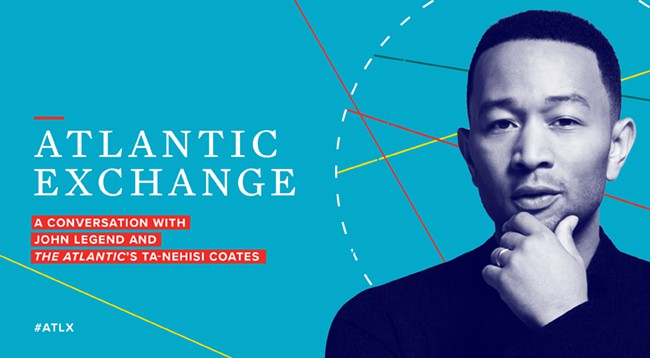 Atlantic Exchange Conversation
Featuring John Legend
and The Atlantic's Ta-Nehisi Coates
December 2, 2016
New York City
Music has long had a special role in American democracy. Protest songs, fight songs, the national anthem and songs of hope, praise and idealism: singing has often defined our historic search for a more perfect Union, and connected us to our common humanity together. In an Atlantic Exchange conversation on the eve of the release of Darkness and Light, singer and social activist John Legend joined The Atlantic's Ta-Nehisi Coates to explore the power of music in shaping political discourse.
To view photos from this event, please visit our Facebook page
Presented by
Also in This Series
Culture

A Retrospective on Race in America

December 5, 2019
Washington, D.C.

"The feeling of the nation must be quickened; the conscience of the nation must be roused; the propriety of the nation must be startled; the hypocrisy of the nation must be exposed; and its crimes against God and man must be proclaimed and denounced." - Frederick Douglass

International/Foreign Affairs

Atlantic Exchange with Mike Giglio

October 24, 2019
Washington, D.C.

What will it take to defeat ISIS?

International/Foreign Affairs

Atlantic Exchange
Former Secretary of Defense Ash Carter
with The Atlantic's Jeffrey Goldberg

June 13, 2019
Washington, D.C.


On June 13th, Secretary Carter will join The Atlantic's editor in chief, Jeffrey Goldberg, for a conversation about the military, leadership, and foreign affairs.
Upcoming Events
Culture

The Atlantic at Sundance

January 24 – 27, 2020
Park City, UT, Utah

As a media sponsor of the 2020 Sundance Film Festival, The Atlantic will host a series of talks with filmmakers, actors, and industry experts, in conversation with Atlantic journalists.