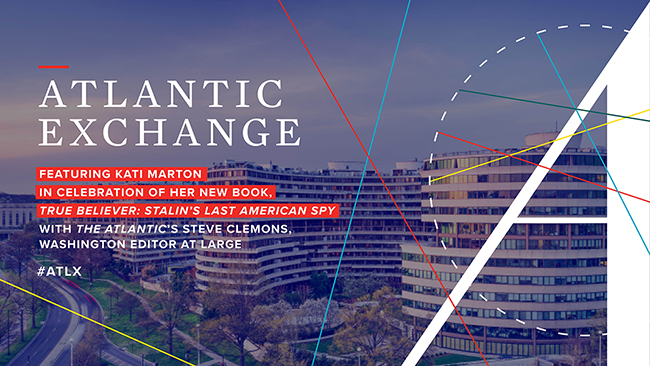 Atlantic Exchange:
Book Talk with Kati Marton and
The Atlantic's Steve Clemons
November 28, 2016
Washington, DC
This Atlantic Exchange featured Kati Marton, Author of True Believer: Stalin's American Spy and Enemies of the People: My Family's Journey to America, in a conversation with The Atlantic's Steve Clemons on her new book about former State Department official Noel Field, his loyalty to Stalin and what it says about ISIS "true believers" today.
Presented by
Also in This Series
Atlantic Exchange: Floodlines Podcast Release

March 2020
Washington, D.C.

Join The Atlantic on March 24 for a discussion about the events uncovered by the reporting on the eight-part Floodlines podcast about the aftermath of the day the levees broke in New Orleans after Hurricane Katrina, with Newkirk, executive producer Katherine Wells, and executive editor Adrienne LaFrance.

Culture

A Retrospective on Race in America

December 5, 2019
Washington, D.C.

"The feeling of the nation must be quickened; the conscience of the nation must be roused; the propriety of the nation must be startled; the hypocrisy of the nation must be exposed; and its crimes against God and man must be proclaimed and denounced." - Frederick Douglass

International/Foreign Affairs

Atlantic Exchange with Mike Giglio

October 24, 2019
Washington, D.C.

What will it take to defeat ISIS?