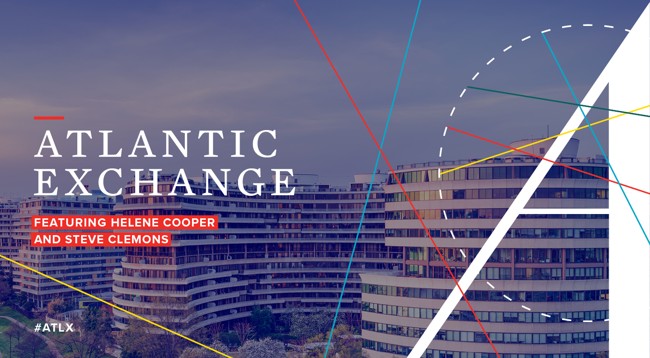 Atlantic Exchange featuring Helene Cooper and Steve Clemons
March 13, 2017
Washington, DC
Elected in 2005 thanks in no small part to the support of war-weary Liberian women, Ellen Johnson Sirleaf is the first female head of state in Africa and has led her country through periods of both progress and crisis. A Nobel Peace Prize winner, she has repeatedly been recognized for her leadership in gender equality and the response to the West African Ebola epidemic.

In her new book Madame President: The Extraordinary Journey of Ellen Johnson Sirleaf, Pulitzer Prize-winning New York Times journalist Helene Cooper tells the story of Liberia's president, a trailblazer who survived domestic abuse, war and imprisonment to win a presidential election on the surprise strength of the women's vote. Cooper uses Sirleaf's biography to tell the country's history and highlight the universal lessons for women around the world. Cooper will join The Atlantic's Washington Editor at Large Steve Clemons to discuss the work of President Sirleaf and her successful mobilization of a coalition built on the grassroots foundation of female voters.
---
Watch the full interview
6:00 pm ET  Guest Arrival and Reception
6:30 pm ET  Conversation with Helene Cooper
7:30 pm ET Book Signing
The Watergate
8th Floor
600 New Hampshire Avenue, NW
Washington, DC 20037
Presented by
Also in This Series
International/Foreign Affairs

Atlantic Exchange
Former Secretary of Defense Ash Carter
with The Atlantic's Jeffrey Goldberg

June 13, 2019
Washington, D.C.


On June 13th, Secretary Carter will join The Atlantic's editor in chief, Jeffrey Goldberg, for a conversation about the military, leadership, and foreign affairs.

Politics

Unthinkable: The 50 Moments that Define the Trump Presidency

January 22, 2019
Washington, DC

On January 22nd, join some of the writers behind the stories as they discuss the notable events in the Trump presidency and where the president and the country go from here.

Politics

Atlantic Exchange
Featuring Alan Wolff
and Steve Clemons

July 17, 2018
Washington, DC

The Deputy Director-General of the World Trade Organization Alan Wolff joined The Atlantic's Washington Editor at Large Steve Clemons for a conversation on the current state of global trade and the future of international economic policy.
Upcoming Events
Culture

The Atlantic Festival

September 24 – 26, 2019
Washington, DC

Experience The Atlantic.

Health Care

Innovators Lab: Philadelphia

October 16, 2019
Philadelphia

How can Philadelphia compete with other major East Coast cities for talent and capital in the life sciences?

CityLab 2019

October 27 – 29, 2019
Washington, DC

CityLab is a celebration of urban life, bringing together mayors from around the world, along with policymakers and business leaders, artists and activists.