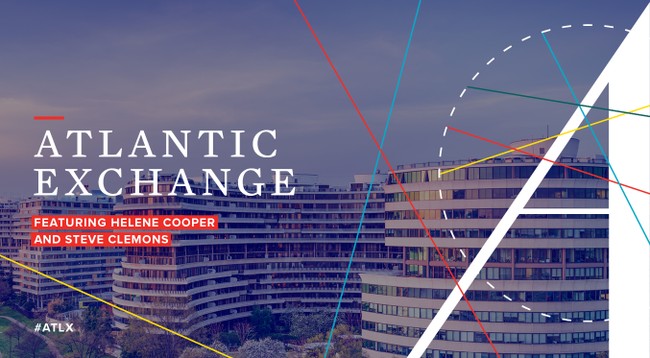 Atlantic Exchange featuring Helene Cooper and Steve Clemons
March 13, 2017
Washington, DC
Elected in 2005 thanks in no small part to the support of war-weary Liberian women, Ellen Johnson Sirleaf is the first female head of state in Africa and has led her country through periods of both progress and crisis. A Nobel Peace Prize winner, she has repeatedly been recognized for her leadership in gender equality and the response to the West African Ebola epidemic.

In her new book Madame President: The Extraordinary Journey of Ellen Johnson Sirleaf, Pulitzer Prize-winning New York Times journalist Helene Cooper tells the story of Liberia's president, a trailblazer who survived domestic abuse, war and imprisonment to win a presidential election on the surprise strength of the women's vote. Cooper uses Sirleaf's biography to tell the country's history and highlight the universal lessons for women around the world. Cooper will join The Atlantic's Washington Editor at Large Steve Clemons to discuss the work of President Sirleaf and her successful mobilization of a coalition built on the grassroots foundation of female voters.
---
Watch the full interview
6:00 pm ET  Guest Arrival and Reception
6:30 pm ET  Conversation with Helene Cooper
7:30 pm ET Book Signing
The Watergate
8th Floor
600 New Hampshire Avenue, NW
Washington, DC 20037
Presented by
Also in This Series
Atlantic Exchange: Floodlines Podcast Release

March 2020
Washington, D.C.

Join The Atlantic on March 24 for a discussion about the events uncovered by the reporting on the eight-part Floodlines podcast about the aftermath of the day the levees broke in New Orleans after Hurricane Katrina, with Newkirk, executive producer Katherine Wells, and executive editor Adrienne LaFrance.

Culture

A Retrospective on Race in America

December 5, 2019
Washington, D.C.

"The feeling of the nation must be quickened; the conscience of the nation must be roused; the propriety of the nation must be startled; the hypocrisy of the nation must be exposed; and its crimes against God and man must be proclaimed and denounced." - Frederick Douglass

International/Foreign Affairs

Atlantic Exchange with Mike Giglio

October 24, 2019
Washington, D.C.

What will it take to defeat ISIS?
Upcoming Events
Health Care

The Big Story: How the Virus Won

August 13, 2020
Virtual Event

Atlantic staff writer Ed Yong has spoken with more than 100 experts since the early stages of the pandemic.

The Atlantic Festival

September 21 – 24, 2020
Virtual Event

Expect to be challenged. Expect to be entertained. Expect the unexpected.

Health Care

People v. Cancer

November 2020
Virtual Event

In its third edition of People v. Cancer, The Atlantic will illuminate stories from the frontlines of the cancer community, from the latest oncology breakthroughs to the power of the human experience.