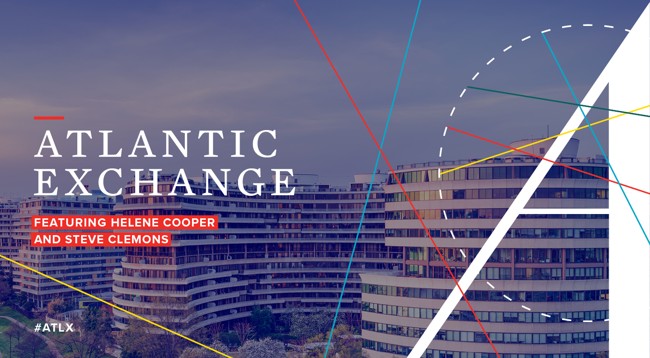 Atlantic Exchange featuring Helene Cooper and Steve Clemons
March 13, 2017
Washington, DC
Elected in 2005 thanks in no small part to the support of war-weary Liberian women, Ellen Johnson Sirleaf is the first female head of state in Africa and has led her country through periods of both progress and crisis. A Nobel Peace Prize winner, she has repeatedly been recognized for her leadership in gender equality and the response to the West African Ebola epidemic.

In her new book Madame President: The Extraordinary Journey of Ellen Johnson Sirleaf, Pulitzer Prize-winning New York Times journalist Helene Cooper tells the story of Liberia's president, a trailblazer who survived domestic abuse, war and imprisonment to win a presidential election on the surprise strength of the women's vote. Cooper uses Sirleaf's biography to tell the country's history and highlight the universal lessons for women around the world. Cooper will join The Atlantic's Washington Editor at Large Steve Clemons to discuss the work of President Sirleaf and her successful mobilization of a coalition built on the grassroots foundation of female voters.
---
Watch the full interview
6:00 pm ET  Guest Arrival and Reception
6:30 pm ET  Conversation with Helene Cooper
7:30 pm ET Book Signing
The Watergate
8th Floor
600 New Hampshire Avenue, NW
Washington, DC 20037
Presented by
Upcoming Events
Education

Education Summit

May 1, 2018
Washington, DC

The fourth annual Education Summit will examine new ideas and deep debates in American education and its role in American society today.

Politics

Justice In America

May 3, 2018
Washington, DC

America is at an inflection point. Polarization and mistrust run rampant and threaten to further divide a fractured society. Among the issues that are most contentious are race, policing and justice. What does justice look like?

Culture

Our Towns: An Atlantic Exchange with James and Deborah Fallows

May 9, 2018
Washington, DC

In this Atlantic Exchange, we'll sit down with James and Deborah Fallows to discuss their new book, Our Towns.