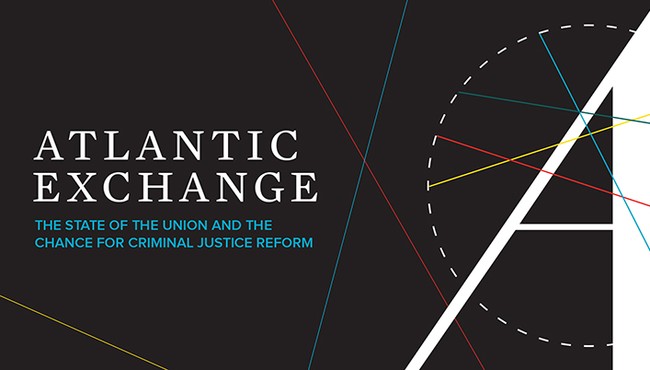 Atlantic Exchange:
The State of the Union and the Chance for Criminal Justice Reform
January 12, 2016
Washington, D.C.
A few short months after Ta-Nehisi Coates's Atlantic cover story "The Black Family in the Age of Mass Incarceration," Congress is working to solve the problem of excessive jail time for non-violent drug offenses. The push for criminal justice reform could deliver President Obama with a legacy accomplishment in his final year in office.  With support from across the political spectrum, reform bills have been introduced in both houses of Congress to reduce prison terms and mandatory minimum sentences for some drug offenses. One usual foe of the President has been leading the effort — Virginia Republican Bob Goodlatte, the Chairman of the House Judiciary committee. On the verge of President Obama's final State of the Union address, Representative Goodlatte joined The Atlantic's Washington Editor-at-Large Steve Clemons in an Atlantic Exchange to discuss the effort for bipartisan criminal justice reform.
Presented by
Also in This Series
Atlantic Exchange: Floodlines Podcast Release

March 2020
Washington, D.C.

Join The Atlantic on March 24 for a discussion about the events uncovered by the reporting on the eight-part Floodlines podcast about the aftermath of the day the levees broke in New Orleans after Hurricane Katrina, with Newkirk, executive producer Katherine Wells, and executive editor Adrienne LaFrance.

Culture

A Retrospective on Race in America

December 5, 2019
Washington, D.C.

"The feeling of the nation must be quickened; the conscience of the nation must be roused; the propriety of the nation must be startled; the hypocrisy of the nation must be exposed; and its crimes against God and man must be proclaimed and denounced." - Frederick Douglass

International/Foreign Affairs

Atlantic Exchange with Mike Giglio

October 24, 2019
Washington, D.C.

What will it take to defeat ISIS?