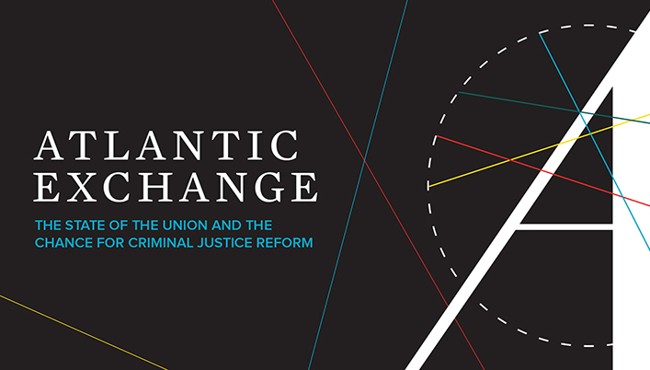 Atlantic Exchange:
The State of the Union and the Chance for Criminal Justice Reform
January 12, 2016
Washington, D.C.
A few short months after Ta-Nehisi Coates's Atlantic cover story "The Black Family in the Age of Mass Incarceration," Congress is working to solve the problem of excessive jail time for non-violent drug offenses. The push for criminal justice reform could deliver President Obama with a legacy accomplishment in his final year in office.  With support from across the political spectrum, reform bills have been introduced in both houses of Congress to reduce prison terms and mandatory minimum sentences for some drug offenses. One usual foe of the President has been leading the effort — Virginia Republican Bob Goodlatte, the Chairman of the House Judiciary committee. On the verge of President Obama's final State of the Union address, Representative Goodlatte joined The Atlantic's Washington Editor-at-Large Steve Clemons in an Atlantic Exchange to discuss the effort for bipartisan criminal justice reform.
Presented by
Also in This Series
Politics

Unthinkable: The 50 Moments that Define the Trump Presidency

January 22, 2019
Washington, DC

On January 22nd, join some of the writers behind the stories as they discuss the notable events in the Trump presidency and where the president and the country go from here.

Politics

Atlantic Exchange
Featuring Alan Wolff
and Steve Clemons

July 17, 2018
Washington, DC

The Deputy Director-General of the World Trade Organization Alan Wolff joined The Atlantic's Washington Editor at Large Steve Clemons for a conversation on the current state of global trade and the future of international economic policy.

Politics

Atlantic Exchange
Featuring Graham Allison
and Jeffrey Goldberg

June 1, 2017
Washington, DC

Graham Allison, Director of Harvard University's Belfer Center for Science and International Affairs, and author of Destined for War: Can America and China Escape Thucydides's Trap?, joined The Atlantic's Editor in Chief Jeffrey Goldberg to explore the US-China relationship and see how war in East Asia can be avoided.