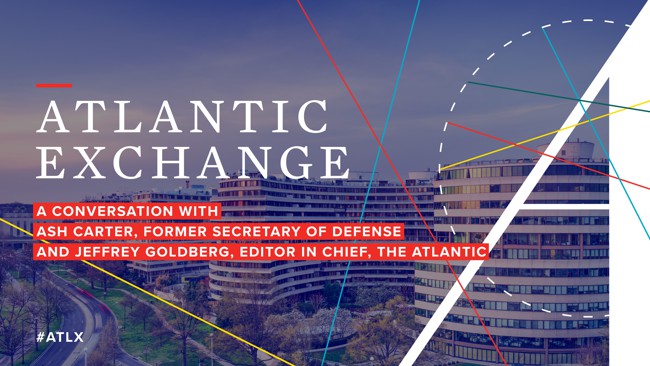 Atlantic Exchange
Former Secretary of Defense Ash Carter
with The Atlantic's Jeffrey Goldberg
June 13, 2019
Washington, D.C.
As America's 25th Secretary of Defense, Ash Carter pushed the military to modernize. Now, in his new book, Inside the Five-Sided Box: Lessons from a Lifetime of Leadership in the Pentagon, he examines "the inner workings of the Pentagon and what it takes to lead it."
On June 13th, Secretary Carter will join The Atlantic's editor in chief, Jeffrey Goldberg, for a conversation about the military, leadership, and foreign affairs.
Guest Arrival + Networking Reception: 4:30 p.m.
Program Begins: 5:00 p.m.
Book Signing: 5:45 p.m.
Program Concludes: 6:00 p.m.
The Watergate
600 New Hampshire Avenue, NW
Washington, D.C. 20037
To RSVP, please contact Allison Jensen at ajensen@theatlantic.com.
Presented by
Also in This Series
Politics

Unthinkable: The 50 Moments that Define the Trump Presidency

January 22, 2019
Washington, DC

On January 22nd, join some of the writers behind the stories as they discuss the notable events in the Trump presidency and where the president and the country go from here.

Politics

Atlantic Exchange
Featuring Alan Wolff
and Steve Clemons

July 17, 2018
Washington, DC

The Deputy Director-General of the World Trade Organization Alan Wolff joined The Atlantic's Washington Editor at Large Steve Clemons for a conversation on the current state of global trade and the future of international economic policy.

Politics

Atlantic Exchange
Featuring Graham Allison
and Jeffrey Goldberg

June 1, 2017
Washington, DC

Graham Allison, Director of Harvard University's Belfer Center for Science and International Affairs, and author of Destined for War: Can America and China Escape Thucydides's Trap?, joined The Atlantic's Editor in Chief Jeffrey Goldberg to explore the US-China relationship and see how war in East Asia can be avoided.