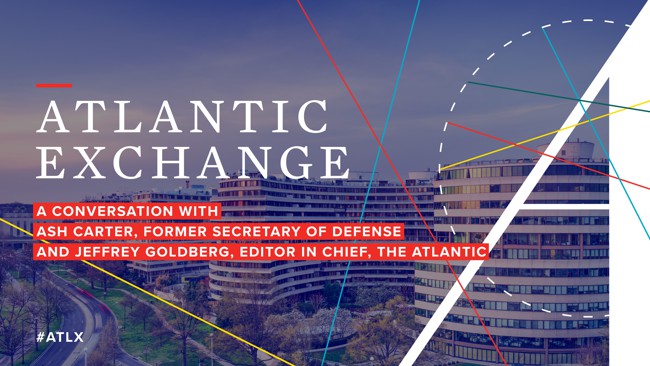 Atlantic Exchange
Former Secretary of Defense Ash Carter
with The Atlantic's Jeffrey Goldberg
June 13, 2019
Washington, D.C.
As America's 25th Secretary of Defense, Ash Carter pushed the military to modernize. Now, in his new book, Inside the Five-Sided Box: Lessons from a Lifetime of Leadership in the Pentagon, he examines "the inner workings of the Pentagon and what it takes to lead it."
On June 13th, Secretary Carter will join The Atlantic's editor in chief, Jeffrey Goldberg, for a conversation about the military, leadership, and foreign affairs.
Guest Arrival + Networking Reception: 4:30 p.m.
Program Begins: 5:00 p.m.
Book Signing: 5:45 p.m.
Program Concludes: 6:00 p.m.
The Watergate
600 New Hampshire Avenue, NW
Washington, D.C. 20037
To RSVP, please contact Allison Jensen at ajensen@theatlantic.com.
Presented by