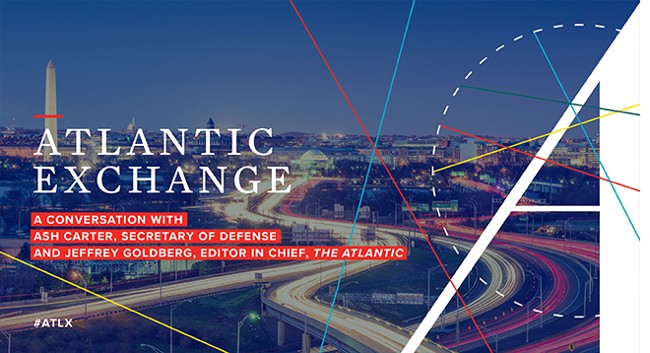 Atlantic Exchange
Secretary of Defense Ash Carter with
The Atlantic's Jeffrey Goldberg
November 14, 2016
Washington, DC
HOSTED IN PARTNERSHIP WITH

The Secretary of Defense is the leader of the world's biggest company, with more than two million employees operating in more than 100 countries. He's investing in learning how some of the smartest small companies from the startup world drive innovation and is using it to build a technology agenda.
How can thinking like -- and connecting with -- startups help Ash Carter prepare the US military to remain the best fighting force the world has ever seen?
And as the next Administration prepares to take office, what are his assessments of the world's hot spots, from Syria to Iraq and Afghanistan where service men and women continue to carry out the mission. The Secretary sat down with The Atlantic's Editor in Chief Jeffrey Goldberg in a wide ranging conversation about the Secretary's approach to innovation, the state of the US military, its role in the world and its future both home and abroad.
Presented by
Also in This Series
Culture

A Retrospective on Race in America

December 5, 2019
Washington, D.C.

"The feeling of the nation must be quickened; the conscience of the nation must be roused; the propriety of the nation must be startled; the hypocrisy of the nation must be exposed; and its crimes against God and man must be proclaimed and denounced." - Frederick Douglass

International/Foreign Affairs

Atlantic Exchange with Mike Giglio

October 24, 2019
Washington, D.C.

What will it take to defeat ISIS?

International/Foreign Affairs

Atlantic Exchange
Former Secretary of Defense Ash Carter
with The Atlantic's Jeffrey Goldberg

June 13, 2019
Washington, D.C.


On June 13th, Secretary Carter will join The Atlantic's editor in chief, Jeffrey Goldberg, for a conversation about the military, leadership, and foreign affairs.
Upcoming Events
Culture

The Atlantic at Sundance

January 24 – 27, 2020
Park City, UT, Utah

As a media sponsor of the 2020 Sundance Film Festival, The Atlantic will host a series of talks with filmmakers, actors, and industry experts, in conversation with Atlantic journalists.