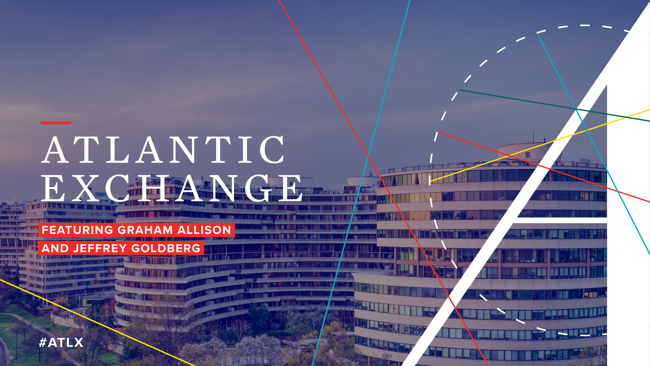 Atlantic Exchange
Featuring Graham Allison
and Jeffrey Goldberg
June 1, 2017
Washington, DC
China and the United States are playing a game straight from the history books. When a dominant world power is threatened by a rising country, more times than not the outcome is war.  But even with a growing trade battle and a belligerent North Korea on the border, war is not an inevitable outcome.
Graham Allison, Director of Harvard University's Belfer Center for Science and International Affairs and author of Destined for War: Can America and China Escape Thucydides's Trap?, joined The Atlantic's Editor in Chief Jeffrey Goldberg to explore the US-China relationship and see how war in East Asia can be avoided.
Presented by
Upcoming Events
Health Care

Innovation Pipeline: Examining Modern Medicine

August 1, 2017
San Francisco

In the third event of the "Examining Modern Medicine" series, The Atlantic will gather stakeholders, original thinkers and tinkerers from the nation's innovation capital to explore what it means to put the bio into biotech.

CityLab Baltimore

August 2, 2017
Baltimore, MD

CityLab Baltimore will convene top urban stakeholders from around the country to discuss some of the most pressing issues US cities face.

Washington Ideas

September 25 – 28, 2017
Washington, DC

For its ninth year, the Washington Ideas Forum will convene the nation's leaders, from politics and government to business and culture for two days of idea sharing and thought provoking conversation.