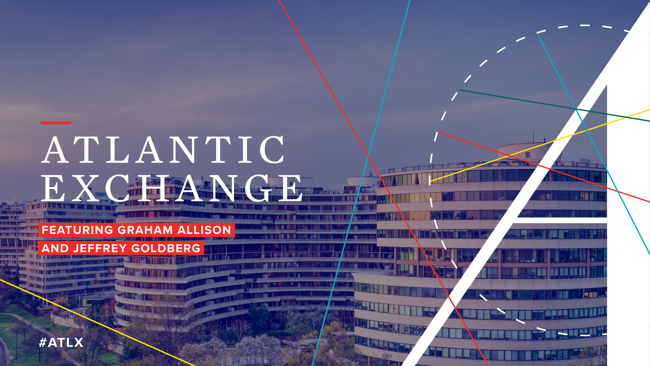 Atlantic Exchange
Featuring Graham Allison
and Jeffrey Goldberg
June 1, 2017
Washington, DC
China and the United States are playing a game straight from the history books. When a dominant world power is threatened by a rising country, more times than not the outcome is war.  But even with a growing trade battle and a belligerent North Korea on the border, war is not an inevitable outcome.
Graham Allison, Director of Harvard University's Belfer Center for Science and International Affairs and author of Destined for War: Can America and China Escape Thucydides's Trap?, joined The Atlantic's Editor in Chief Jeffrey Goldberg to explore the US-China relationship and see how war in East Asia can be avoided.
Presented by
Also in This Series
International/Foreign Affairs

Atlantic Exchange with Mike Giglio

October 24, 2019
Washington, D.C.

What will it take to defeat ISIS?

International/Foreign Affairs

Atlantic Exchange
Former Secretary of Defense Ash Carter
with The Atlantic's Jeffrey Goldberg

June 13, 2019
Washington, D.C.


On June 13th, Secretary Carter will join The Atlantic's editor in chief, Jeffrey Goldberg, for a conversation about the military, leadership, and foreign affairs.

Politics

Unthinkable: The 50 Moments that Define the Trump Presidency

January 22, 2019
Washington, DC

On January 22nd, join some of the writers behind the stories as they discuss the notable events in the Trump presidency and where the president and the country go from here.
Upcoming Events
Economy/Business

Informed: The New Era of Local News

November 14, 2019
Minneapolis, MN

The Atlantic will convene community leaders, advocates, and local journalists to examine what the future of local news looks like, and the role the press plays in civic engagement.

Economy/Business

Power of Purpose

November 19, 2019
New York City

How can business be a force for good?

Renewal Summit: Los Angeles

November 21, 2019
Los Angeles

In L.A., a thriving metropolis that is home to a rich diversity of people from all walks of life, we'll ask: what will it take to ensure quality of life and greater opportunity for all area residents?