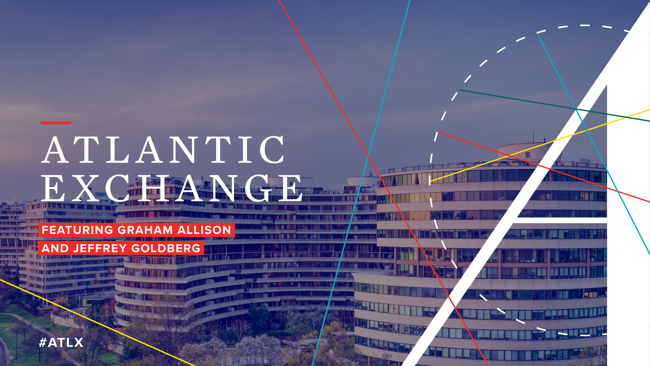 Atlantic Exchange
Featuring Graham Allison
and Jeffrey Goldberg
June 1, 2017
Washington, DC
China and the United States are playing a game straight from the history books. When a dominant world power is threatened by a rising country, more times than not the outcome is war.  But even with a growing trade battle and a belligerent North Korea on the border, war is not an inevitable outcome.
Graham Allison, Director of Harvard University's Belfer Center for Science and International Affairs and author of Destined for War: Can America and China Escape Thucydides's Trap?, joined The Atlantic's Editor in Chief Jeffrey Goldberg to explore the US-China relationship and see how war in East Asia can be avoided.
Presented by
Upcoming Events
Energy/Sustainability

Water Summit

November 2, 2017
Beverly Hills, CA

At the Water Summit, The Atlantic will gather the leading voices in water, from environmentalists and policymakers to farmers, industry and community leaders, to forge a dialogue around the critical water issues of our time.

Technology

The Innovation Game

November 7, 2017
Washington, DC

The Atlantic will convene visionaries to highlight the innovations shaping and reshaping our world.

Politics

Defining Justice:
The Experience of Women and Children Behind Bars

November 7, 2017
Los Angeles

The Atlantic will seek to unearth untold stories, bringing together people whose lives have been changed by incarceration with the advocates and entertainers who can give voice to them.