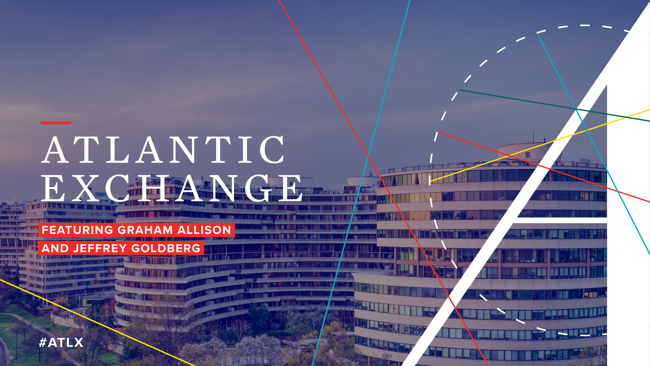 Atlantic Exchange
Featuring Graham Allison
and Jeffrey Goldberg
June 1, 2017
Washington, DC
China and the United States are playing a game straight from the history books. When a dominant world power is threatened by a rising country, more times than not the outcome is war.  But even with a growing trade battle and a belligerent North Korea on the border, war is not an inevitable outcome.
Graham Allison, Director of Harvard University's Belfer Center for Science and International Affairs and author of Destined for War: Can America and China Escape Thucydides's Trap?, joined The Atlantic's Editor in Chief Jeffrey Goldberg to explore the US-China relationship and see how war in East Asia can be avoided.
Presented by
Upcoming Events
Technology

Franklin Foer In Conversation
with Hanna Rosin

September 14, 2017
Washington, DC

Franklin Foer will join Hanna Rosin for a conversation about his new book World Without Mind and how consolidation of knowledge and information has changed how we contemplate the world.

Health Care

Children and Cancer:
An Atlantic Forum

September 15, 2017
Washington, DC

The Atlantic will break down the latest in immunotherapy and how it is being used to help young patients survive and thrive. And moving beyond anecdotal evidence, we'll examine how can big data can be used to track how pediatric cancers impact aspects of health for survivors down the road.

Health Care

Cancer and the Community

September 20, 2017
Las Vegas, NV

The Atlantic will explore challenges such as Nevada's shortage of doctors and specialists and learn what can be done from researchers, experts, stakeholders, survivors and patients living with cancer.