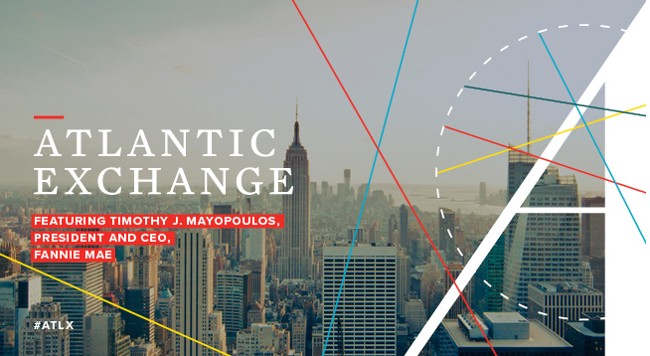 Atlantic Exchange featuring
Timothy J. Mayopoulos
September 30, 2016
New York City
At this Atlantic Exchange, Atlantic Washington Editor-at-Large Steve Clemons and Fannie Mae CEO Timothy J. Mayopoulos discussed the future of lending in a newsmaking conversation directed at a Wall Street audience of experts. Among the topics explored: general developments in the housing market, ways in which technology and digitization trends are changing the consumer mortgage experience and the myriad ways in which the business model has changed in the mortgage industry in the past decade.
Presented by
Also in This Series
International/Foreign Affairs

Atlantic Exchange
Former Secretary of Defense Ash Carter
with The Atlantic's Jeffrey Goldberg

June 13, 2019
Washington, D.C.


On June 13th, Secretary Carter will join The Atlantic's editor in chief, Jeffrey Goldberg, for a conversation about the military, leadership, and foreign affairs.

Politics

Unthinkable: The 50 Moments that Define the Trump Presidency

January 22, 2019
Washington, DC

On January 22nd, join some of the writers behind the stories as they discuss the notable events in the Trump presidency and where the president and the country go from here.

Politics

Atlantic Exchange
Featuring Alan Wolff
and Steve Clemons

July 17, 2018
Washington, DC

The Deputy Director-General of the World Trade Organization Alan Wolff joined The Atlantic's Washington Editor at Large Steve Clemons for a conversation on the current state of global trade and the future of international economic policy.
Upcoming Events
Culture

The Atlantic Festival

September 24 – 26, 2019
Washington, DC

Experience The Atlantic.

Health Care

Innovators Lab: Philadelphia

October 16, 2019
Philadelphia

How can Philadelphia compete with other major East Coast cities for talent and capital in the life sciences?

CityLab 2019

October 27 – 29, 2019
Washington, DC

CityLab is a celebration of urban life, bringing together mayors from around the world, along with policymakers and business leaders, artists and activists.