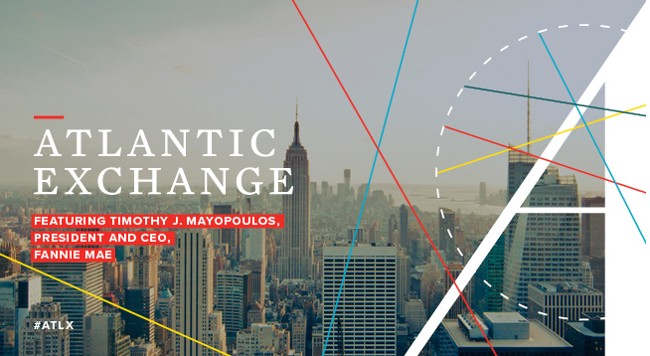 Atlantic Exchange featuring
Timothy J. Mayopoulos
September 30, 2016
New York City
At this Atlantic Exchange, Atlantic Washington Editor-at-Large Steve Clemons and Fannie Mae CEO Timothy J. Mayopoulos discussed the future of lending in a newsmaking conversation directed at a Wall Street audience of experts. Among the topics explored: general developments in the housing market, ways in which technology and digitization trends are changing the consumer mortgage experience and the myriad ways in which the business model has changed in the mortgage industry in the past decade.
Presented by
Upcoming Events
Health Care

The State of Care: Patient Access & Affordability

March 21, 2018
Washington, DC

The Atlantic will gather key perspectives to continue the conversation on what it costs to stay healthy in America today.

Health Care

The Atlantic + Discovery Present: Invisible Killers

March 22, 2018
Washington, DC

In partnership with Discovery, The Atlantic will host the world premiere screening of INVISIBLE KILLERS – a three-part series examining the ongoing battle between humans and viruses – followed by a conversation on stage with leading public health experts to explore the state of our preparedness.

Economy/Business

The Renewal Summit

March 27, 2018
New Orleans, LA

Join The Atlantic in the Crescent City during its tricentennial for this year's Renewal Summit, where we will examine the lessons we can learn from New Orleans' comeback, and meet the winners of the third annual Renewal Awards.