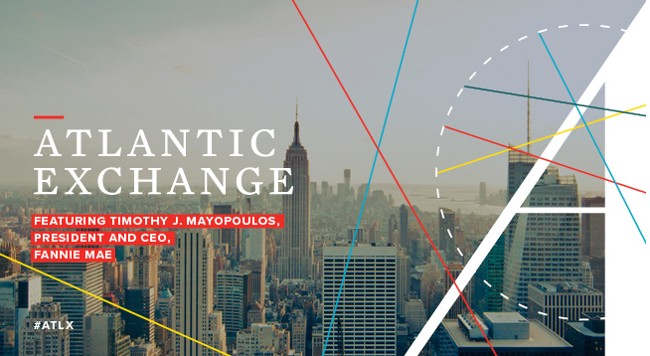 Atlantic Exchange featuring
Timothy J. Mayopoulos
September 30, 2016
New York City
At this Atlantic Exchange, Atlantic Washington Editor-at-Large Steve Clemons and Fannie Mae CEO Timothy J. Mayopoulos discussed the future of lending in a newsmaking conversation directed at a Wall Street audience of experts. Among the topics explored: general developments in the housing market, ways in which technology and digitization trends are changing the consumer mortgage experience and the myriad ways in which the business model has changed in the mortgage industry in the past decade.
Presented by
Upcoming Events
Health Care

The New Old Age

October 24, 2018
New York City

How is getting older changing in America?

Energy/Sustainability

Sustainability Summit

October 25, 2018
Los Angeles

Can sustainability save the environment?

CityLab

October 28 – 30, 2018
Detroit, MI

The Atlantic, The Aspen Institute and Bloomberg Philanthropies will convene mayors and city practitioners from across the world for conversations on the future of cities.