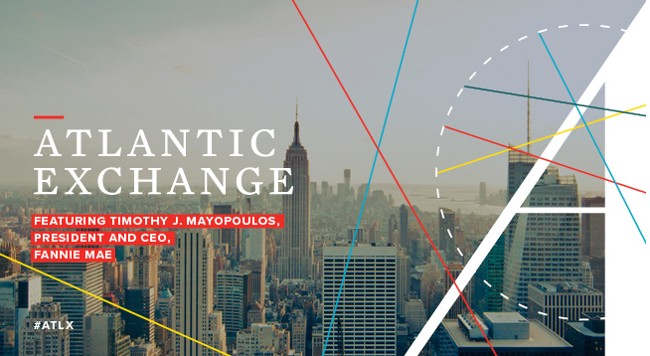 Atlantic Exchange featuring
Timothy J. Mayopoulos
September 30, 2016
New York City
At this Atlantic Exchange, Atlantic Washington Editor-at-Large Steve Clemons and Fannie Mae CEO Timothy J. Mayopoulos discussed the future of lending in a newsmaking conversation directed at a Wall Street audience of experts. Among the topics explored: general developments in the housing market, ways in which technology and digitization trends are changing the consumer mortgage experience and the myriad ways in which the business model has changed in the mortgage industry in the past decade.
Presented by
Upcoming Events
Health Care

Cancer and the Community

September 20, 2017
Las Vegas, NV

The Atlantic will explore challenges such as Nevada's shortage of doctors and specialists and learn what can be done from researchers, experts, stakeholders, survivors and patients living with cancer.

Politics

Defining Justice:
The Experience of Women and Children Behind Bars

September 20, 2017
Oklahoma City, OK

As Oklahoma grapples with an emerging political consensus around criminal justice reform, The Atlantic will seek to understand the experiences of women affected by the state's justice system.

Washington Ideas

September 26 – 28, 2017
Washington, DC

For its ninth year, the Washington Ideas Forum will convene the nation's leaders, from politics and government to business and culture for two days of idea sharing and thought provoking conversation.