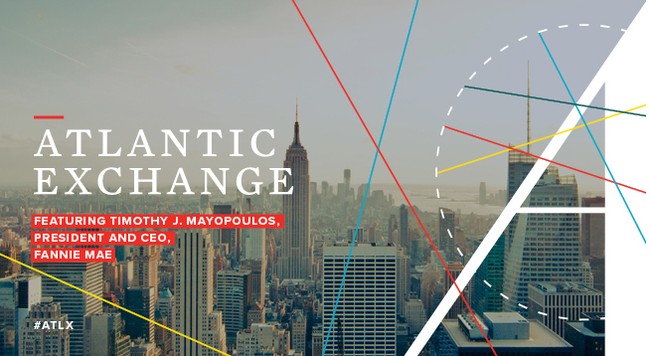 Atlantic Exchange featuring
Timothy J. Mayopoulos
September 30, 2016
New York City
At this Atlantic Exchange, Atlantic Washington Editor-at-Large Steve Clemons and Fannie Mae CEO Timothy J. Mayopoulos discussed the future of lending in a newsmaking conversation directed at a Wall Street audience of experts. Among the topics explored: general developments in the housing market, ways in which technology and digitization trends are changing the consumer mortgage experience and the myriad ways in which the business model has changed in the mortgage industry in the past decade.
Presented by
Also in This Series
Atlantic Exchange: Floodlines Podcast Release

March 2020
Washington, D.C.

Join The Atlantic on March 24 for a discussion about the events uncovered by the reporting on the eight-part Floodlines podcast about the aftermath of the day the levees broke in New Orleans after Hurricane Katrina, with Newkirk, executive producer Katherine Wells, and executive editor Adrienne LaFrance.

Culture

A Retrospective on Race in America

December 5, 2019
Washington, D.C.

"The feeling of the nation must be quickened; the conscience of the nation must be roused; the propriety of the nation must be startled; the hypocrisy of the nation must be exposed; and its crimes against God and man must be proclaimed and denounced." - Frederick Douglass

International/Foreign Affairs

Atlantic Exchange with Mike Giglio

October 24, 2019
Washington, D.C.

What will it take to defeat ISIS?
Upcoming Events
Economy/Business

Future Economy Summit

May 4, 2021
Virtual Event

The path to the new economy is being charted today. The Atlantic will explore what the future might hold for Americans across the socioeconomic spectrum.

In Pursuit of Happiness

The Atlantic will host a live event that explores the human hold on happiness—and aims to find ways to build a more meaningful life.

Health Care

The Atlantic's Health Equity Summit

June 22, 2021
Virtual Event

The Atlantic will explore what the health-care system is doing to combat inequities across race, age, and gender and to improve health outcomes for all Americans.