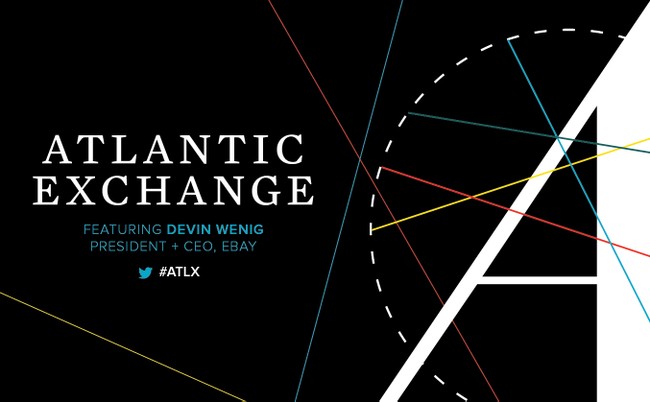 Atlantic Exchange featuring Devin Wenig
April 29, 2016
Washington, D.C.
Hosted at The Watergate, Atlantic Exchanges offer insights and perspectives as told by the leading voices of education, technology, business, policy and culture in conversation with The Atlantic's editorial talent. What does it take to lead a 20-year-old e-commerce platform and set it up for success in a post-mobile era? Washington Editor at Large Steve Clemons was joined by eBay Chief Executive Officer and President Devin Wenig for a deep-dive conversation on the disruptive role of data and technology in global trade and business.
Presented by
Also in This Series
Atlantic Exchange: Floodlines Podcast Release

March 2020
Washington, D.C.

Join The Atlantic on March 24 for a discussion about the events uncovered by the reporting on the eight-part Floodlines podcast about the aftermath of the day the levees broke in New Orleans after Hurricane Katrina, with Newkirk, executive producer Katherine Wells, and executive editor Adrienne LaFrance.

Culture

A Retrospective on Race in America

December 5, 2019
Washington, D.C.

"The feeling of the nation must be quickened; the conscience of the nation must be roused; the propriety of the nation must be startled; the hypocrisy of the nation must be exposed; and its crimes against God and man must be proclaimed and denounced." - Frederick Douglass

International/Foreign Affairs

Atlantic Exchange with Mike Giglio

October 24, 2019
Washington, D.C.

What will it take to defeat ISIS?
Upcoming Events
In Pursuit of Happiness

May 20, 2021
Virtual Event

The Atlantic will host a live event that explores the human hold on happiness—and aims to find ways to build a more meaningful life.

Health Care

The Equity of Cancer Care

June 3, 2021
Virtual Event

The Atlantic will gather leading experts to explore the equity of cancer care and what the oncology community is doing to improve outcomes and survivorship for all Americans.

Health Care

The Atlantic's Health Equity Summit

June 22, 2021
Virtual Event

The Atlantic will explore what the health-care system is doing to combat inequities across race, age, and gender and to improve health outcomes for all Americans.