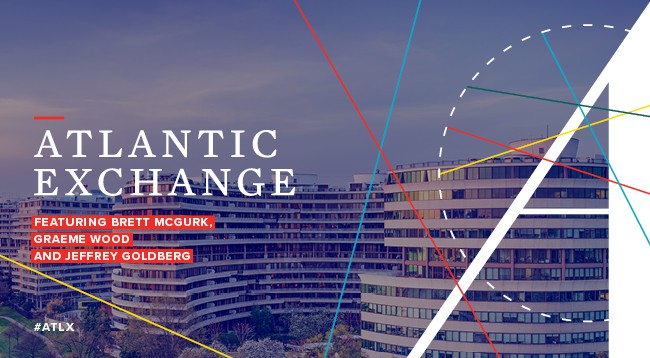 Atlantic Exchange:
featuring Brett McGurk, Graeme Wood and Jeffrey Goldberg
January 12, 2017
Washington, DC
Among the national security threats facing the United States, none may be as urgent as the threat posed by the Islamic State. In attacks around the world, from Berlin to Nice and here in the US, ISIS-inspired jihadis have taken up conventional arms and unconventional ones, turning cleavers and trucks into weapons of terror.  The organization has been able to recruit and inspire followers from its safe haven in Syria and Iraq, in a region beset by civil war and humanitarian disaster.
Recently, the US-led coalition has killed many from the core leadership of the group through a series of strikes and covert actions. But where is the battle against ISIS headed?
There may be no two people better to discuss the state of fight against ISIS than Brett McGurk, the Obama Administration's Special Presidential Envoy for Global Coalition to Counter ISIL and The Atlantic's Graeme Wood, author of the recently released book The Way of the Strangers: Encounters with the Islamic State and the 2015 Atlantic cover "What ISIS Really Wants." They sat down with Atlantic Editor in Chief Jeffrey Goldberg in conversation on the global fight against ISIS.
Presented by
Upcoming Events
Economy/Business

The Renewal Summit

March 27, 2018
New Orleans, LA

Join The Atlantic in the Crescent City during its tricentennial for this year's Renewal Summit, where we will examine the lessons we can learn from New Orleans' comeback, and meet the winners of the third annual Renewal Awards.

Health Care

Cancer and the Community

March 29, 2018
Pittsburgh

At Cancer and the Community, The Atlantic will explore the intersection of cancer breakthroughs and community care.

Health Care

The State of Care: Patient Access & Affordability

April 2018
Washington, DC

The Atlantic will gather key perspectives to continue the conversation on what it costs to stay healthy in America today.