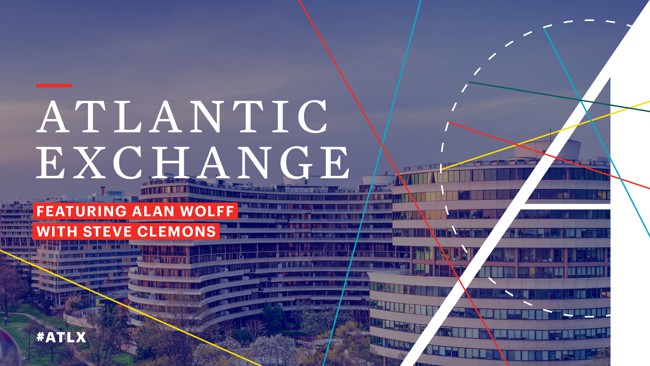 Atlantic Exchange
Featuring Alan Wolff
and Steve Clemons
July 17, 2018
Washington, DC
What is the future of trade?
As a trade war between China and the United States escalates, how does the US define success? How is the global economy responding? What's the role of international organizations in solving this conflict?
The Deputy Director-General of the World Trade Organization Alan Wolff joined The Atlantic's Washington Editor at Large Steve Clemons for a conversation on the current state of global trade and the future of international economic policy.
Presented by
Speakers
Alan Wolff

Deputy Director-General

World Trade Organization

Steve Clemons

Washington Editor at Large

The Atlantic

@SCClemons
Agenda
Tuesday, July 17

4:30 p.m.

Guest Arrival

-

5:00 p.m.

Interview

-

5:45 p.m.

Audience Q&A

-
Also in This Series
International/Foreign Affairs

Atlantic Exchange
Former Secretary of Defense Ash Carter
with The Atlantic's Jeffrey Goldberg

June 13, 2019
Washington, D.C.


On June 13th, Secretary Carter will join The Atlantic's editor in chief, Jeffrey Goldberg, for a conversation about the military, leadership, and foreign affairs.

Politics

Unthinkable: The 50 Moments that Define the Trump Presidency

January 22, 2019
Washington, DC

On January 22nd, join some of the writers behind the stories as they discuss the notable events in the Trump presidency and where the president and the country go from here.

Politics

Atlantic Exchange
Featuring Graham Allison
and Jeffrey Goldberg

June 1, 2017
Washington, DC

Graham Allison, Director of Harvard University's Belfer Center for Science and International Affairs, and author of Destined for War: Can America and China Escape Thucydides's Trap?, joined The Atlantic's Editor in Chief Jeffrey Goldberg to explore the US-China relationship and see how war in East Asia can be avoided.
Upcoming Events
Culture

The Atlantic Festival

September 24 – 26, 2019
Washington, DC

Experience The Atlantic.

Health Care

Innovators Lab: Philadelphia

October 16, 2019
Philadelphia

How can Philadelphia compete with other major East Coast cities for talent and capital in the life sciences?

CityLab 2019

October 27 – 29, 2019
Washington, DC

CityLab is a celebration of urban life, bringing together mayors from around the world, along with policymakers and business leaders, artists and activists.