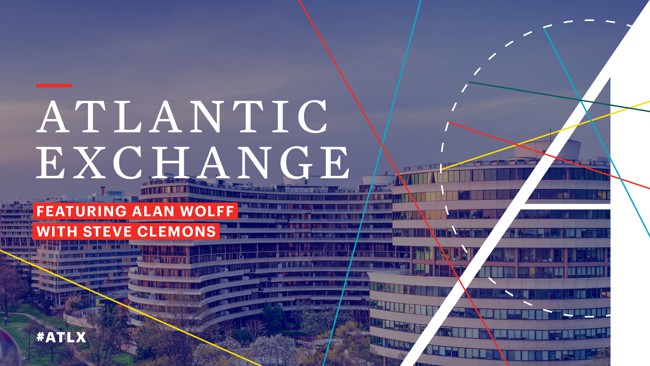 Atlantic Exchange
Featuring Alan Wolff
and Steve Clemons
July 17, 2018
Washington, DC
What is the future of trade?
As a trade war between China and the United States escalates, how does the US define success? How is the global economy responding? What's the role of international organizations in solving this conflict?
The Deputy Director-General of the World Trade Organization Alan Wolff joined The Atlantic's Washington Editor at Large Steve Clemons for a conversation on the current state of global trade and the future of international economic policy.
Presented by
Speakers
Alan Wolff

Deputy Director-General

World Trade Organization

Steve Clemons

Washington Editor at Large

The Atlantic

@SCClemons
Agenda
Tuesday, July 17

4:30 p.m.

Guest Arrival

-

5:00 p.m.

Interview

-

5:45 p.m.

Audience Q&A

-
Upcoming Events
Health Care

The New Old Age

October 24, 2018
New York City

How is getting older changing in America?

Energy/Sustainability

Sustainability Summit

October 25, 2018
Los Angeles

Can sustainability save the environment?

CityLab

October 28 – 30, 2018
Detroit, MI

The Atlantic, The Aspen Institute and Bloomberg Philanthropies will convene mayors and city practitioners from across the world for conversations on the future of cities.